Collectors Foundation celebrates its fifth anniversary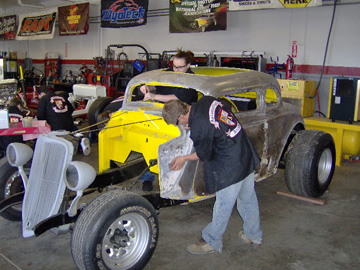 It all started with one enthusiast, his desire to give back to the collector car community and his company's impassioned response to a perceived need.
Five years later, what began in 2004 as the Hagerty Fund has since morphed into a nationally recognized nonprofit public charitable foundation known as the Collectors Foundation, which funds education and training in the collector vehicle community.
McKeel Hagerty, CEO of Hagerty Insurance Agency, was among the first to realize that what his company had initiated – supporting the long-term interests of collector car and boat hobbies through its Hagerty Fund – required a larger vision, one that would embrace and be embraced by the entire collector vehicle community. Hence, the assets and liabilities of the Hagerty Fund were turned over to the newly chartered Collectors Foundation, Inc. and its independent board of directors in January 2005.
Bob Knechel, hired as director of the Hagerty Fund in 2004, was tapped as the Collectors Foundation's first executive director. Hagerty Insurance and its Hagerty Plus program were the first to invest in this new enterprise and continue to give generously to educate and train the next generation of collector enthusiasts through their ongoing support of the Collectors Foundation.
Statistics tell only part of the story, but they do present an overview of the Collectors Foundation's accomplishments and priorities during its first five years.
Donors contributed $1,852,371 to the Foundation from 2005-2009.
Scholarships and grants totaling $1,404,052 were awarded to educational institutions and other organizations that work effectively with young people through hands-on experiences with historic vehicles.
Every year the Foundation awards at least 30 scholarships to students enrolled in certification programs, community colleges or four-year colleges who are preparing for an automotive or boatbuilding career.
At least 60 at-risk teenagers across the country, supported with grants from the Foundation, are being mentored by knowledgeable collectors who are associated with automobile museums, boat museums or clubs. These mentors not only share mechanical information but also influence attitudes toward work and encourage respect for others.
Each school day 1,000 high school auto tech students are using specialty equipment – metal fabrication tools, upholstery sewing machines, compressors and welders – purchased through grants from the Foundation.
Each year, thanks to the Foundation's support, over 50,000 school-age children visit some of the country's best automotive and boat museums, where they receive lessons in art, history and technology.
Automotive and boat libraries have had their collections scanned or upgraded to computer files, thanks to the financial assistance of the Collectors Foundation.
For more information about the Collectors Foundation, visit www.collectorsfoundation.org.