Classic Classified: 1985 Maserati Biturbo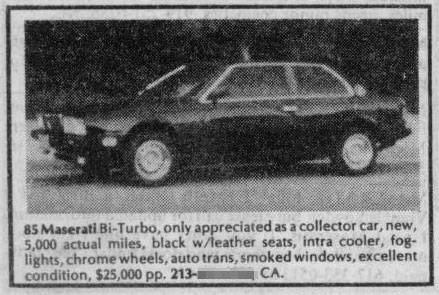 From: Hemmings Motor News, March 1989
Price then: $25,000 ($50,400 adjusted for inflation)
Price now: $1,500–$6,300 (accounting for automatic transmission)
Approximate dollar difference: -$44,100 (assuming #1 condition)
Annual rate of return: -7.1%
85 Maserati Bi-Turbo, only appreciated as a collector car, new, 5,000 actual miles, black w/leather seats, intra cooler, fog-lights, chrome wheels, auto trans, smoked windows, excellent condition, $25,000 pp.
The Biturbo was a big departure for Maserati. Consumers used to the expensive, exotic mid-engine cars like the Bora and Khamsin must have been quite surprised to see a small GT car with the dimensions of a BMW 3 Series sporting a Maserati badge when it came out in 1981. With a twin-turbo V-6 and a ZF five-speed, it all sounded like a recipe for a fantastic performance car worthy of the Maserati trident, but things didn't work out that way.
The Biturbo is the car that Maserati enthusiasts love to hate, and sits only above the Chrysler TC at the very bottom of the Maserati ladder. The carbureted versions (like this one) are known to be mechanically fragile (rumors of self-immolation even exist) and repair bills are known to be very high. This is a Maserati, after all, true to both positive and negative stereotypes. These factors mean that Biturbos have long been very cheap for high-end Italian cars, but back when this car was for sale it was still a lightly used car and priced as such. Whoever bought it must have soon realized that the car was a money pit on depreciation alone, not to mention the bank account bleeding resulting from each trip to the shop. To add insult to injury, Biturbos equipped with the three-speed automatic like this one are worth around 25 percent less than five-speed cars on average. It's hard to think of a worse place to put this much money.