In the land of the dinosaurs, the behemoth two-stroke Detroit Diesel is king
Like many car nuts, I'm enchanted by most anything with an engine in it—and the bigger, the better. In the past year I've become fascinated with a product built by General Motors, the Detroit Diesel. These colossal two-strokes were found in heavy trucks, boats, and even industrial applications like big generators and irrigation pumps.
Unable to keep up with tightening emissions standards, they were phased out of production in their most glorious forms. I must have one of these things to display (even run?) in my garage.
Even on paper, these are monstrous lumps of iron. The "smallest" six-cylinder version still weighs 2700 pounds. Every engine in this series uses the same 4.5×5-inch bore and stroke, so you just have different sized engine blocks with more of the same components. This made it easy for field repairs and production. Six cylinders would get me 426 cubic inches of noise-making ability, but that's only 218 horsepower and 604 lb-ft of torque. How am I going to run my belt sander off that? No, I'll need to step all the way up to the pick of the litter, the 12V-71. That's a 12-cylinder, 852-cu-in monster that puts out 434 hp and 1205 lb-ft of torque.
After some research (OK, eBay and Craigslist searches), I found a place called Old Forge Power Equipment in Pennsylvania. It's an entire operation centered around scrapping and recycling large trucking and construction equipment, and lo and behold, they had acres of engines and other parts—including a handful of Detroit Diesels. I had some upcoming meetings at Hagerty HQ, so I figured a little detour on the drive from Maryland would be worthwhile. Oh man, was it ever.
Four hours and one big muddy hill from home, I was standing in the office of AJ Cimino, the president of Old Forge. The phone must have rang 40 times while we talked about his operation—this place is apparently doing a brisk business in heavy iron. He turned me loose in the yard and told me to take any photos I wanted. It was pretty well organized, with engines from Caterpillar, MTU, and Detroit grouped together. There were a lot of modern, used engines—I was looking for the unusual ones, and it didn't take me long to find them. If you like geeking out over strange power plants, take a virtual tour with me!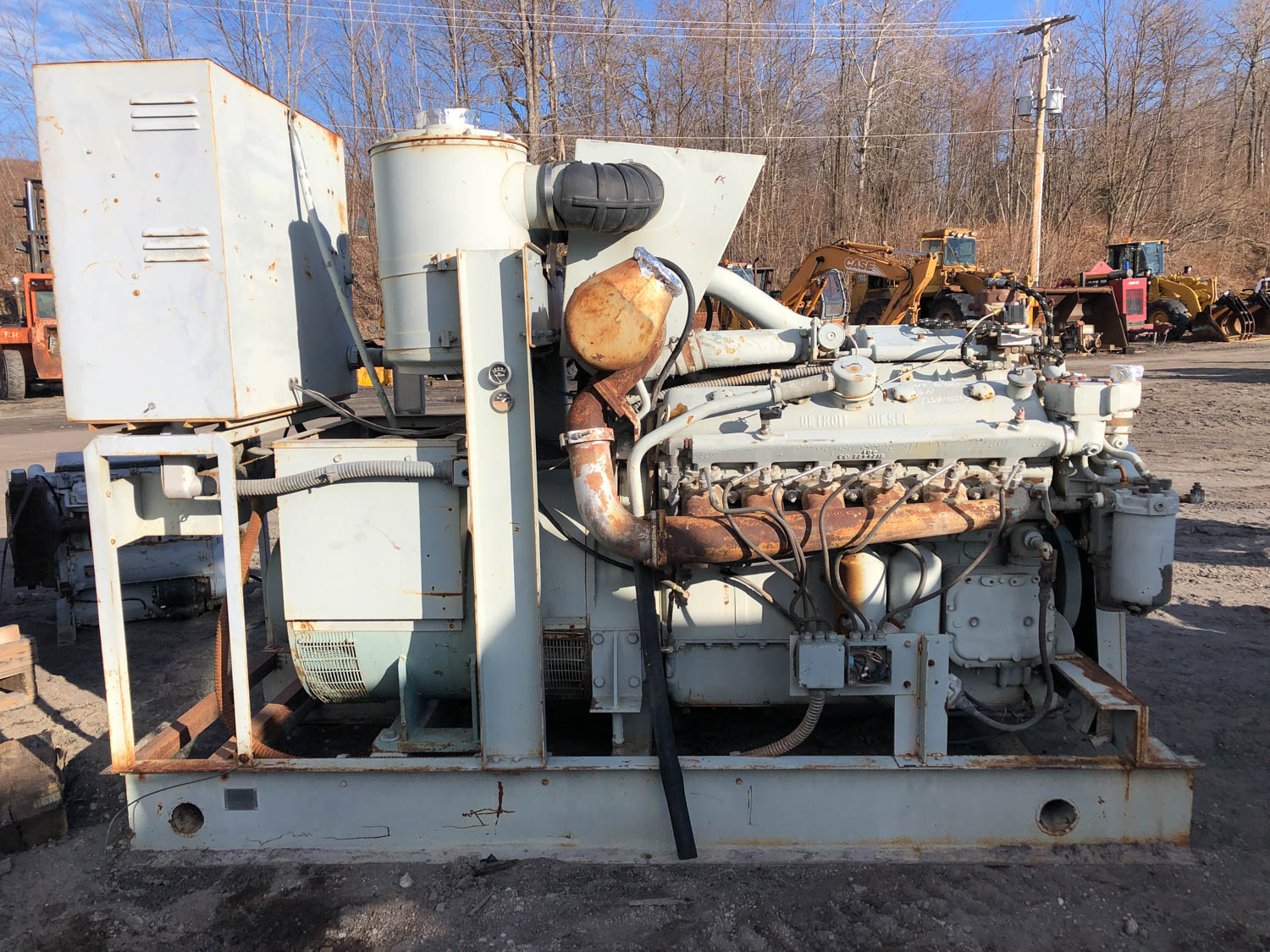 Around one bend I found my holy grail: a giant 12V-71 powerhouse, obviously used previously as a backup generator. Price? As is, about $5,000. It was every bit as gargantuan as I had hoped. And hey, only about $600 (truck freight) to deliver. Of course, I'd need a crane and a forklift on the other end. They did, indeed, have several of these.
Another thing I love about these engines is, you know those Rootes type 6-71 and 8-71 blowers found on hot rods and dragsters? They come directly from these engines and are used to blow big air into these cylinders. This scrappier-looking 12V-71 has two of them; see them nestled together there? There's gold in them thar parts.
This was some kind of turbocharged 10-cylinder and looked like it could be at home in a WWII tank instead of an old generator.
How about a cool old Waukesha power unit? Now, this would make some great garage art. The red paint looked pretty fresh—couldn't have been that old, but it had a great look.
OK, this one looked like an old Ardun flathead. Could you see a 1929 Chevy with this engine hanging out of either side of the engine compartment? I think that would be pretty fantastic looking with those giant "General Motors Diesel" valve covers for everyone to see.
Nice pair of turbocharged Rolls-Royce marine engines—now that would move your Silver Cloud down the road, wouldn't it? Or just sitting in the middle of your Boston Whaler?
This vintage Onan generator looked pretty '60s to me, and Cimino said it has been out here a while. I may have to rescue this one. Just being able to fire this up to charge my cordless drill batteries would be entertainment enough. This was a gas V-8, maybe an industrial Chrysler 318?
I only saw one or two of these turbocharged MTU engines—this is a pretty small one compared to some of the behemoths this company makes to power container ships and tugboats. They're like 30,000 horsepower—sheer insanity. I'm guessing this one came out of some kind of much smaller boat.
Towards the back of the yard are the remnants of some of the things these engines came out of; this is apparently a retired fire truck.
Dodge work truck gave up something to the cause. It had a flatbed on it, as well as a 1989 registration sticker in the window.
Some of the old engines had instrument panels with oil pressure, tachometers, and more. Here was a pretty neat one.
This was another monster diesel, a Caterpillar D343—this is a 14.6-liter, 893-cubic-inch six-cylinder, with a 5.4-inch bore and a 6.5-inch stroke. There are several versions of this, but they make between 395 and 1,100 horsepower at 2,000 rpm. Good Lord.
I suppose the reality of all of this is that if I want a Detroit Diesel to clatter to life in my garage, it might be considerably easier to just do one of these smaller 6-71s, but where's the fun in that?
The one thing I didn't find was the biggest, baddest Detroit of 'em all—the 16V-71. You guessed it, it's a 16-cylinder monster, actually made of two 8V-71s bolted together back to back, including the crankshaft! I can only supply a photo of one from the internet, so enjoy this one courtesy of Heavy Duty Kits, which still sells rebuilt versions for seriously heavy duty applications. Price: $45,000!
Hope you enjoyed the tour. Cimino is a car and truck guy, and we may stop by here again on a vintage car excursion in the future. Until then, I'm staying in touch, as I have my garage floor load tested.