Here is the first completed body for the Aston Martin DB4 GT Zagato Continuation car
Combining traditional metal shaping with the latest technology, Aston Martin has completed the lightweight aluminum body for the first of 19 DB4 GT Zagato Continuation cars that it will be building for the $7.86 million Aston Martin DBZ Centenary Collection. In addition to the recreation of one of Aston Martin's historic grand tourers, the collection will also include the new DBS GT Zagato,
Artisans and craftsmen at Aston Martin's Heritage Division, which Aston bills as "the largest, best equipped and most knowledgeable Aston Martin restoration centre in the world," have taken thin, 1.2-mm flat sheets of aluminum alloy and traditional tools, like the English wheel, to shape the body panels. While the team uses fabrication methods in use when the original DB4 GT Zagatos were constructed six decades ago, the results are checked against a modern digital body buck created by Aston Martin engineers to ensure that the Continuation models are authentic. Though old-world craftsmanship is deliberately part of the process, when appropriate, Aston Martin is "sympathetically" endowing the recreations with performance enhancements and 21st-century engineering.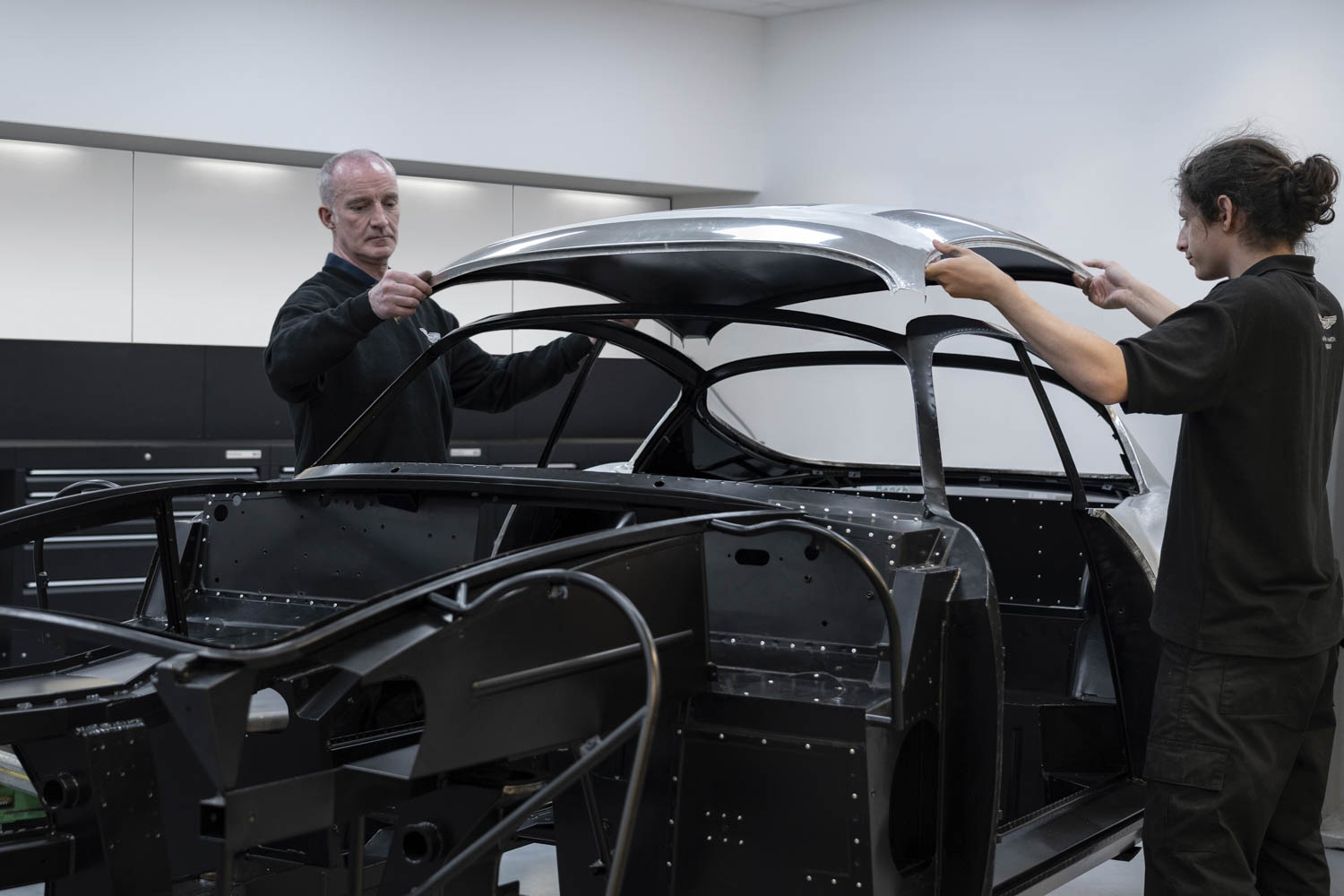 The hand-formed aluminum panels sit on a lightweight tube space frame that will eventually be powered by a 380-horsepower version of Aston Martin's historic race-proven, twin-spark inline-six originally designed by Tadek Marek. A period-correct four-speed manual gearbox and limited-slip rear end will put that power to the ground.
The building of continuation cars is now an ongoing venture at Aston Martin. The DB4 GT Zagato Continuation follows the 25 DB4 GT Continuation cars AM sold in 2017, and it will be followed by the Aston Martin DB5 Goldfinger Edition tribute to the James Bond DB5, to go on sale next year.
It looks like it takes less time to build a vintage car than it does to develop and build a modern one. Deliveries of the DB4 GT Zagato Continuation will start in the third quarter of this year, while the DBS GT Zagato will arrive in late 2020.