American Pickers' top kiddy car buys
The boys are back. Actually, they never left—or, more accurately, they never leave. Which for those of us who enjoy American Pickers, is a really good thing.
When we aren't watching co-stars Mike Wolfe and Frank Fritz hunt out forgotten treasure in attics, garages, barns, warehouses, and shuttered general stores across the country, we're watching "best of" compilations of their greatest picks. And when those picks involve cars and motorcycles, we're all in… even if those cars and motorcycles are a bit on the smallish side.
In a recent highlight show called Picks in Toyland (Season 18, Episode 81—yes, 81 episodes!), Mike and Frank combine their love of transportation and toys to uncover some amazing collectibles for kids of all ages.
First stop is Virginia, where the Iowa pickers meet A.J., a high-end collector of tin and metal toy cars, trucks, motorcycles, and planes. Frank scores a vintage three-wheeler in its original box and Mike acquires a toy Mercedes, but bigger things are literally right around the corner, where A.J. reveals a fleet of large toy planes and a number of antique pedal cars. Mike immediately gravitates to one of A.J.'s favorites: an all-original 1920s–30s Spirit of St. Louis pedal plane, modeled after the iconic bird that legendary aviator Charles Lindbergh flew from New York to Paris in 1927—the first nonstop solo transatlantic flight. Mike steps up by offering $1500 for the amazing pedal plane, and after he sweetens the deal by agreeing to buy an additional three toy planes, the deal is done.
A little closer to home, Mike and Frank are roaming back roads in Iowa when they spot an old toy museum. They knock on the door of the former church and are greeted by George, who says he closed the museum decades ago when it became too much of a chore for him and his wife to maintain. With toys as far as their eyes can see, Mike and Frank are ready to buy—and George is ready to sell. A self-proclaimed Volkswagen fanatic, Mike latches onto a rare promotional item given away at dealerships: a lunch box that looks like a VW bus. After some back and forth negotiations, Mike and George shake on 80 bucks.
In upstate New York, the pickers follow a lead from their Antique Archeology office manager, Danielle Colby, who sends them to meet a toy collector named Ernie. The pick gets off on the right foot when Mike and Frank spot a Datsun 240Z out front and a Nash Metropolitan on a hoist, indicating that Ernie is into cars. He confirms as much when he invites the pair inside. Frank's eyes immediately widen. "Friction drives, wind-ups, cast iron…," he says before dropping $225 for a 1950s Auto Speedway toy with five original cars. "He has toys on top of toys."
As usual, Mike is more attracted to a pedal car hiding under a work bench. It's an Austin J40 built in England in the late 1940s or early '50s—the pedal car of choice for the annual kids-only Settrington Cup race at Goodwood (you've got to watch this video). Although the rare pedal car has been slightly modified with the addition of a motor (no longer attached) and gas tank, Mike is thrilled to own it. He pays $1800.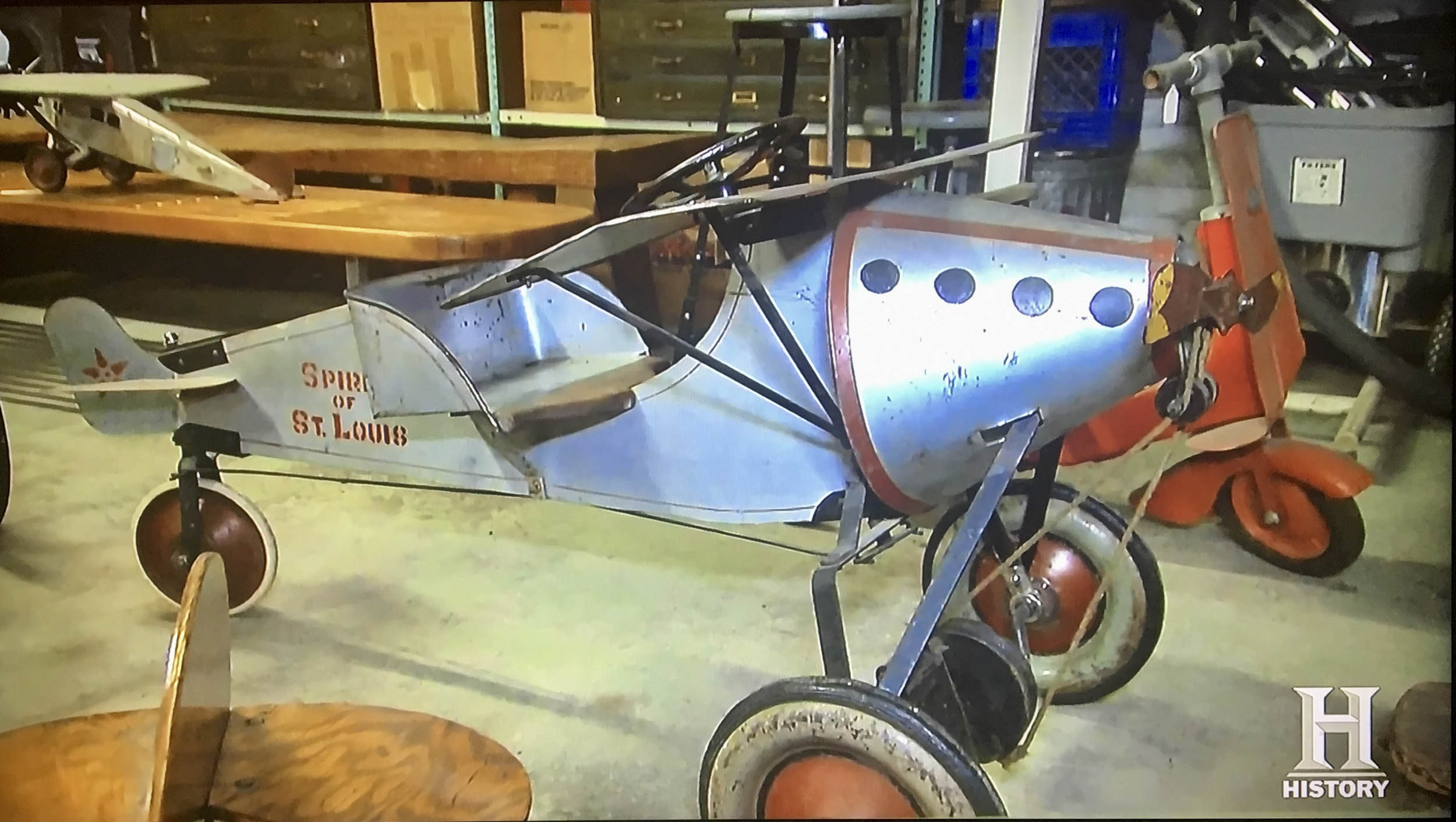 Then the pair find themselves in a Pennsylvania attic belonging to and elderly ex-auctioneer named Aldo, where they undercover a cache of toys. Among their discoveries are 42 tin cars in their original (although dilapidated) boxes. "I got all the toys at the auctions," Aldo explains. "Sometimes people wouldn't buy 'em, so I'd buy 'em." Mike acquires the cars for $25 apiece.
After buying a giant Victorian dollhouse in South Carolina, the final pick of the episode is a rear show stopper. While picking in Texas, Mike and Frank meet Bernard, who invites them inside to see his astounding collection of more than 7000 slot cars. He believes the collection is the best in the world. "For me, collecting is a competitive sport…," Bernard says, pointing out cars from countries around the globe.
Bernard isn't interested in selling anything that he doesn't have duplicates of, but to Mike and Frank's delight he locates some doubles he's willing to part with. Frank buys a late-1920s Electricar for $250, and Mike goes gaga over a pair of 1964–65 electric cars that are based on characters created by renowned hot rodder and talented illustrator Ed "Big Daddy" Roth. "This is where my world crosses over into the car world," Mike says. He makes a deal to purchase the Rat Fink car and then decides he can't leave Gasser behind. Bernard agrees to sell both for $90 apiece.
The boys got their toys, so everybody's happy.