Know your designers: Larry Shinoda
Born: Los Angeles, California, March 25, 1930
Early plans: During WWII, the U.S. government held Shinoda's family at a war relocation camp in Manzanar, California. Larry brought just a few things with him to the camp, including a notebook and pencils. In the camps, he built a pair of reclining chairs and other furniture using wood scavenged from crates. His family moved to Colorado after the war, but Larry eventually returned to Los Angeles, where he enrolled in the Art Center College of Design.
Discovery: Gene Bordinat, who later became vice president of Ford's styling division, met Shinoda through an instructor at the art school in 1954 and offered him a job. Just in time, because Shinoda had just been expelled.
Biggest hits
1956 John Zink Special: After working with John Z. DeLorean at Packard, Shinoda joined racecar builder A.J. Watson's Indianapolis 500 team for a season. He designed the car's sleek, cigar-like body and wild pink livery in addition to working on the crew. Pat Flaherty drove the car to victory, giving Watson one of his six career wins at the track.
1959 Stingray Racer: A blend of Peter Brock's fully streamlined, spaceship-like Q-Corvette concept, mated to Zora Arkus-Duntov's open-topped, wide-grille Corvette SS experimental racing machine. The car won the 1960 SCCA Championship, and was later driven on-screen by Elvis Presley in the 1967 movie Clam Bake.
1962 XP-755 "Mako Shark I": Shinoda drew inspiration for this gorgeous Corvette concept from the mounted shark that hung in the office of GM styling boss Bill Mitchell.
1963–1967 Sting Ray Corvette: Translating racing concepts into a production vehicle was no small task, but the Sting Ray was a triumph. No longer was the Corvette a cheery, chrome-laden roadster, but a sharp-edged sportscar with pop-up headlights and a silhouette that screamed speed. Ever since, the Corvette's been a world-beater.
1965 "Mako Shark II": The follow-up to Shinoda's earlier eye-popping design added more curves, exaggerated fenders, and a hulking hood bulge. The Mako II inspired the styling of the third-generation Corvette that debuted in 1968.
1969 Ford Boss 302 Mustang: Shinoda tapped his hot-rodding roots to convince Ford to ditch its initial chrome-heavy design for the company's answer to the Camaro Z/28. Beyond giving the car its iconic hockey stick stripes, he helped hone the car's handling.
Lasting influence
Beyond his talent for designing cars, Shinoda was an irrepressible hot rodder. He started building cars after arriving in Los Angeles, and legend has it he landed the job designing Corvette concepts after an impromptu street race with Mitchell (Shinoda's hopped-up Ford trounced Mitchell's blown Pontiac.) While the curving, streamlined look of his designs defined the Corvette's aesthetic legacy, the mechanical aptitude revealed in his sketches can't be overstated.
Shinoda's impact on the cars he designed went beyond how they looked. During his stint at Ford, he lobbied the brass to retune the engine in the Boss 302; he loaded company execs in a plane so they could spy on Roger Penske's Trans-Am team at GM's proving grounds; and he even found the money to repave Ford's skidpad.
Other Notable Automotive Work
GM
1960 CERV-1
1962 Corvair Super Spyder
1962 Monza GT
1962 Monza SS
1964 CERV-II
1965 Chaparral 2C
1967/68 Astro-I, II
Ford
Shinoda-Williams
1990 Rick Mears Special Edition Corvette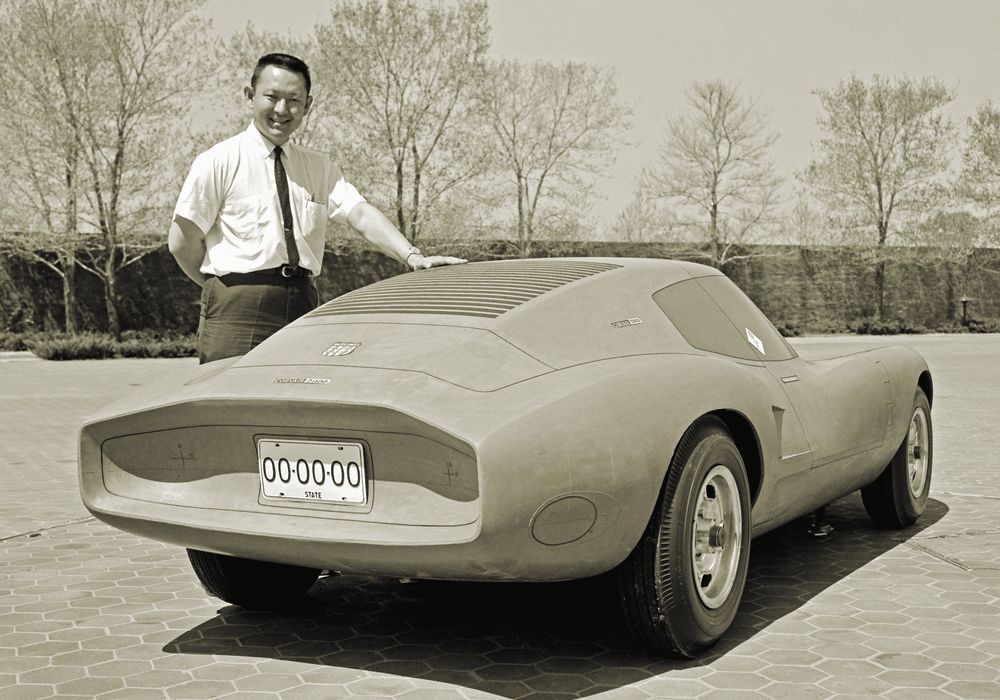 Biggest Bomb: Shortly before his death in 1997 at age 67, Shinoda drew a single illustration of a C5 Sting Ray Concept. The idea took classic ideas and grafted them to the then-new fifth-generation Corvette. Retro design made vehicles like the PT Cruiser initially popular, but Shinoda's best work was done relentlessly advancing into the future, not retreating into the past. He made the Corvette a shark, and a shark has to keep moving forward to breathe.
Best Oddball: General Motors toyed with the idea of a rear-engine Corvette in the early 1960s, and asked Shinoda to design a test vehicle. The XP-819 looks a bit like the front of a C3 Corvette grafted to the back of Ferrari 250LM, and isn't an unattractive car. The design prompted Corvette engineer Zora Arkus-Duntov, who steadfastly insisted a rear-engine Corvette could never work, to ask, "Where did you cheat?" The concept, entirely custom built and truly 1 of 1, handled like an oil tanker, but it performed flawless wheelies.
Other Design Work: It is only fitting that Shinoda designed the logo for the National Corvette Museum in Bowling Green, Kentucky.