In his own words: Tom Peters, Director of Exterior Design, GM Performance Car Studio
Tom Peters has one of the best jobs in the automotive industry: he gets to design General Motors performance cars like the Chevrolet Corvette and Camaro. During his 35-year tenure at GM, Peters worked on projects like the Corvette Indy and Pontiac Banshee concept cars, the Cadillac XLR, and the two most recent generations of the Corvette.
Don't let his lack of eccentric attire fool you. He may not wear gaudy jackets or patterned pants, but Peters' obvious excitement for design comes across in his warm and effusive speech. And as a refreshing foil to the car designer cliché, he breaks down ideas of form and function into terms non-designers can understand.
We spoke with Peters at the 2017 L.A. Auto Show, with the 755-horsepower ZR1 as a backdrop, to chat about how he rises to the challenge of designing Corvettes.
How do you address the question of what to do next, especially with a performance variant like the ZR1?
I wouldn't say it's easy, but there are elements that evolve out, and it's usually driven by technology, or even things in the art world or fashion world that you embrace. Things that you learn.
For instance, Corvette has a long-standing history, and specifically recently—I'd say the last three generations—with tying in and harvesting what's learned on the racing circuit. Which discovers things from a high-performance end. Working in harsh environments and optimizing the technology, particularly in aerodynamics and powertrain, even suspension. Every aspect that we take in, and express in a new way in street form.
Elements like the radiator. Where previous generations have been kind of laid back, [now we're] rocking it forward. Most race cars do that, and it's kind of an obvious packaging situation. But previous Corvettes didn't do that until the last generation. Allowing the air to go through a little more efficiently allows you to develop different shapes in the hood form. From a design standpoint, it helps you to optimize and do different things relative to a sculptural form around the hood and throughout the body.
How much of the styling on the ZR1, or any sports car, dictated by the packaging or the performance requirements?
To me, the trick is, you don't see it as "Got to do this," or, "I'm frustrated by…" As I mentioned, you embrace it, and capitalize upon that by driving my team in a different direction. By doing so, it allows you to not only achieve the performance that's required, you have to reach into that next level. You just cannot compromise these vehicles. Corvette is no exception to that.
If you take that and add the beautiful sculpture around it, you'll not only come up with something new, but something actually quite expressive as well. I don't know how far you want me to go on this, but to me, that's the difference between styling and design. True design. And particularly with these vehicles that are serious, high-performance machines, you're challenged with a target or goal that you develop with a talented team and [find] a solution that's executed beautifully. That's how you get it all. That's the true deep problem solving.
Is that freeing, then, to know that you're not going to put a styling accent in unless it has a functional use?
Oh yeah, absolutely. It is freeing, and you know what? You just feel really good about that. I think that's what's wonderful about this Corvette team, designers, sculptors, engineers, and all different realms. Whether it's body engineers, chassis engineers, powertrain people, aerodynamicists. There's this unified direction and everybody gets it. Everybody's trying to achieve the same goal, and you would think in many cases there's these dichotomies, and points with a lot of friction. Not that we don't have our moments, but in general, everybody's moving in the same direction. It's not easy, but that's been just a wonderful experience. I've had that [with ZR1] more than any other program or car I've ever worked on during my career.
How do you deal with the Corvette's long heritage and determine what parts of the past to bring forward?
From a design standpoint, how to approach it is when you look at the vehicles, you look for those timeless elements in past vehicles. The trick is to boil them down into their essence. Like the fender shapes on a Corvette, the section to that power bulge hood, the basic proportions of the wheels. And you've got this kind of a fuselage shape, with an aircraft, fighter-like canopy sitting on top of that, that's a fundamental element.
From a design standpoint, how you get something new is what we've been talking about. You draw the current, or the latest technology, and then challenge your folks. Give them the inspiration, and the freedom to do new expressions. Fresh expressions. I'm not really a proponent of full retro. But you've got to convert or translate in a modern way.
What was it like when you got rid of the Corvette's pop-up headlights?
Boy, I tell you, I got a lot of hate mail because I was involved with that discussion. Actually, Dave Hill, the chief engineer at the time said, "Hey, you know? I'll trade you. I'll give you the most leading-edge lighting technology if we can make the lamps fixed."
We did it from a practical standpoint in terms of a product. What he [Hill] states is that it's going to make it more reliable, simpler, lighter, more cost-effective—all those things. In my mind, I'm thinking I want to make sure this stays pure to a Corvette, but I want to say something new. Just as I was saying, you embrace these new aspects, and lighting is a great example. You have so much freedom in that realm now. That was one of the firsts that I've ever experienced. I said, "Okay, Dave. I'm going to try it." And we featured this new technology in a way that we hadn't done before, particularly on Corvette. At the end of the day, you stand back and look at the overall shape. Does it still say Corvette? It doesn't rely on just those lamps or even round taillights. We'll talk about that in a minute.
Oh, by the way, from my understanding just about every recent racing Corvette has exposed lamps. I know we've done concept Corvettes that have exposed lamps, so the success doesn't hinge upon that, but when I think about designing serious vehicles that integrate technology, it was the right answer. I got a lot of flack for that, but over time I think you would agree it seems natural now. It seems the smart thing to do on many different levels.
You mentioned taillamps. Was that a similar story to the headlights?
On the C7 I thought, "You know, what's one of the things we hear from customers?" "Well, you know … it still looks similar." I think what people see a lot are big graphics statements. For instance, the headlamps. Then the taillamps. The C6 and the C5 had a lot of different sculpture, but basically the two big graphics in the back were two round taillamps. There's a familiarity there. I said to the team, "You know, for C7, I tell you guys, we're not going to do round taillamps this time." I'm thinking in the back of my head, about the experience we went through the headlamps. We wanted to stick with the dual element, but they've got to be new, and I think they have to embrace the LED technology and make them not different for difference's sake, but make them profound so they're not only graphically different. They're sculpturally different.
There's depth to them, and I received every bit as much flack for going away from that, but guess what? In that studio we tried rounds. It looked more familiar. In fact, it looked old. When the car came out, it was interesting that the more traditional customers, they were the most vocally critical about that. The younger customers, the newer customers, they loved it from the get-go. I would think at least in my experience that the taillamps have grown in terms of acceptance and people appreciate that.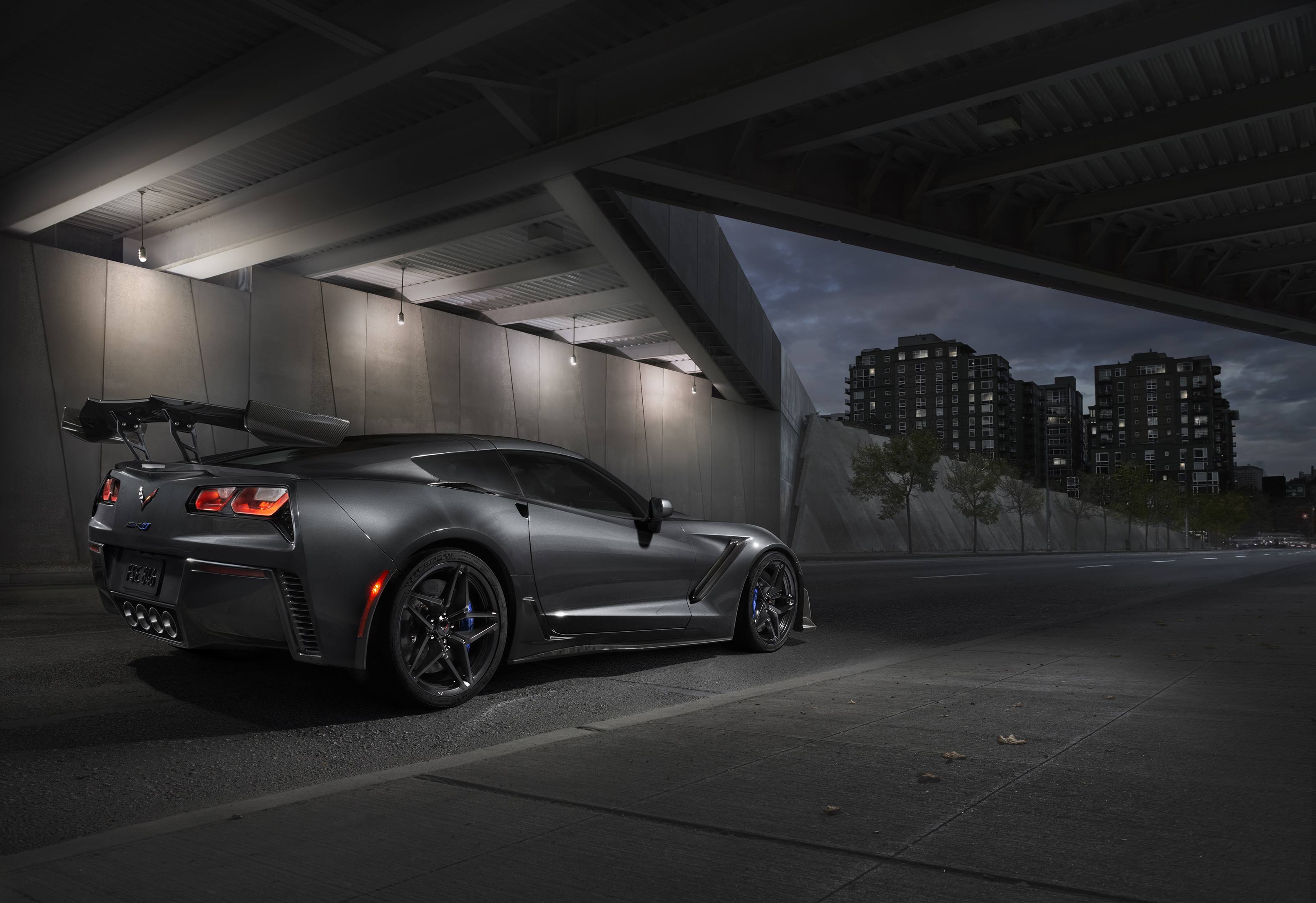 How do you deal with the pressure of styling a historic nameplate and a car that gives people a strong emotional attachment?
Again, we embrace that. I think it's a wonderful source of rich, passionate, soulful elements that if you do correctly, it's a new expression and you capture that. You close your eyes, you think of these cars…you see one drive by. It just gets you. You want that same feeling from your childhood.
I'll tell you something else about when we did the C7. I've said this before: Don't design this for the current Corvette or Camaro customer. Design it for when you were 10 years old. When I saw one of those Stingrays for the first time, it was like a spaceship landed. I remember the day, crystal clear, when that '63 Stingray pulled up to our grade-school and the kid got out. His dad was dropping him off. We'd get out of the bus and wait for that. Everybody remembers their first ride in that Corvette. It's like, "What is that?" We're trying to capture that.
I said, "Don't design it for the Corvette enthusiast or the guys you see at the races." They're wonderful people, obviously, but if you want to take this into the future and you want to make sure you instill that lifelong passion—that "Someday, I'm going to have one of those" kind of feeling—that's what you want.
What's your approach to evolving technology, both in putting it in the cars and as a design tool?
The only thing I would say is, we have so much technology that's at our hands and in reach…there's got to be a human element in that, too. I'm adamant about having human sculptors involved. Even the designers do their ideas sometimes just by pen and paper or pencil and paper, and then they'll scan that in the computer. We'll go back and forth. We have a team of hand sculptors who will work full-size clay and take it out as often as possible and then go back and forth between the digital and computer modeling, so we get precision and balance. I believe these powers of experience of the previous generation, you need to have that.
What truly stands out to me is having those human sculptors do the surface where I think that soul, that passion translates right into the sheet metal. It sounds kind of hokey, but I'm here to tell you I've witnessed it almost on a daily basis.