Classic of the Month: Kevin and Janet's 1956 Ford Fairlane wagon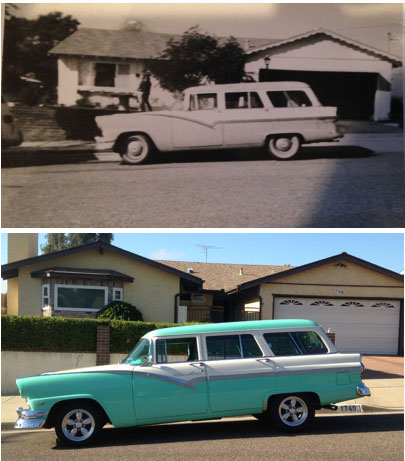 Kevin and Janet Nolan were ready to give up their search. A considerate California DMV employee was not, however. And that clerk's perseverance reunited the Nolans with their 1956 Ford Fairlane four-door station wagon, two decades after the couple sold the car.
Kevin's mother purchased the used wagon in 1960, and Kevin bought it from her in 1974. He drove the car while dating his future wife, and it later served as the Nolans' ride for drive-in movies, camping, and other family excursions. But time eventually began to take its toll on the Fairlane, and the family couldn't afford to properly restore it. So they sold the wagon, in 1993, to someone who might.
Twenty years later, the Nolans were determined to find the car and bring it home. Janet tried everything she could to locate the old Fairlane, including requesting vehicle records through the California Department of Motor Vehicles. The DMV shared the name of the car's current owner and the license plate number, but not an address, and the search ultimately hit a dead end.
The Nolans say they decided "to leave it in God's hands," and prayed that the Fairlane would somehow make its way back to them. Little did they know that the DMV had already reached out to the current owner on their behalf. The owner contacted Kevin and Janet and said he was interested in selling the car back to them. They soon agreed upon a price for the wagon, which had been beautifully restored just as they'd hoped.
Feeling "truly blessed" to have it back in the family, the Nolans returned to the DMV and thanked the employee who had gone the extra mile so that they could do the same (and more) in their beloved Fairlane.
***
Editor's note: Hagerty's Classic of the Month begins with a simple conversation. A member calls Hagerty and shares their story with a licensed agent. Those stories are collected, and a committee chooses a weekly winner. The four weekly winners are shared with the entire company, and employees vote to determine a monthly winner. At the end of the year, there is another vote to decide Hagerty's Classic of the Year. Congratulations to Licensed Sales Agent Ryan Frazier, who provided details about this month's winner.