The unpredictable life cycle of Pontiac's Bonneville nameplate
Some car models have very linear, predictable lives. Take the Lincoln Town Car. All throughout its long life, from Continental option package in 1969 through the final Panther-body models in 2011, it remained a full-size, rear-wheel-drive, V-8 luxury car. Chevrolet's Camaro has the same story; to this day, it's a sporty two-door, available in mild six-cylinder or wild V-8 SS trim. The elegance of its exterior styling has varied a bit in recent years, but that's a cosmetic matter.
The Pontiac Bonneville's story, on the other hand, is more circuitous. It started as a top-of-the-line, fuel-injected, convertible-only special edition in 1957, followed by specially-trimmed coupe and convertible models (with fuel injection optional) for '58. After that, it became the fanciest Pontiac model, no longer limited to two-door hardtop and convertible versions.
As of 1959, the Bonneville was the most prestigious Pontiac. It reigned supreme with a full line of body styles, including hardtop coupes, hardtop sedans and a convertible in addition to a pillared sedan and a station wagon. The Bonneville competed with the likes of the Mercury Park Lane and Montclair and Dodge Custom 880 and, later, the Monaco. Until 1971, that is, when Pontiac decided to chase Buick and Oldsmobile with its "Super Bonneville" Grand Ville. Thanks to its squared-off, C-body-derived roofline and extra-plush interior, the Bonneville slipped a rung in the Pontiac lineup, settling in approximately the same spot as the recently-departed Executive: The less-expensive full-size, long-wheelbase Pontiac.
However, the Grand Ville never really took off sales-wise, and it disappeared after 1975 along with the final big Pontiac convertible, the Grand Ville Brougham. Model year 1976 saw the return of the Bonneville and the even-fancier Bonneville Brougham. The 1977 downsizing trend made the Bonnie more popular than ever, though its sales numbers still fell far below those of its corporate cousin, the Caprice Classic.
Of all the 1980 "aero" B-bodies, my favorite are the 1980–81 Bonneville coupes. These looked much more luxurious than the Caprices but never achieved the sales volume of the Chevys. I haven't seen one in years.
Then Bonneville story changed. The 1979 gas crisis shook many of the higher-ups in Detroit. Many of them expected a worst-case scenario in which gas prices doubled or tripled overnight. Indeed, fuel prices spiked and gas lines began to appear, as in 1973. Pontiac execs feared their big cars, despite being downsized in 1977, would flounder in dealer showrooms. So they took a rather drastic alternative route: the company cancelled the entire full-size Pontiac line for 1982.
The Bonneville name once graced attractive coupes, sedans, and station wagons: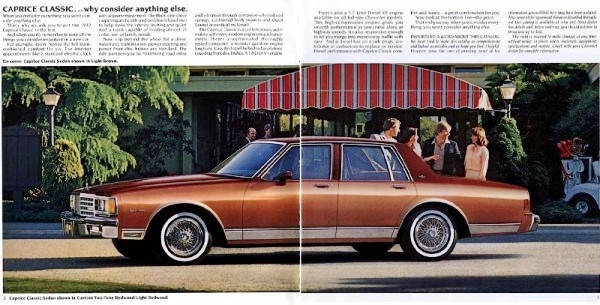 In 1982, however, Pontiac affixed the grand Bonneville badge to what was, essentially, a Grand LeMans with a slapped-on, mini-me Bonneville fascia. But the car wasn't full size, and to most buyers it simply wasn't a Bonneville. Of course, this process of shrinking cars and rearranging lineups was happening elsewhere in Detroit: The R-body Chrysler New Yorker had been similarly replaced with a slightly revised, M-body LeBaron.
Across the street at the Chevy dealer, though, you could still get a full-size Impala or Caprice Classic. Buick, Oldsmobile, and Cadillac all kept their full-sized models. Pontiac was the sole division to exterminate its large cars.
A Bonneville "Model G" station wagon was also offered (logically, it rode on GM's G platform). Coupes were gone for good, at least as far as the Bonneville was concerned. Here's a fun fact, though: In Canada, the Bonneville "Model G" was marketed as the Grand LeMans. Why? Because GM Canada honchos thought that eliminating the full-size Pontiac was perhaps not a wise decision and continued the B-body as the Parisienne for 1982. In reality, the Parisienne was not a true Bonneville but rather a quick trim-shuffle on the Caprice, but Canadians could still walk into a Pontiac dealer and get a traditional large sedan or station wagon.
If the worst fuel price scenario had played out, then Pontiac might well have had a great year; buyers would have shunned bigger cars for something just as plush but more fuel-efficient. But that didn't happen. Pontiac was caught off guard in 1983 as customers started lining up for full-size sedans again—and bought a Caprice or Impala instead. Oops.
It didn't take long for Pontiac to realize its mistake and import the Canadian Parisienne starting in mid-'83. Pontiac even added the 1980–81 Bonneville rear fenders, taillamps and trunk lid to rebadged 1985–86 Parisiennes, complete with fender skirts. However, the Bonneville remained a mid-size offering on the G-platform, with very little changes made between '82 and '86. 
Finally, in 1987, Pontiac restored the Bonneville's prestigious reputation and grand size. The Bonneville joined its former platform-mates, the Delta 88 and LeSabre, on the new-for-1986, full-size, front-wheel-drive H-body. Modern and attractive, the new Bonneville lost all of the ornate Brougham cues—like a stand-up hood ornament and opera lamps—and channelled smooth sportiness instead. Unlike its Delta 88 and LeSabre siblings, the Bonneville was not offered as a coupe. From 1987 on, the Bonneville would be a sedan only.
All 1987 Bonnevilles shared the same powertrain: the bulletproof 3.8 liter V-6 with sequential port fuel injection, 150 hp, and a four-speed automatic. SE models gained gas-pressurized struts, Goodyear Eagle GT radials, alloy wheels, full instrumentation, and the cool Driver Information Center, which showed an overhead illustration of the car and had light-up sections for an open door and an open trunk, plus other alerts. I remember a friend of my father had a white 6000STE he bought new around this time, and as a six- or seven-year old I was absolutely fascinated with that feature. If you opened a door, the door on the miniature car on the dash opened too. Way cool. 
While a formal chrome grille, a vinyl roof, and pillow-top velour seats were no longer on offer, when it came to luxury the LE took over where the '86 Brougham left off. Standard features included power windows, air conditioning, and a 45/55 bench seat. These handsome spoked alloys were available as an option. Also optional on '87 Bonnevilles was the Delco UT4 AM/FM stereo or Delco/Bose sound system, both of which added radio buttons to the steering wheel—one of their earliest automotive appearances.
By 1989, the range had broadened out to three models. The SE and LE were much the same as in 1987, though some new wheel covers and alloys were available. The big news was the SSE, resplendent with ground effects and spoiler, which gave the Bonneville a sort of four-door Trans Am vibe. From the front, our featured Bonneville appears to be a 1990–91, as only the SSE had this grille in 1988 and 1989. SE and LE models from 1990-91 got the SSE grille along with new taillights with amber turn signals, new wheel covers, and other minor changes.
As you can see, though, the front bumper on this car does not have the matching two-tone paint to match the rest of the car, and the taillights are the earlier 1987–89 style, so I believe this is an '89. Probably it was in a fender-bender at some point and gained a new grille and front bumper from another car.
And about the SSE. It appeared in 1988, and immediately displaced the SE as the sporty Bonneville. The SSE was extremely luxurious and sporty for even Pontiac: it had ground effects, color-keyed wheels, plush 12-way leather seats, Electronic Ride Control, and automatic climate control among other refinements. The SSE would do 0–60 mph in 10.7 seconds, and brake from 60 to 0 mph in 144.5 feet, thanks to its 160-hp V-6, 3.33:1 axle ratio, and four-speed automatic. Not awesome power in 2020, but pretty good for the late '80s. And I still love the way they look.
I happened across this car back in March of 2013. It's almost a year to the day, in fact. The H-body Bonnevilles were a rare sight then, so I had to stop and check it out. They're virtually extinct now. This LE was very similar to one my brother's friend's parents had back when these were new cars. Theirs was the same color, but was a 1990–91 and had the five-spoke wheel covers instead of the alloys wheels this example sports. I remember riding in that first LE circa 1993 and thinking it was pretty nice. Its owners eventually traded it in on a loaded, white 1996 Chrysler Town & Country LXi.
This car looks like it was cared for most of its life, as the interior was spotless. LEs came only with the column-shifted automatic and divided bench seat with fold-down armrest. While the same was standard on SEs, they could be optioned with buckets and a console. Starting in 1989, a compact disc player and anti-lock brakes were added to the option list. Ordering the UT4 Delco stereo added not only the radio buttons to the steering wheel but also heat and A/C adjustment buttons.
Like all H-bodies, these Bonnevilles were very roomy cars, owing to their excellent space utilization. This was a well-equipped example, with two-tone paint, alloy wheels, the aforementioned UT4 stereo with steering wheel controls, and automatic climate control.
This style last appeared in showrooms for 1991. In '92 a much swoopier, all-new Bonneville replaced it. Things like the non-flush push-button door handles and upright styling of the '87-91s were losing ground in favor of the aero look, and it was time for the big Pontiac to join the club.
The Bonneville made its last stand in 2005 before being resigned to the history books. Pontiac itself lasted not much longer. But it was a great name, and Bonnevilles are great cars. There are still plenty of Pontiac lovers out there today—I'm one of them.