This triple-black 1969 Plymouth VIP is a rare and spooky delight
Starting in the mid-1960s, the Low-Priced Three—namely, Ford, Chevrolet, and Plymouth— went upscale. Oh sure, you could get very well-equipped Impalas, Furys (Furies?), and Galaxie 500s, but these new full-size top-of-the-line cars went a step further. The Impala gave way to the Caprice, initially available only as a four-door hardtop in 1965, and technically a member of the Impala line. That would change in 1966, when the Caprice would become a full-fledged model of its own. In the same manner, the Galaxie 500 begat the LTD. Two- and four-door hardtops were available.
Slightly late to the game in 1966 was the third member of the upscale Low-Priced Three, the Premium Plymouth, dubbed VIP. In 1965, the Sport Fury was the fanciest full-size Plymouth, but now it played second fiddle. The expected vinyl roof, plush interior trim, and other upgrades made the VIP stand out.
But for some reason, this premium Plymouth never took off like its cross-town rivals, the LTD and Caprice. Only 12,058 '66 VIPs were built in two- and four-door hardtop models. Compared to the Caprice with 181,000 units (excluding station wagons) and LTD with 101,096, it was a drop in the ocean.
The 1967 VIPs shared an all-new body with other Plymouths, but it seems that very few buyers were particularly interested in the top-shelf offering. 7,912 two-door and 10,830 four-door hardtops were built. The Fury III, roughly equivalent to the Impala and Galaxie 500 trim wise, was clearly the winner in big Plymouth popularity, with about 160,000 sold.
And 1968 was much the same, with just 10,745 sedans and 6768 coupes rolling off the factory floor. Only slight trim and upholstery changes distinguished it from the '67 model. A good-looking car. But it seemed as though Plymouth fanciers were more interested in the less flashy models, compared to their counterparts who were shopping Chevrolet and Ford. By '68, LTD and Caprice sales were going very well indeed.
The last roundup for the VIP was in 1969, but it was all-new and looked particularly nice, in your author's opinion.
As you may recall, this year marked the debut of the "Fuselage" full-size cars, which would carry on through 1973. Every Mopar marque, from Plymouth to Imperial, received new bodies, curved at the sides to simulate aircraft styling, such as that found on the recently-introduced 747 jet. It was a very clean and modern look, especially as the 1967–68 Plymouths, Fast Top coupes notwithstanding, had been rather square-rigged.
Three different body styles could be had as part of the 1969 VIP lineup. A two-door hardtop, a two-door Fast Top hardtop, and the expected four-door hardtop. Production numbers were 4740, 1059, and 7982, respectively. The VIP hardtop sedan started at $3433 before options.
For comparison's sake, the cheapest full-size Plymouth in 1969 was the Fury I two-door pillared sedan. It had a base price of $2701 with the "Slant Six" engine, or $2806 with the base V-8, a 318.
VIPs naturally had a V-8 as standard equipment, the aforementioned 318-cid unit. It developed 230 horsepower at 4400 rpm, and breathed through a two-barrel Carter carburetor, Model #4607S, to be precise!
The 1969 Plymouths were introduced on September 19, 1968. While it was the last year for the VIP, Plymouth did quite well overall, with 651,124 1969 models built for the calendar year.
And while it wasn't commonly seen even when new, the 1969 VIP was an impressive car. As the top of the line, it was available only as a pillarless coupe or sedan, and the smooth fuselage styling only enhanced its sleekness. And of course these were truly full-size cars, riding a 120-inch wheelbase with an overall length of 214.5 inches. And true six-passenger stretch-out room!
VIP standard features included deluxe wheel covers, diecast grille, electric clock, bench seat with fold-down center armrest, fender skirts, concealed windshield wipers, and a deluxe steering wheel with horn ring. As mentioned earlier, the 318 V-8 was standard, but you could specify either the 383 or top-dog 440 V-8s if you wanted proper motivation.
But let's be honest. In Detroit during the 1960s, options were king. Even if you bought the luxury model, you usually had to pony up for the top stereo, full power, and air conditioning. Things we take for granted today were extra 50 years ago. The 1969 VIP and its brethren Furys were no exception.
How so, you may ask? Well, here is just a partial list of extras available on full-size Plymouths:
Air conditioning $365
Tinted windshield $26
Dual front headrests $27 (would become standard equipment 1/1/1969)
Cornering lamps $36
Front and rear bumper guards $34
Automatic speed control $61
Leather seats (only available on the VIP) $104
All those options sound pretty cheap to our 2019 ears, don't they? But when you consider our featured car based at $3433, their relative cost becomes crystal clear. The air conditioning was more than 10 percent of the price of the car. Wow. But such were the times.
Our featured car is owned by a friend of mine, Glenn Bliznick, of greater Chicagoland. He is a Fuselage Fanatic, and this fine triple black VIP is but one of several in his fleet. Shall I name a couple other cars he has? How about a blue 1969 Plymouth Sport Suburban station wagon? And a metallic aqua 1969 Imperial coupe? Is that not a fantastic conveyance? Maybe I'll get a chance to write them up at some future date.
But back to this excellent VIP.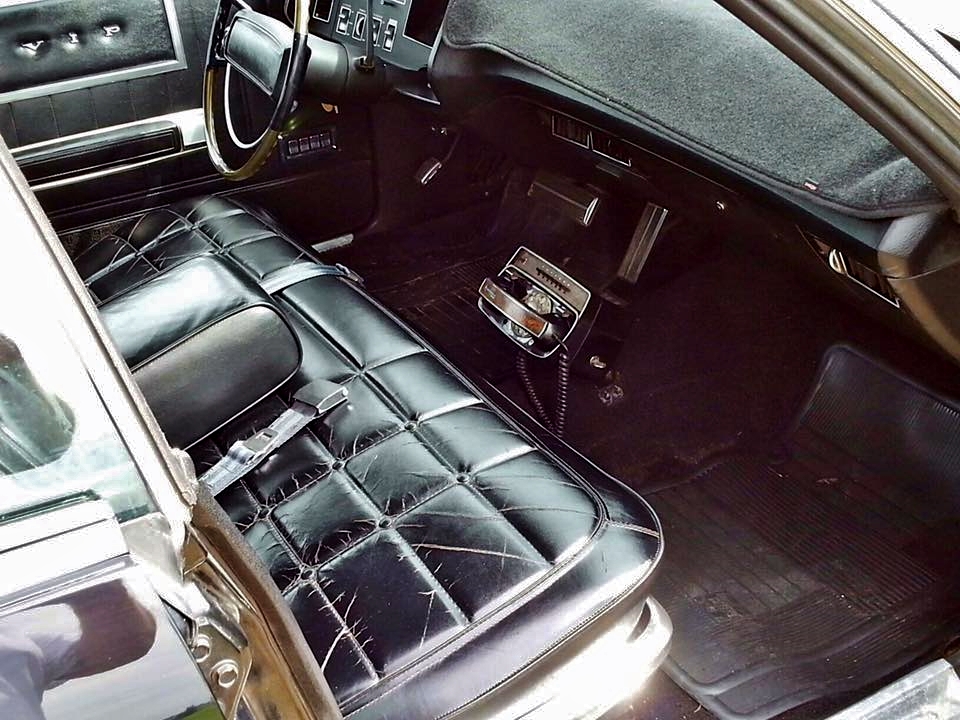 "It was built in Belvidere, Illinois, for a Chrysler executive. He was retiring at the end of the year. He traded in his '68 Imperial on it and had Imperials every year before," said Bliznick. "A little known fact about the not-so-common hood ornament on the 68/69 Plymouth is the background is dark for two-barrel engines, but red for four-barrel engines. Options include auto-temp Airtemp A/C, rear defogger, AM/FM, power windows, tilt wheel, original power leather seats, and cornering lights. While it is very highly equipped, it is not truly loaded. It is missing power vent windows, disc brakes, head rests, optional seat choice like 50/50 split bench or buckets, oil pressure gauge, tachometer, magnesium wheels. It's also missing the biggest engine—instead, it has the 383 V-8 with two-barrel carburetor." (The 440 V-8 was the most motivated engine in big Plymouths that year.)
But it is a very well-equipped example, for certain, and a beauty. I hope to finally meet Glenn in person and check out his Fuselage Fleet some time in the near future. In the meantime, I think we can all appreciate the photos of this most excellent example.
The VIP was the opening salvo to Plymouth's entry into the Luxury Wars during the mid- to late-'60s. While the first effort didn't gain much steam, the later Gran Coupe and Gran Fury did much better, for those who wanted luxury without the premium price tag. Plymouth is no longer with us, but if you've looked at the MSRP of a well-equipped Ford Explorer or Chevrolet Traverse lately, you can see that there's still a market for a high-priced product from the Low-Priced Two!