The "mitzvah" BMW 2002tii finds a new home
As I wrote a few weeks ago, the second of the two "mitzvah" BMW 2002s that I'm helping sell—the woman's late husband was the original owner—finally went up on Bring a Trailer. I've touched on some of this before, but now that it's done, I can lay it all out.
When I first saw the car back in June, the owner, Chris, said that her husband Jim, who'd bought the car new back in 1972, had told her as his health was failing, "Don't sell the baby [the car's nickname] for less than $60,000." These days, best-of-the-best nut-and-bolt-restored 2002tiis can reach six figures, so on paper, that number was not out of the question. However, although the nearly rust-free Fjord metallic blue 2002tii was very pretty, Jim was not an open-checkbook-restoration owner, and the shop that did the rust remediation was not a vintage BMW specialist. It was clear to me that that the car's value was capped well under $60K.
The car had a replacement nose and visibly non-original welds that attached it to the fenders. It had a non-numbers-matching engine (it was a factory replacement; the original engine is still in Chris's garage). There was the presence of a hard gravel-guard-like undercoating in the engine compartment and under the car, as well as non-original waxy Ziebart-like coating in the trunk. The original front seats had been reupholstered in black when the rest of the interior was Navy. The odometer showed 203,000 miles. Plus, there were some howling but correctible errors, including misrouted fuel lines, and AutoZone battery cables, and indoor/outdoor carpeting instead of proper floor mats. There were some mechanical issues as well. For instance, the brake/clutch reservoir was down to the point where the clutch line runs down to the master cylinder, a sure sign that the clutch hydraulics were leaking. And when I drove the car, the brake pedal travel was way too long, indicating that the rear drum brakes were worn, out of adjustment, or both. Plus, the car's inspection sticker had expired, and it wouldn't pass until the directionals were repaired. Oh, and the 12-year-old tires were dry-rotted.
Even knowing BMW 2002s well, I usually make it a point not to answer those "What's my car worth?" questions, but my feeling was that, as-is, in drives-but-needs-work condition, the car was probably worth something in the low 20s. If the top layer of the maintenance issues were addressed so the car could be inspected and safely driven, and the howling engine compartment errors were corrected, I told Chris that I thought it might be a $30K–$35K car. I felt like Wayne Carini when he says that a lot of his time is spent telling people why their grandfather's ratty, barn-find '55 Chevy isn't worth $110K like the one they just saw sell at a Mecum auction.
But I liked her, and I was moved by the story, so back in June, I took possession of the car to make all that happen, as I thought I could do better job of it than anyone else. I really don't work on cars for other people, but if you're doing to do a mitzvah (a good deed), sometimes you need to go all-in.
I estimated to Chris that, with parts and a reasonable labor rate from me, it'd run about $1500 to get the car ready for sale, plus a flat $500 fee for me to represent the car for her on Bring a Trailer, to include photography, description, managing the auction, and handling shipping after the sale. Even with me charging only about a third of the hours that I actually worked, it came to nearly twice that. The car required new rear brakes (shoes, drums, wheel cylinders), clutch hydraulics (master, slave, and hose), new injection belt, valve adjustment, correcting the battery cabling and fuel hose routing, fresh oil and filter, coolant, brake fluid bleed and flush, transmission and differential fluid levels checked, sanding and painting the original steel wheels, new tires, front wheel bearings, breather hose, lock rod bushings, plugs, points, condenser, general cleaning, sourcing a missing piece of the original carpet, and more.
I finished the work in mid-July, photographed the car, and submitted it to BaT. They accepted it quickly, but I didn't receive a draft description until the end of August. There was then the usual back-and-forth with BaT about the description. For some reason, this time they were less accommodating than when I had two other 2002s on BaT and refused my request to "list the bad stuff"—the incorrect non-tii-specific nose, the undercoating, the welds—upfront in the auction description. The goal of upfront disclosure is that when the seller reveals flaws, it shows they have nothing to hide, and cuts way down on the sniping from BaT commenters. So, I did what I did in the other two auctions and crafted a highly-detailed warts-and-all description, and when the auction went live, I posted it as the first comment. Well, the first five comments (it was long).
Since the car had been sitting in the back of my garage for two months, once the auction was live, I pulled it out and test-drove it. I noticed that one of the four o-rings on the injection pump's suction valves was leaking and found that the car drifted ever so slightly to the right, especially in the right lane of a crowned road. Although it didn't pull to one side on hard braking, after a spirited drive I put a hand on both front wheels and both calipers and found the right side slightly hotter than the left (yeah, I know, you'd expect it to the be other way around—that it would pull or drift to the side without a sticky caliper). The leaky o-ring on the injection pump was easy to remedy—I replaced all of them. But the light drifting to the right was an issue that was right on the line of what I felt needed disclosure. I had checked the calipers—pulled them off and manually retracted all four pistons in each—months ago and found nothing wrong. So, I offered in an auction comment that if a buyer wanted to send me new or rebuilt calipers and new rotors and pads, I'd install them at no cost.
The BaT reader response to my candor was incredibly supportive. Comments included:
"Thanks, Rob, for a master class on BaT auctions."
"I would never buy a used car without laying eyes on it, let alone a '70s BMW from the Northeast, unless Rob Siegel was selling it. I think all BMW enthusiasts know to bid with confidence because Rob's assessment of this car is almost certainly better than their own."
"I believe that thehackmechanic does this work because it's his life passion. There is no other way to beef up your BaT seller status than to show outstanding commentary with those interested and to provide a long history of the car being sold. This goes a long way I think, and future cars will sell higher with little effort due to Rob's reputation."
"When I ultimately get the early '68 2002 that I've been (glacially) reviving ready to go up here on BaT, I am going to use this very auction as my template."
"I have never felt better about an auction on BaT than this one. I wish all were conducted as well as this."
I'd be a lying so-and-so if I said that I'm not flattered by this. At some point we all decide how we want to go through this world and what we need to do to look at ourselves in the mirror and like what we see. In a world where there's so much dishonesty, double-speak, omission, obfuscation, and outright lying, I do take it as a point of pride that, when I sell a car online, a buyer who knows these cars well should be able to get the same information that they'd get if they came and looked at it in person. In theory, that's not difficult, but it is time-consuming.
However, I am also keenly aware that my form of hyper-disclosure does not automatically increase a car's sale price and can, in fact, have the opposite effect. The spectacularly-high sale prices BaT is famous for are, obviously, paid by people who have that kind of money, and as I've long said, what brings those bids has far more to do with the image of the car—the well-photographed eat-off-it engine compartment and all that. As flattered as I am by the comments, the people doing the actual bidding probably care as much about my hyper-disclosed details about as much as they'd want to know that Charlize Theron has irritable bowel syndrome. (To be clear, I made that up. Ms. Theron, tell your lawyers to stand down. But yes, dinner at Le Cirque on Thursday night is fine.)
I'd listed the car with a $30,000 reserve. Two days after the auction began, the bidding reached $20K, but then it largely sat there. I fielded questions and kept readers engaged with new photos (if you don't know—and I didn't until a friend told me—part of the game with BaT is that every time you include more photos, it generates an email to anyone watching the auction).
Chris herself chimed in with the simple but heartfelt post: "Hi, I'm Chris and this 1972 BMW 2002tii was my husband's pride and joy for almost 50 years! It was affectionately referred to as 'the baby' and was treated as such! He built a small garage for it in the back of our home, and we enjoyed drives on country roads, but never in inclement weather! My wish is for a new owner who will love and care for it as he did." It generated more thumbs-ups than anything I've ever posted, anywhere.
One fellow contacted me and asked if we could talk on the phone. He was a guy from Canada who was a BaT newbie, said he was very interested in the car, and wanted to know what would happen if the car didn't meet reserve. I explained that the BaT process is that, if reserve isn't met, seller and high bidder are encouraged to negotiate. "Would you then go further down the list of bidders, or would you talk with me?" he asked. I delicately answered that the odds his winding up with the car if he hadn't actually bid were less than if he had. As the auction entered its final few hours and others commented that the car was worth much more than the bid level, this fellow chimed in, commenting, "I know that there are people just lurking, trying to either ruin the deal for the seller or the buyers while having no intent whatsoever to bid on the car, and that should not be allowed IMHO." It was a curious comment considering our phone call and the fact that he hadn't bid. I commented—not directly at him—"We are short of a reasonable reserve. Chris does want to sell this car. If it falls short of reserve, the person we'll negotiate with will be the high bidder. If you want to be that person, then be the high bidder." To his credit, this fellow then put skin in the game and bid. Twice.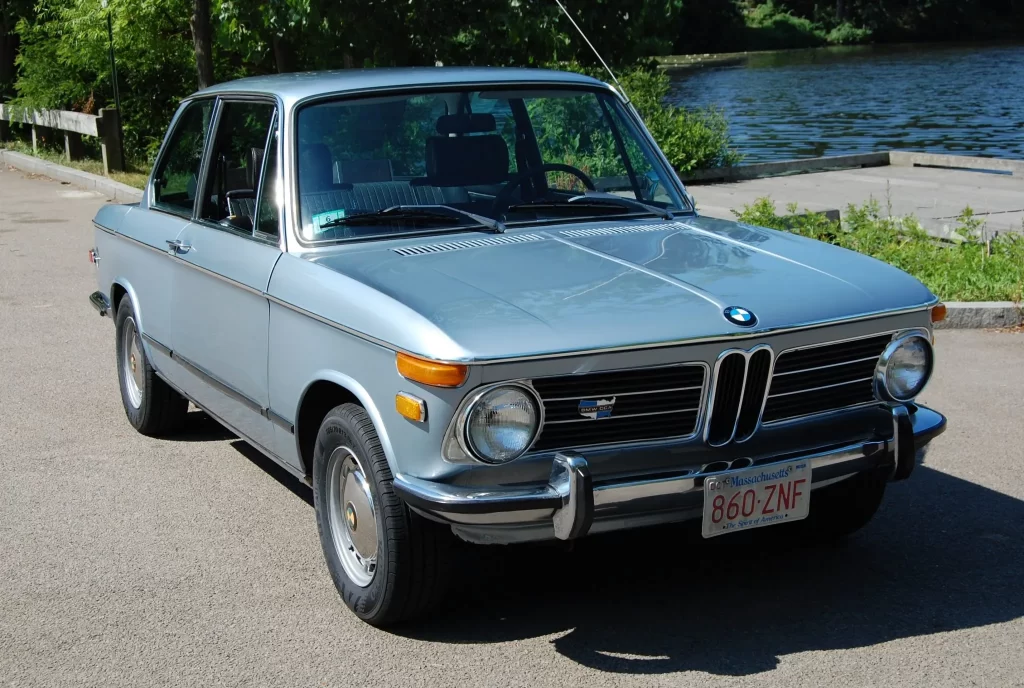 The other odd thing that happened down the stretch was that I got a comment—from the same fellow—asking what it would take to install air conditioning in the car. I answered, including a link to my vintage air-conditioning book. A fellow replied that my approach of using original evaporator assemblies was not a good one, and that a modern climate-control-based system was a much better way to go (a very simplified description of a complicated subject). I replied that, in my opinion, a clearly aftermarket-looking console and evaporator assembly were appropriate for a "build" with a remodeled interior, flared fenders, and other restomod accoutrements, but for a highly original car like this, a buyer would probably want to see an original-looking console and A/C faceplate. All of that was fine. But when, in a second post, he touted his hundreds of satisfied customers, I recognized him as a proprietor of a shop in Texas that sells A/C components and kits (the vintage BMW community is a pretty small one). There's a line here—and jumping onto someone else's auction in the last few hours and blatantly hawking your wares crosses it. I wrote, "I hope you can appreciate that this is a wildly inappropriate place and time to try to sell your systems. Please stop." He didn't. Someone else flagged his posts as non-constructive.
With an hour to go, the auction sat stalled at $22,500, and I was, frankly, scared, and I couldn't help thinking that that's probably what the car would've sold for had I done absolutely nothing to it. While most of the action with BaT auctions is usually in the last few minutes, that's not always the case. When I listed my 49,000-mile '73 2002 "Hampton" with BaT 18 months ago, the opposite happened: The bidding zoomed up to $20,000 in the first 30 minutes, then sat there for a week, and only inched up a little at the end, falling short of the same $30K reserve. I was terrified that history was about to repeat itself with Chris' car.
Then I had an interesting thought—maybe, if the baby did a Hampton and sat at $22.5K, I should buy it. Hell, the baby was already at the house and already felt like part of the family. Maybe I should adopt it. As soon as I had that thought, there were interesting questions. Would BaT try and assess me a buyer's fee even though I was technically the seller? And would my endlessly understanding wife Maire Anne banish me to sleep in the Winnebago if I bought a fourth 2002?
But then the auction began to move. It crept to within striking distance of the reserve. Bring a Trailer is very reserve-conscious. As the seller, you're told that you can lower the reserve at any time and are shown the delta between the current high bid and the reserve, along with a button clearly labeled "LOWER RESERVE." After all, if the reserve isn't met, the car doesn't sell, and BaT doesn't get its 5 percent buyer's fee.
But BaT is also protective of the reserve. Your BaT seller information says, "We do not recommend sharing your reserve status or amount, either publicly or privately. Our experience shows sharing it to limit bidding. So keep it secret!" I've always felt there are pros and cons to this. It seemed to me that there was value in telling bidders that they were damned close. So, as the auction crossed the two-minute mark, I posted a comment intended to jostle bidders without technically revealing the reserve. It worked. Read the snippet below from the bottom up.
With the reserve met, I relaxed. One of the advantages (to the seller) of BaT as opposed to eBay is that, with eBay the auction ends at a fixed time, whereas with BaT, if a new bid comes in in the last two minutes, it resets the auction timer to two minutes, thereby encouraging bidders to throw another $500 onto the table. Up it crept. The final value was $35,752, which was at the upper end of my initial $30K–$35K estimate, and really exactly the right price for the car.
So, it's done. Chris is finalizing arrangements with the buyer. The baby will probably still be at my house for several more weeks while the seller arranges shipping.
And the best part is that, in addition to reimbursing me for my expenses and the portion of my time that I billed her for, and paying me a $500 flat fee for handling the BaT auction, Chris is making a $1500 donation to charity in the name of my late mother (the mitzvah queen), just as the other woman, who I'd helped sell her late husband's 2002, had done in July.
Now that's a mitzvah.
Jim, it wasn't 60 grand, but I don't know anything else I could've done to represent your baby in the best possible light, find it a good home, and help Chris' financial future.
***
Rob Siegel's latest book, The Best of the Hack MechanicTM: 35 years of hacks, kluges, and assorted automotive mayhem, is available on Amazon. His other seven books are available here, or you can order personally inscribed copies through his website, www.robsiegel.com.