The 1969 Pontiac Catalina Convertible defined "living large"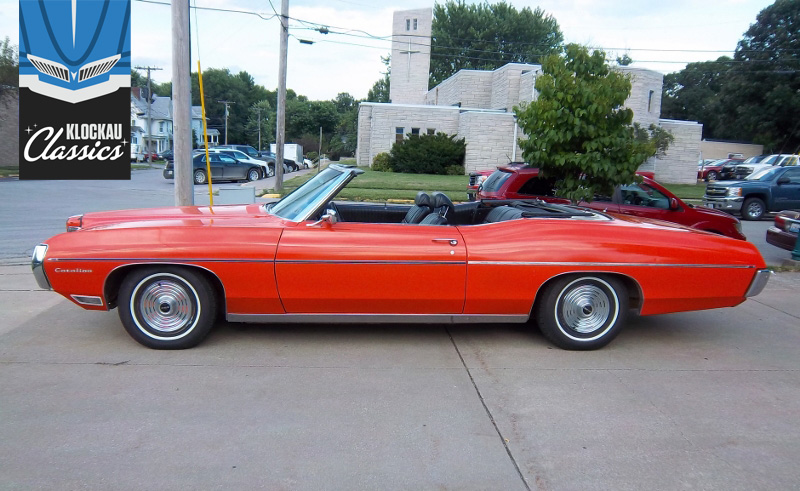 The year 1969 was good to Pontiac. The muscle car era was still in full swing, and cars like the GTO, Firebird (with newly-arrived Trans Am version) and gorgeous, totally new Grand Prix meant it had plenty of press, plenty of customers, and plenty of cash rolling in. But wait, as they say—there's more. Pontiac also redesigned their full-size offerings that year.
While the GTO was the talk of the town, Pontiac still earned its bread and butter via a full line of large cars: everything from a base model two-door Catalina to a three-seat Bonneville station wagon or luxurious Bonneville Brougham four-door hardtop. And you could still get full-size convertibles, despite most folks opting for topless Firebirds and LeManses.
Catalina was the entry-level big Pontiac, available in a variety of styles including a four-door sedan, four-door hardtop, two-door hardtop, and the expected station wagon—but let's not forget the convertible.
The cheapest way to get in a Catalina was the $3090 four-door sedan. The equivalent Chevrolet was the $2911 Impala pillared non-Sport sedan; though if you wanted cheaper, you could get a Biscayne for $2687 or a Bel Air for $2787. But those Chevrolet prices were with the six-cylinder engine, while the Catalina came standard with a 290-horsepower V-8, a 400-cubic-inch unit with a two-barrel carburetor. Equivalent V-8 Chevrolet four-door sedans were $3016 for the Impala, $2893 for the Bel Air and $2793 for the Biscayne when equipped with the base 327-cubic-inch V-8, making the Pontiac a good deal for the extra money. The Pontiacs also had a 122-inch wheelbase, when compared to the 119-inch big Chevrolets. So, for the couple-of-hundred-dollar difference, the Pontiac did offer some upgrades. And Pontiac helpfully pointed this out.
"Old Scrooge would have flipped his beaver over Catalina. Here's a car that mingles beautifully with the gentry, and puts in a 24-hour day for a tuppence." So said the 1969 Pontiac showroom brochure. Standard features on Catalinas included all-Morrokide (Pontiac's term for their hard-wearing vinyl upholstery) in the convertible, and a combination of Morrokide and fabric trim on closed cars.
In addition to the standard 290-horse, 400-cubic-inch V-8, once could specify a 265-horse V-8 that ran on regular gas. And the expected bigger V-8s were available too. After all, this was the tail end of the horsepower era, and if it would fit in the engine compartment, it was generally offered—for a price.
On Catalinas, those with a thirst for speed could specify a 360-hp 428 with four-barrel carburetor (which was the standard engine on Bonnevilles) or the top engine, a 390-hp 428 high-output engine with four-barrel carbs. Three-speed manual shift was standard, with Turbo Hydra-Matic optional—and frequently ordered.
(On the downside, there was no "secret" L72 option for a hot 425-horse 427, so the Q-ship crowd was still better served at the Chevrolet dealer.)
So, how did Catalina do for 1969? Pretty well, all things considered. A grand 212, 851 were built, which included 5436 Catalina convertibles, which had a base price of $3476. In addition, 25,845 Pontiac Executives and 89,334 Bonnevilles were built in 1969, so Catalina was the clear winner in the '69 big-Pontiac sales race. Compared to Chevrolet, however, it was a mere trickle of production. The solidly middle-class Impala solidly blew all the big Pontiacs out of the water—to the tune of approximately 777,000 built. Yes, really. Even the pricey Caprice sold close to 167,000 cars.
Our featured car, in what appears to be Carousel Red, was parked at the annual Maple City Cruise Night in Monmouth, Illinois, back in August 2013. It was the first 1969 Pontiac convertible I'd seen in person, and looked like a very original car. It also had what appeared to be factory optional Strato Bucket Seats.
Another uncommon option on this car—the cornering lamps on the lower front fenders. They are not commonly seen on Pontiacs, though it had been available since at least 1967. When seen at all, they typically were on the more upper-crust Bonnevilles and Bonneville Broughams. In the '60s, however, you usually could get any option on any model, regardless of trim level.
Its Endura nose was a little bit bruised, but it appeared to be a well-kept and well-loved car. And despite the fact that I attend many car shows per year—and this particular event every year since approximately 2011—I never saw this car again. No doubt its owner is still taking advantage of these warm summer nights, as autumn gradually approaches!