1959 Cadillac Eldorado Seville: Maximum Fins, Maximum Cadillac
Let's start off with one crucial fact. I am, I have been, and I always will be a sucker for Cadillacs. Always. And Lincolns, and Imperials, and other land-yacht era luxury cruisers. But Cadillac has always had a spell on me. I often think about what year was Peak Cadillac. Sometimes I think it's 1958, or 1962, or 1968, or 1976. It's hard to decide. Like a starving man at a restaurant, everything looks good. But there is no denying how special the 1959 Cadillacs were.
They were all new, and even larger than before. But naturally, the biggest thing about them, and the most noticeable, were those fantastic fins. Sure, the Cadillac fins had been around since 1948, and grew slowly but surely through 1956. Then in 1957, they got expanded a great deal. They became true pointed shark fins in '58. But 1959 was the wowser, the record breaker.
All Cadillacs were now a mighty 225 inches long (longer yet on the Seventy-Five limousine and nine-passenger sedan), with a 130 inch wheelbase. The Series 62, now more commonly referred to as the 6200, remained the least-expensive Cadillac. But even the 62 Series cars were substantially more than a garden variety Chevrolet or Pontiac. Cadillac was the 800-pound gorilla in the luxury car arena throughout the Fifties, handily outselling both Lincoln and Imperial, oftentimes by a substantial margin.
Even the Cadillac Series 62s had plenty of luxury features as standard, including power brakes, power steering, 2-speed wipers, Hydra-Matic transmission and backup lamps. Next up were the De Ville series, with fancier interiors, standard power windows, "Coupe de Ville" or "Sedan de Ville" scripts on the rear fenders and a two-way power seat.
While the upper-crust Fleetwood Seventy-Fives and ultra-expensive Pininfarina-built Eldorado Brougham were the priciest Cadillacs, most folks considered the Eldorado Biarritz convertible and Eldorado Seville hardtop coupe the top of the line.
Eldorado was only in its seventh model year since it first appeared in 1953. Between 1955 and 1958, Eldorados received their own special shark-fin rear quarter panels, which made them stand out amongst other Cadillacs. But the '59m despite sharing sheetmetal with their more common siblings, were still remarkably impressive.
The Eldorado was convertible only for 1953 through 1955, but in 1956 a companion Eldorado Seville two-door hardtop was added. Since there were now two Eldorados in the lineup, the convertible was now rechristened "Eldorado Biarritz" to keep the two models straight. Sevilles received a vinyl roof covering, fairly uncommon in the Fifties, but over the next ten years it would make a splash on U.S. cars.
The 1959 Eldorado Seville, model number 59-64 and body style 6437H, weighing in at 4,855 pounds, was priced at a substantial $7,401 – same price as the Biarritz convertible, as a matter of fact. To put that in perspective, a new 1959 Impala Sport Coupe with a V8 went for $3,580.
The Eldorado, like all Cadillacs, came with a 390 CID V8 with 4 x 3.875 bore and stroke. But Eldorados breathed through triple Rochester 2BBL Model 7015901 carburetors, resulting in an impressive 345 horsepower. That same carb setup was available on other Cadillacs as an option, to the tune of $134.30.
Eldorados received all De Ville standard features, plus fog lamps, power 6-way seat, power vent windows, power trunk release, power door locks and the aforementioned 345-horse 390 V8.
As befitting their price and exclusivity, only 975 Eldorado Sevilles were built for 1959. The Eldorado Biarritz did a little bit better, with 1,320 units made. Most Eldorados from the Fifties were seldom seen in the Fifties, due to their low production. And many Cadillac dealers may not have gotten one in to display, for the same reason. Unless, of course, some wealthy businessman or Texas oil baron walked in with a briefcase full of cash and ordered one.
I've always slightly preferred the Eldorado Seville to the Biarritz convertible, but I'd never seen one in person until June of 2016. I was attending a Cadillac-LaSalle Club West of the Lake Region show at Heritage Cadillac of Lombard, with my friends Jim Smith, Ron Schweitzer, Mike Risatti, Andrew Bobis and Erik Pederson.
It was a great show. I managed to park right up front. I locked the Town Car, walked about fifty feet, and spotted this gorgeous Eldorado Seville. I literally stopped in my tracks. And not only was it a '59 Seville, it was in a beautiful color combo, triple white (paint, top and leather interior) with red carpet and dashboard.
I was immediately smitten, and mindlessly gawked at it for many minutes, frantically taking picture after picture of it.
And then I noticed there was an even rarer one-of-99 1959 Eldorado Brougham parked next to it! At this point I almost was getting dizzy, I was so intoxicated by the classic Cadillac overload. And I will write that car up someday too, as it got equal attention from me, once I pried my eyes and camera off of this most magnificent Eldorado Seville.
The 1959 Cadillac, like the '57 Chevrolet and '55 Thunderbird, is just one of those cars that people think of when someone talks about the Fifties.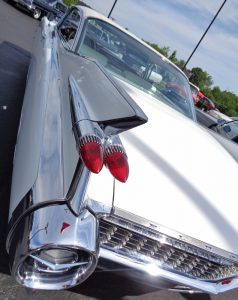 Of course, this was the largest Cadillac fins would ever get. In 1960, for the first time ever, the fins, though still impressive, were lowered a little bit, and the taillight pods with the jet-exhaust taillamps disappeared. The Eldorado Seville itself would be cancelled after 1960, and the Eldorado once again was convertible-only through 1966. In 1967, Eldorado became an exclusive front wheel drive personal luxury coupe, though a convertible would return again-in 1971.
The Eldorado Seville is somewhat obscure amongst other '59 Cadillacs-everyone loves the convertible!-but it is no less compelling. And it's my favorite Cadillac of that wild and crazy model year.