This '78 coupe was so nice, he bought it twice
"The new-size Malibu. A lot of good thinking, a whole lot of good news." So proclaimed the 1978 Malibu showroom brochure. And there certainly was a lot to talk up. The '78 was, like its full-size Caprice Classic and Impala brethren the previous year, downsized, and all-new.
It was a fresh stylistic break from the 1973-77 Colonnade mid-sizers. The flowing lines of the Colonnades gave way to the rectilinear "sheer look" introduced on the 1976 Cadillac Seville. In time, it would be the design language for all GM cars.
And as with the newly-shrunk 1977 full-size B- and C-body GM cars, the tidier dimensions of the A-body midsizer did not come with a corresponding tightness in interior and trunk space. Leg, knee and headroom were all increased over the outgoing '77 Malibus.
Trunks were also enlarged, capable of holding 16.1 cubic feet of stuff. Part of this was due to a new space-saver spare tire with an inflator, but the whole space was more square as well, to better fit bulkier items.
All 1978 Malibus and their fancier Malibu Classic siblings, in coupe, sedan or station wagon form, rode a 108-inch wheelbase. The El Camino pickup truck married coupe doors, bespoke glass, and the wagon's rear bumper with integrated taillights on a 117-inch wheelbase. On average, 1978 models were about a foot shorter and 500-1000 pounds lighter than 1977s.
Standard motivation for Malibu was a 95-horsepower 200-cubic-inch V-6; a 105-hp 231-cu-in V-6, as found standard on the Malibu's upscale Buick Century sibling, was optional. To serve those for whom nothing but a V-8 would do, the sole choice for most configurations was an optional 305 with 145 horses. A 350 V-8 was available, but only on station wagons, El Caminos, and standard Malibus equipped with the 9C1 police package. It produced 170 horsepower. 9C1 buyers also received F41 suspension and a balanced driveshaft to go with a heavier-gauge frame. Chicago Police took 400 sedans in 1979. Civilians, of course, got special options of their own: Malibu wagons could be had either with or without wood-grained Di-Noc vinyl flanks.
The "downsized" design proved popular with new car buyers, as 358,636 Malibus of all types were produced for the year. Most popular? The Malibu Classic four-door sedan, with 102,967 built.
Our featured Malibu Classic coupe is owned by my friend Steven Perrott. He took a Facebook break for several months last year, but we reconnected earlier this year. Last I'd heard, he'd gotten a 1987 Buick Regal Limited coupe. With cornering lamps, wire wheel covers and a landau roof. But it was now gone!
As he related, "Yes, this did replace the '87 Regal Limited I had. I owned this very Malibu about eight years ago and I was able to get it back last year. Ironically from my neighbor two houses away." He was able to take it to a few car shows and cruise nights last year before winter weather intervened, and he enjoyed every minute of it.
As you might expect, it gets a lot of attention amongst the more common fare like 1969 Camaros, 1965 Mustangs and 1957 Chevrolets. "Hey, what's that? What year is it?" By the way, Steve's car is one of 60,992 Malibu Classic coupes built in 1978. Base price was $4461 with the V-6 and $4651 with the V-8. Malibu Classic Landau coupes were a little more, at $4684 with a six and $4874 with the eight.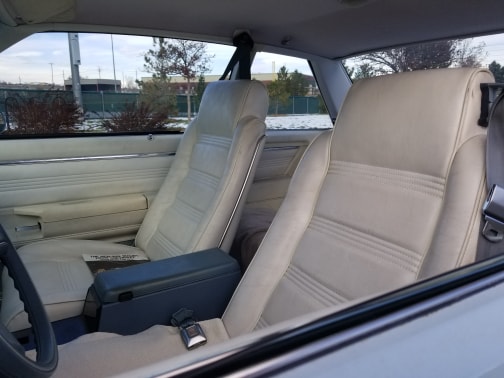 The light blue paint and white top and interior is a very bright and cheerful color combination, while the optional gauge package, bucket seats and center console with floor shift are somewhat unusual on a Malibu Classic. I remember seeing them a lot more on 1978-1980 Monte Carlos. It is powered by the 305 V-8 as well. And those color-keyed Rally wheels always look good!
At any rate, Steven is very happy to have re-acquired this car. And I don't think he's planning on selling it any time soon. Certainly not with car show season quickly approaching.