California police locate "Wild Cherry" van stripped and vandalized
California police have found the Wild Cherry van—what's left of it anyway. On October 23, the same day that Hagerty posted an update about the search for the infamous vehicle that appeared in the 1979 movie Van Nuys Blvd., California Department of Transportation employees notified police that they had located the red 1975 Chevrolet custom van that was already at the center of a theft investigation.
Now a shell of its former self, the controversial vehicle was parked along a road in Van Nuys, where the movie was filmed and not far from the hotel where Chris Carter stayed in September at the end of his nostalgic "Wild Cherry Van Run." Carter organized the Illinois-to-California tour to celebrate the restoration of the van. He has since been arrested on felony theft charges and was extradited to California on October 26, accused of taking the van from private property in 2017 without its owners' permission. Carter, 39, was released on bond and faces arraignment November 29 in Lancaster.
Police had been searching for the refurbished van for three weeks, and what they found was barely recognizable. According to the Belleville News-Democrat, the Chevy was "stripped and partially painted black. Gone are the doors, engine, grill, headlights, taillights, mag wheels, porthole windows, rear-view mirrors, fiberglass flares, chin spoiler, dashboard, dog house, bucket seats, paneling, shag carpeting, and stereo. You can still see outlines of fancy gold letters spelling out Wild Cherry on one side, under a layer of black paint."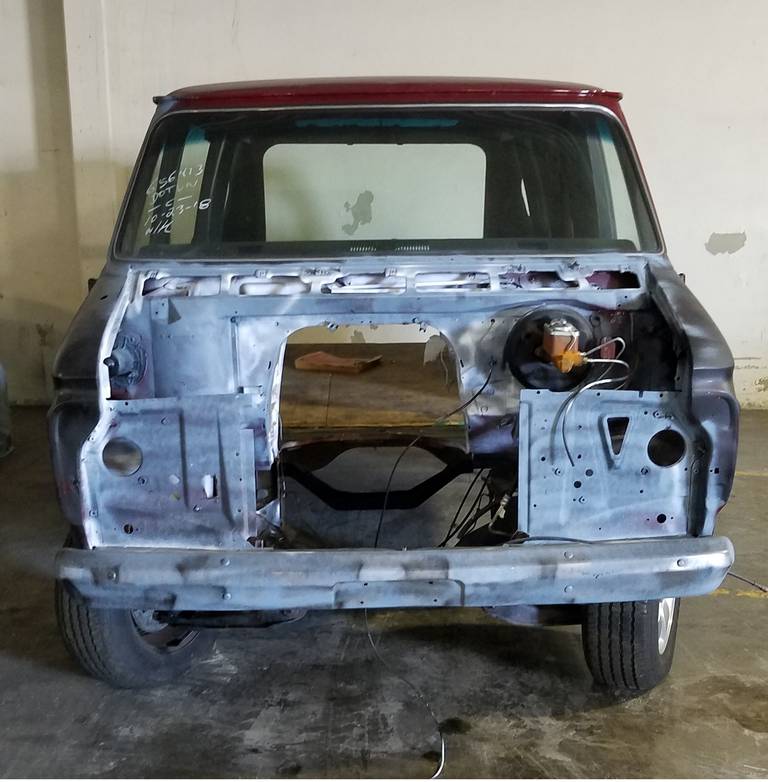 The van's VIN number confirmed its identity. Los Angeles County Sheriff's Department Detective Sean Maloney called it "the worst stripped vehicle I've seen in my 17 years as a police officer. There's nothing left. It's a bummer."
Maloney took evidence photos and shared them with the media. The van was last seen in public on September 19, two weeks before Carter was arrested on October 3 in Illinois.
When the News-Democrat asked Maloney if Carter was cooperating with police, he said, "No."
Carter became something of a celebrity for resurrecting the van. But on June 25 the vehicle was reported stolen by its owners, Laura and Steven Godwin. Carter insists he didn't steal it. He says he located the then-dilapidated van in a desolate area near Lancaster, and neighbors told him the van had been "abandoned" and opened a locked gate so that he could reach the vehicle. Carter and a friend loaded the van onto a trailer and took it back to Illinois.
Some former supporters have received their money back after donating to Carter's original GoFundMe page, created to help him defray restoration costs. Friends have since set up a second GoFundMe page to help with his legal fees.
In another twist, the van is titled and registered to three different people in two states, including Carter and grandmother, Vicki Carter.
Perhaps adding insult to injury, Chris Carter is also attempting to trademark the words "wild cherry" through the U.S. Patent and Trademark Office. If successful, the News-Democrat says it would prevent others from profiting on related goods and services, including "shirts, pants, jackets, footwear, hats and caps, athletic uniforms, design of models, sets and props for motion pictures, videos, commercials, and movie trailers."