"Wild Cherry" van restorer is arrested for felony theft
The "Wild Cherry" saga has taken a very sour turn. Chris Carter of Collinsville, Illinois, who received plenty of attention for resurrecting the red 1975 Chevrolet custom van that appeared in the 1979 movie Van Nuys Blvd., has been arrested on felony charges, accused of stealing the then-dilapidated van from a California couple last year.
According to the Belleville News-Democrat, the 39-year-old Carter was taken into custody on October 3 when he arrived for a divorce hearing at the Madison County (Illinois) Courthouse. Capt. Mike Dixon, chief of detectives with Madison County Sheriff's Department, expects Carter to be extradited.
"He has a right to post a bond and get out of jail, but that doesn't avoid the charge," Dixon told the Democrat. "He still has to go to California for his proceedings."
A Madison County judge was scheduled to review Carter's case on Thursday and set bail.
Dixon said if Carter does not post bond, Los Angeles County would likely send sheriff's deputies, or someone acting on behalf of the county, to transport Carter to California, where the warrant was issued.
The van has not been recovered, Dixon said, and its whereabouts are unknown.
Last year, Carter saw a Facebook photo of the rundown van parked just off a dirt road in a California wilderness area. Presuming it had been abandoned, he tracked down its whereabouts, and he and a friend drove 1900 miles to the location. Carter says neighbors unlocked a gate to the property, and he and his friend loaded the van onto a trailer and towed it home. Carter recently completed an extensive restoration of the van after accepting parts and assistance from other van enthusiasts, as well as $5908 in donations through a GoFundMe account.
The owner of the property, 54-year-old Laura Godin of Burbank, says that neither she nor her husband, Steve, gave Carter permission to take the van. Godwin, who has owned the van since she was 16, filed a stolen-vehicle report with the Los Angeles County Sheriff's Department on June 25.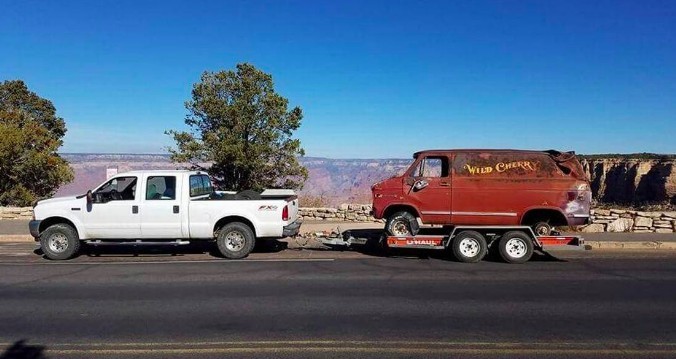 The vanning community has taken sides, and over the past several months Carter has been called everything from a "hero" to a "thief."
The Godwins have a supporter in Carter's wife, Wendy, who filed for divorce earlier this year and was hoping to wrap things up when Carter was arrested. The divorce hearing was postponed until November 14. "He's going to be locked up for a while," Wendy Carter told the Democrat. "I was like, 'Dude, can't you just sign the papers first?' I just want out of this."
Last month, Wendy Carter told the newspaper, "I honestly think (Laura Godin) should get her van back. It was on her property. It wasn't hurting anybody."
It certainly is now. If only the police could find it.