Toyota Supra adds four-cylinder model, bumps up six-cylinder power for 2021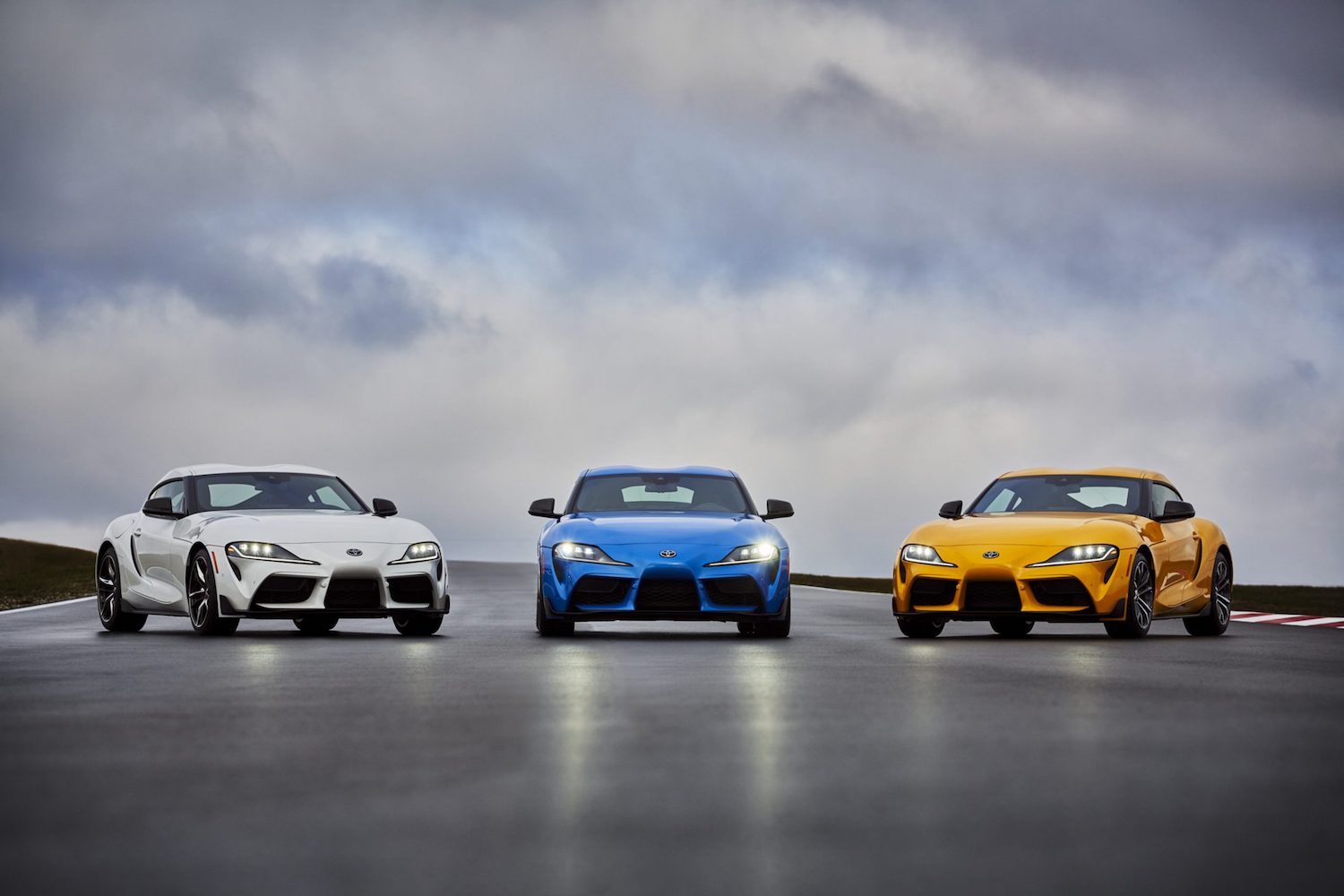 After years of concepts, the Toyota Supra returned to the fold in early 2019, taking its place as the brand's top sporty offering. The GR Supra is quiet, fast, and delivers excellent handling, but it had to unnerve the Supra faithful just a bit that Toyota's flagship, at 335 horsepower, didn't get the full power that its BMW-sourced B58 3.0-liter inline-six offers in the Z4, which shares its chassis. That deficit has been resolved for 2021, as all six-cylinder GR Supras will now have 382 horsepower.
The turbocharged 3.0-liter engine benefits from a bump in compression ratio and an improved exhaust manifold. The fact that the 3.0-liter's new power rating exactly matches the output of the Z4's is no coincidence. Toyota says that the improved mechanicals will lower the 0–60 time to 3.9 seconds.
Toyota also revealed the limited-edition A91 Edition. Available only in Nocturnal (black) and Refraction (bright blue, and a color unique to the A91), just 1000 examples will be built in total. You'll be able to identify the A91 by its carbon-fiber lip spoiler and mirror caps, matte black wheels, and C-pillar graphics.
New for 2021, the GR Supra 2.0 joins the lineup with a turbo-four that produces 255 horsepower and 295lb-ft of torque. Pricing was not announced for the new four-cylinder model, but Toyota promises it will be a "value proposition" and deliver 0–60 acceleration in 5.0 seconds while tipping the scales at 3181 pounds. The GR Supra 2.0 model saves more than 200 pounds compared to its six-cylinder brethren thanks to its lighter powertrain, differential, suspension, seats, and stereo.
Finally, the last tidbit of Supra news from Toyota's Daytona, Florida, press conference was the announcement of the Supra GT4 race car for IMSA competition. Developed by Toyota Motorsport GmbH, its 3.0-liter engine is tuned to 430 horsepower and, in race trim, weighs less than 3000 pounds, making it a formidable track tool. Race teams will be able to order their race-ready Supra GT4—complete with roll cage, racing brakes, and race seat with six-point harness—in August.
Reviewers were pleased with the GR Supra's broad powerband since the beginning, and many seemed to think that the output was underrated at 335 horsepower. Now that the ratings have gone up by nearly 50 horsepower, let's see if Supra continues to underpromise and overdeliver.