The 2021 Ford Mustang Mach-E GT has 459 hp and 612 lb-ft of torque
The new Ford Mustang Mach-E, an all-electric crossover that is owning the spotlight of the Los Angeles Auto Show well before the show even starts, faces a daunting uphill battle. For one, Ford is clearly confident it can convince a significant number of buyers to give up gas and switch to an all-electric vehicle. Ford says there will be 100 new battery-electric nameplates in the United States by 2025, and the Blue Oval's strengths—pickups, commercial vehicles, and performance vehicles—are the best avenues to cut through that clutter and catch consumers' attention.
How else to get people's attention? Slap one of the most popular, beloved nameplates its automotive history on a brand-new EV. Ford is leaning heavily on the Mustang's heritage and emotional appeal, drawing parallels to how the Mustang attracted new buyers to the brand 55 years ago. The Mach-E isn't intended to replace the Mustang, of course; it's simply a new addition to the family, complete with a bespoke new platform and fresh technology.
The hardware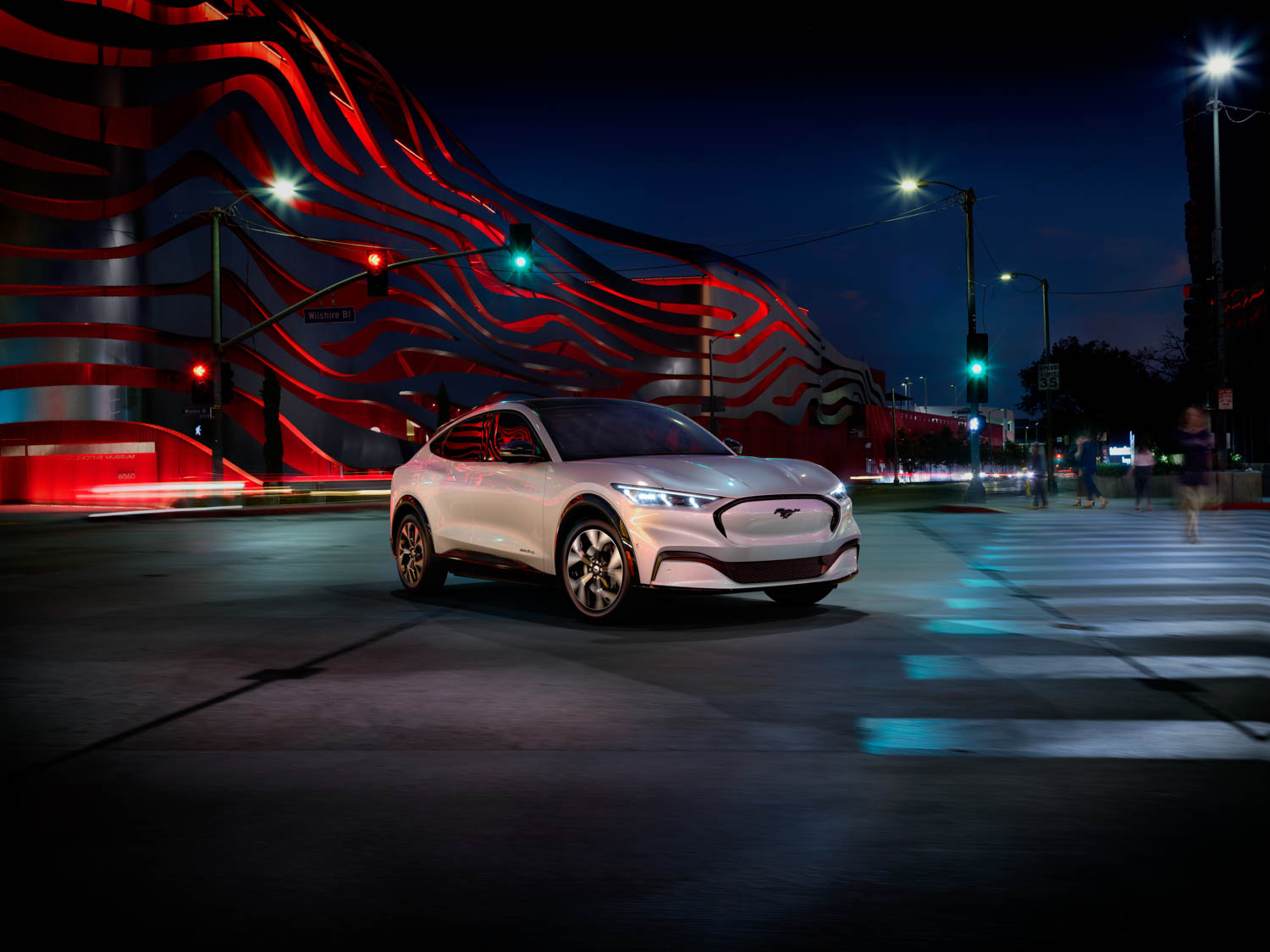 The Mach-E's new architecture also houses Ford's biggest battery system yet—75.7 kWh for the base vehicle, and 98.8 kWh for the optional extended-range battery. With the bigger battery and rear-wheel drive, Ford is estimating at least 300 miles of range. From there the range goes down depending on configuration. (Trims include Select, Premium, First Edition, California Route 1, GT, and GT Performance Edition.) With the big battery and all-wheel drive the range should come in at 270 miles; equipped as standard with rear-wheel drive, the Mach-E's range is estimated at 230 miles, or 210 miles with all-wheel drive.
The batteries are designed and assembled (but not produced) in Michigan. The battery temperature is optimized by heating and cooling plates and protected by the vehicle's structure. In most all-wheel-drive trim levels, a 110-kW motor drives the front and a 50-kW motor powers the rear, independent of each other and capable of adapting to optimize either performance or efficiency. The rear-drive Mach-E with the standard battery uses a 225-hp, 210-kW motor, versus a 282-hp, 210-kW motor for the rear-drive extended-range model.
Output ratings are anticipated to come in at 332 horsepower and 417 pound-feet of torque for the extended-range all-wheel-drive model, and as little as 255 hp and 306 lb-ft for the standard-range rear-wheel-drive model.
Yes, there is indeed a GT as well. These all-wheel-drive-only performance models swap out the base 50-kW motor for a second 110-kW motor, bringing estimated specs to 459 horsepower and 612 pound-feet, which should be good for a sub-4-second sprint to 60 mph. (Range for the GT drops to 235 miles.) The top-spec GT Performance Edition, with forged 20-inch wheels fitted over Brembo front and rear brake calipers, gets MagneRide dampers as well. Ford says it can sprint from 0-60 in the mid-3-second range.
Ford will include a mobile charger that works with both 120v and 240v outlets, good for 3 and 22 miles of charge per hour, respectively. For more flexibility, Amazon Home Services can install the Ford Connected Charge Station, which fully powers overnight; this will also be available at Ford dealers and can be financed along with the vehicle.
Turning the corner
The Mach-E began its journey from idea to finished product as a compliance-motivated vehicle intended to help Ford meet fuel economy targets. That also entails an $11 billion investment form Ford in electrification by 2022, covering hybrids and EVs.
Ford acknowledges a lot of the Mustang Mach-E's target customers aren't yet ready to make that leap from internal combustion engines; in fact, the vehicle's tech briefing ahead of the formal unveiling cited a study in which 42 percent of respondents still believed all-electric vehicles need gasoline. Ford knows there's a long way to go in this area, but it's confident the Mach-E is up to the task.
Looking the part
From the outside, it's clear Ford is leaning on the Mustang nameplate to help ease the transition for people into electric driving. Mustang is clearly now a brand all its own, with overt badging and visual cues that abound.
The Mach-E has a slick profile that plays tricks on your eyes; the crossover proportions are definitely there, but cleverly downplayed. As an example, the roof of every Mach-E is gloss black, but you may not notice it at first; the visual representation of the roofline is lower thanks to the contrast between the gloss black and the main body color. In other words, it's a fastback silhouette that hides SUV-like rear passenger and cargo space. There are no traditional door handles, which improves aerodynamics as well as looks. LED headlights with tracer lamps is a fresh approach to the classic Mustang tri-bar lighting; the tri-bar makes an appearance out back.
Each trim level gets a distinctive wheel design. The GT features a unique version of the "implied grille" smooth polycarbonate face and a geometric honeycomb-like pattern underneath. Functional air shutters and air curtains, and an illuminated Mustang badge, complete the look.
Eight colors will be available at launch. Ford's classic Grabber Blue gets a touch of sparkle for a unique, modern look, and is a front-runner for an early favorite, but the glossy, shimmery Space White is sure to be popular as well.
The interior design caters specifically to SUV buyers, who Ford notes, tend to tote around more stuff than more traditional car buyers. There's a tech tray to hold and charge devices and dedicated storage for bags and purses. The cargo hold can accommodate 29 cubic feet of gear, and there's another storage area, measuring 4.8 cubic feet, tucked under the hood. A massive moonroof makes the cabin feel modern and airy.
The infotainment display, at 15.5 inches, is a deliberate focal point; it's enormous. This screen houses the next-gen version of Ford's Sync infotainment system that features a "flat architecture"—that is, it shouldn't take more than one or two clicks to reach any setting or command. The system recognizes and automatically activates driver profile settings based on recognition of a key fob or smartphone. The SiriusXM app has cloud-connected features. The wireless device charging system enables wireless Apple CarPlay and Android Auto. Over-the-air downloads mean the car can remotely update its software without needing to go to a dealer. For now, this version of the Sync system is exclusive to the Mach-E; it's unlikely we'll see it roll out first on any other Ford vehicles. Classic Mustang touches, like the sculpted dash and vintage-inspired instrument cluster, nonetheless keep these modern features in perspective.
And what's a Mustang without a pony car sound? Ford knew it had to get the right noises coming from the Mach-E, and not just to appease federal regulators' insistence that EVs make enough noise to alert pedestrians of their presence. Sound engineers distilled over 30 sounds to come up with one surprisingly pleasant score, which adjusts based on driving conditions. The audio signature is most apparent when switching between the three "drive experiences": the relaxed and soothing Whisper, the balanced Engage, and the aggressive, frankly thrilling Unbridled. Throttle and steering automatically adjust to suit each setting, and the soundtrack follows.
First ride
Though the Mach-E wasn't available to drive, rides were provided in prototypes that have actually been used for testing. Our ride was in a Premium model, with 332 horsepower and 417 pound-feet of torque, and you can feel all of that torque right off the line. The Mach-E provides a pleasant, smooth passenger experience, whether on the street, in a slalom, or in an all-out sprint. Passengers enjoy a low seating position, which, combined with the vehicle's low center of gravity, effectively hide the vehicle's SUV proportions.
Charging up for launch
Ford believes the Mach-E represents "freedom," which is to say, it brings with it an all-new (for the brand) online shopping experience and access to the largest charging network in the United States. Online ordering goes live on Sunday, November 17, right around the time of the official unveiling. Reservations for the whole Mach-E lineup will be available at that time with a $500 deposit. Delivery for Premium and First Edition models is anticipated in late 2020, and though the GT models won't be available until early 2021, they, too, can be ordered immediately.
The Mach-E will also be available through Ford dealerships. Ford notes that the company has been working with dealers for more than two years to communicate pricing expectations; however, Ford cautions, dealers legally have the right to upcharge if the model proves desirable and in short supply.
The Mach-E will start at $43,895 for the base Select model, before destination fees or any tax credits. Prices go up from there—$50,600 for the Premium, $52,400 for the California Route 1, $59,900 for the First Edition, and $60,500 for the GT. Ford emphasizes that the company expects the $7500 federal EV tax credit to be available through the first year or so of Mach-E purchases; this credit is no longer available for Tesla or GM electric vehicles.
No doubt this is just the beginning of Ford's electric onslaught. We'll be curious to see how it plays out, and if the Mach-E can live up to the Mustang name.