12 stunners from The Porsche Effect exhibit at the Petersen Museum
The Petersen Automotive Museum in Los Angeles has a new exhibit featuring the 50 of the most significant Porsche models ever built, arranged with the help of Porsche Cars North America. Dubbed The Porsche Effect, the collection has taken over the museum's lobby and Mullin Grand salon with influential Porsches that tell the story of the brand's heritage—in both road and race cars—from its inception to the modern day.
There are even more must-see models located downstairs in the Petersen's vault, which is available for tours as an add-on to general admission. Just because those cars aren't parked alongside the hand-picked examples displayed in the Petersen's ground-floor exhibit hall doesn't mean they're not worthy of appreciation. There are record breakers, custom creations, and, right at home in Hollywood, a movie car.
The Porsche Effect opens February 3rd and will run through January 27th, 2019. General admission, VIP, and vault admission can be purchased at PetersenTickets.org.
1939 Porsche Type 64 60K10
Porsche was set to field three cars for the 1939 Berlin-Rome endurance race, all built using Volkswagen chassis and wearing sleek aluminum bodies designed by Erwin Komenda. The outbreak of WWII lead to the cancellation of the race; while the trio never got to make their mark on the racing world, their styling DNA would be seen in every future Porsche.
1949 Porsche 356-2 "Gmünd" Coupe
The 356-2 was the first production Porsche, with the 356-1 serving as its prototype. This is the 50th, and possibly final, built while Porsche design was headquartered in Gmünd, Austria.
1951 Sauter Porsche 356 Roadster
Always seeking that racing edge, Heinrich Sauter and Hans Klenk collaborated with Porsche to design this one-off 356 with a unique body and suicide doors to gain an advantage in races that required a LeMans-style start with the drivers outside the cars.
1956 Porsche 550/1500 RS Spyder
Most 550 Spyders were driven hard and modified for racing. This example is pristine, having somehow escaped the life of competition that Porsche intended. It is rare in-the-metal evidence of how the cars were delivered more than 60 years ago.
1964 Porsche 901
First shown at the 1963 Frankfurt Auto Show, the 901 was designed to replace the 356 in Porsche's lineup. A naming dispute with Peugeot necessitated a new moniker—911. It remains the most recognizable and iconic Porsche model after more than 50 years.
1964 Porsche 904 Carrera GTS
The 904 Carrera marked two firsts for Porsche: the use of a ladder frame and a fiberglass body construction. The mid-engine car was available with four-, six-, and eight-cylinder engines.
1969 Porsche 917K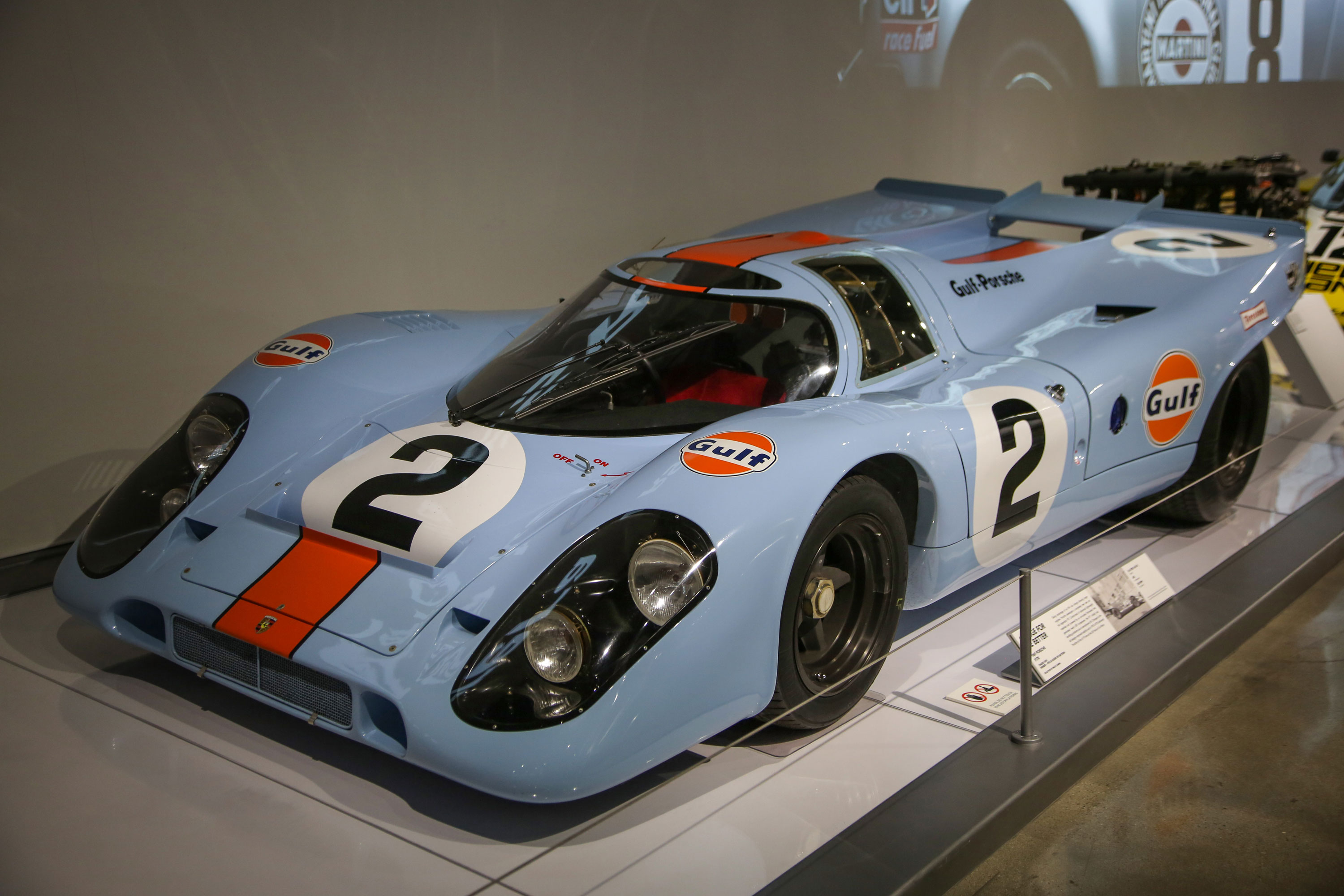 Featuring an air-cooled flat-12 engine that launched it to more than 220 mph, the beautiful 917K is among the most famous cars to wear the legendary powder blue and orange Gulf livery. It delivered Porsche its first-ever overall win at the 24 Hours of Le Mans in 1970.
1973 Porsche 917/30 Can-Am Spyder
SCCA Trans Am guru Mark Donohue piloted this Porsche/Penske Racing collaboration during the 1973 Can-Am season, winning six of eight races (the remaining two races were won by two other 917s). Its turbocharged, 5.4-liter flat-12 engine was capable of 1500 horsepower in qualifying trim.
1976 Porsche 911 Turbo Carrera
1976 marked the first time a turbo 911 was available for sale in the United States, a year after it was launched in Europe. The wider fenders and whale-tail spoiler became hallmarks of Porsche performance.
1979 Porsche 928
One of four 928s used to film the 1983 movie Risky Business, this gold grand tourer can be found in the vault among Porsche endurance racing legends, Indy cars, custom-built restomods, and even a '32 Ford.
1987 Porsche 928 H50 Study
While four-door vehicles make up the majority of Porsches sales today, it wasn't long ago that such an idea was an oddity. Years before the Panamera, Porsche was toying with a front-engine touring car suitable for the entire family.
2015 Porsche 919 Hybrid
A turbocharged, 2.0-liter V-4 pairs with batteries and an electric motor to deliver 900 horsepower to this Le Mans prototype. This car, piloted by Timo Bernhard, Brendon Hartley, and Mark Webber, took second overall at the 24 Hours of Le Mans in 2015 behind another 919 Hybrid.