The stunning new De Tomaso P72 checks all the boxes
There are a lot of good cars out there. Cars that make you smile when you see them, make your heart skip a beat when you drive them down a twisty mountain road in the morning sun, or make you turn your head when you hear the sound of their engine.
Then there are the true greats. These are the masterful cars that combine engineering brilliance with a design purity that causes you to lose your breath when you experience them for the first time. These models seem to be perfect from every angle, and they retain a sense of motion even when quietly sitting with the engine off.
There were a lot of great cars at last weekend's Goodwood Festival of Speed in Sussex, England. Expectations are always high at Goodwood—it is not an easy crowd in which to launch a new car. It's like turning up for a band audition and being asked to jam with the Travelling Wilburys. Yet one new car left the crowd with their collective mouths open: the De Tomaso P72.
The Ferrari 250 GTO, Bugatti Type 35C, Mercedes-Benz 300 SLR, Porsche 917-023, Michael Schumacher's F2004 Ferrari F1 car… they're all automotive legends. Also present were modern supercars: the new Audi R8 LMS GT2, the 700-horsepower Ford GT Mk II, and the phenomenal Pikes Peak Volkswagen I.D. R that smashed the Goodwood hillclimb record that had stood for 20 years.
Amidst it all, when De Tomaso unveiled the new limited-run supercar it plans to actually build, people took notice. Before seeing it, many imagined it would be a modern derivation of the Pantera GT5: shouty, pointy, and anything but subtle. Instead, what was revealed at Goodwood this weekend was a sublime car that evoked some of the most beautiful automobiles in the world but managed to avoid pastiche. Eavesdropping on the crowd surrounding the car, some people thought it looked like an Alfa T33 Stradale, others saw similarities with the Ferrari 250 Testa Rossa.
Actually, designer Jowyn Wong from UK-based Wyn Design looked closer to home for his inspiration. De Tomaso's Sport 1000, Sport 2000, and P70 were racing prototypes, and the P72 draws heavily from those designs with flowing bodywork and prominent air intakes. The result is a superbly shapely car that literally turns heads; the first time I glanced at it making its way down the track to the Goodwood form-up, I did a double-take. It's that good.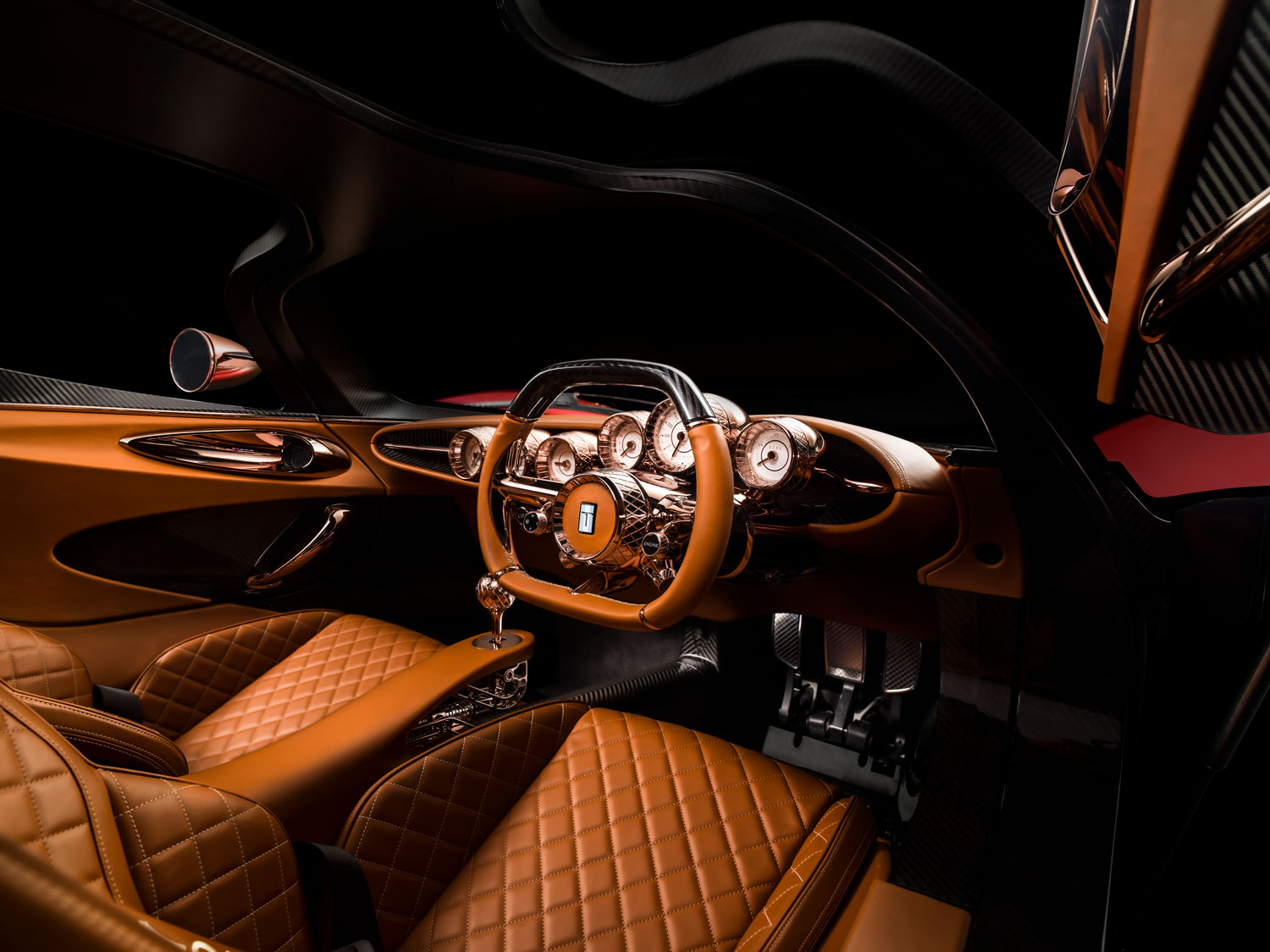 Inside the car, a theme of diamond hatching runs from the polished instrument bezels and baseball-sized gear shift through to the leather seats. Wong states that he wanted to channel the early links between Ford and De Tomaso, but for me the dash cowls take me back to the 1959 Cadillac Coupe deVille and the Chrysler Turbine Car. An exposed gear linkage under the floor-mounted stick shift is ostentatious but cool, and it's a nice nod to the P70, a rough-and-ready USRRC racer. Yeah, so the color combination of copper, tan leather, and carbon fiber isn't subtle, but it's a launch car, after all. It's supposed to be bold.
The P72 isn't just another show pony, however. Although De Tomaso isn't yet releasing full details of the drivetrain and engine, it has confirmed the car uses the carbon fiber chassis of the Apollo Intensa Emozione (IE) developed by AMG-spinoff HWA AG, which weighs in at a stunning 231 pounds (105 kg) . With both Apollo and De Tomaso owned by Hong Kong consortium Ideal Team Venture, it's a fair bet that there will be other crossover parts; owner Norman Choi has previously hinted at a road-going version of the IE, and this ticks all the boxes.
If the P72 uses the same Ferrari-derived 6.3-liter 769-hp V-12 as the IE track monster, then other supercar makers need to watch their backs, especially with each of the 72 examples being offered at just $845,000, a relative bargain at this extraordinary end of the market.