Rolls-Royce shows off the past with Silver Clouds and a vintage stand at Goodwood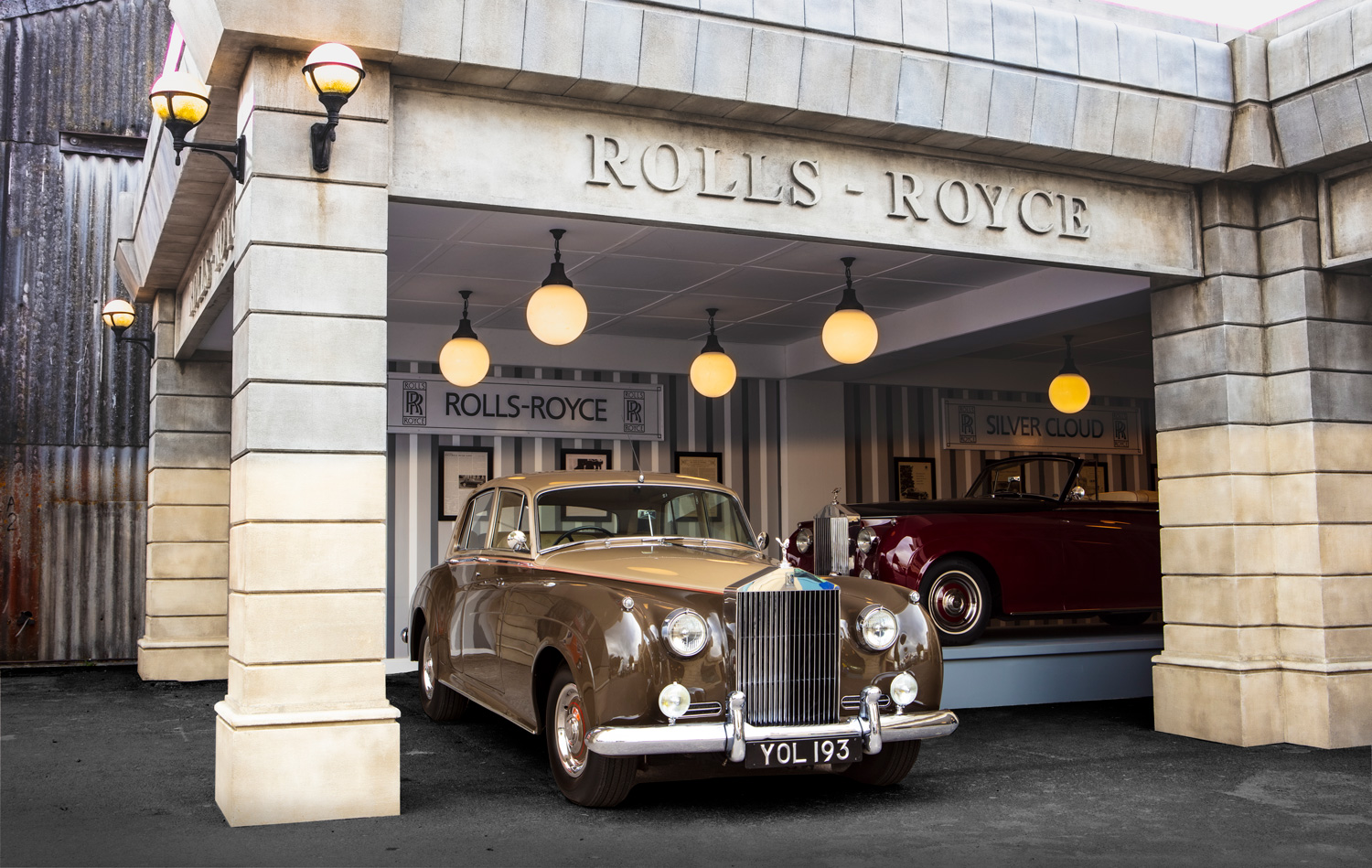 For this year's Goodwood Revival, the UK's preeminent festival for vintage automobiles, Rolls-Royce is replicating what one of their auto show stands would have looked like 60 years ago. Every year at the Goodwood Revival, a contemporary car company recreates what one of its dealer or auto show displays may have looked like decades ago, complete with period cars representing that company's heritage. The displays are housed in Goodwood's March Motor Works adjacent to the site's track.
For this year's Goodwood Revival, Rolls-Royce is bringing out two magnificent examples of its own postwar "Revival" period, a 1959 Rolls-Royce Silver Cloud I two-door drophead coupe, by coachbuilder H.J. Mulliner in black and red, and a 1961 Silver Cloud II long-wheelbase saloon in Sage Green over Smoke Green.
The Silver Cloud, introduced in 1955, was both a first and a last. It was the first true postwar Rolls-Royce, though the first series of the Cloud still used a variant of the 4.9-liter inline six-cylinder engine that dated back to the Silver Ghosts. It was the first Rolls-Royce to be bodied in-house, with a design by John P. Blatchley. The Silver Cloud was also Rolls-Royce's last body-on-frame vehicle, which still allowed coachbuilders quite a bit of flexibility should a buyer desire a bespoke body. In 1959 Rolls-Royce introduced its first modern "L series" V-8 engine in the Silver Cloud II. A version of that motor still powers the Bentley Mulsanne. Though Rolls-Royce typically has not cited power ratings—outside of saying that power is "adequate" or "sufficient"—the more powerful V-8 engine greatly improved the performance of the Silver Cloud. Some Rolls-Royce enthusiasts, however, felt that the bent-eight wasn't quite as smooth a runner as the venerable six.
The '59 drophead coupe will be part of the static display in the recreated motor show stand, accompanied by other rare models from the period. The long-wheelbase '61 limo will lead the Course Director's entourage in parades on the Goodwood Circuit over the Revival weekend, with invited guests enjoying the opportunity to experience Rolls-Royce's defining "magic carpet" ride on the course.
Rolls-Royce will also have a fleet of cars from its current lineup available to shuttle VIPs from the Revival to its Goodwood headquarters and nearby assembly plant in Chichester. BMW built that 23-acre facility after buying Rolls-Royce in 1998 from the Volkswagen group, which continues to operate Bentley at the original Rolls-Royce factory at Crewe.