Porsche enters the fastback SUV game with the Cayenne Coupé
Porsche today announced the expansion of the Cayenne SUV range to include a Coupé variant. This is no two-door, however—the latest Cayenne is a "coupé" in the same way the Mercedes-AMG GT 4-Door Coupe is (or isn't). If you thought SUVs were safe from this trend, you were wrong.
Along with a sloping, fastback roofline, the Cayenne Coupé has wider rear doors and fenders to give the SUV a sportier, more muscular look. A panoramic glass roof is standard, with a lightweight carbon fiber roof optional. Airflow is managed with both a fixed roof spoiler and an active rear spoiler. The adaptive rear spoiler deploys at speeds of 54 mph and up, and the glass roof comes with an integrated roller blind for insulation and shade.
I doubt many Cayenne Coupés will end up anywhere near a track, but Porsche is offering three different lightweight sports option packages, and reduced-weight 22-inch wheels.
The Porsche Cayenne is built on the same Volkswagen Group MLBevo platform as the Audi Q7. That means, at least philosophically, the Cayenne Coupé is to the Cayenne as the sportier, roof-chopped Audi Q8 is to the Q7.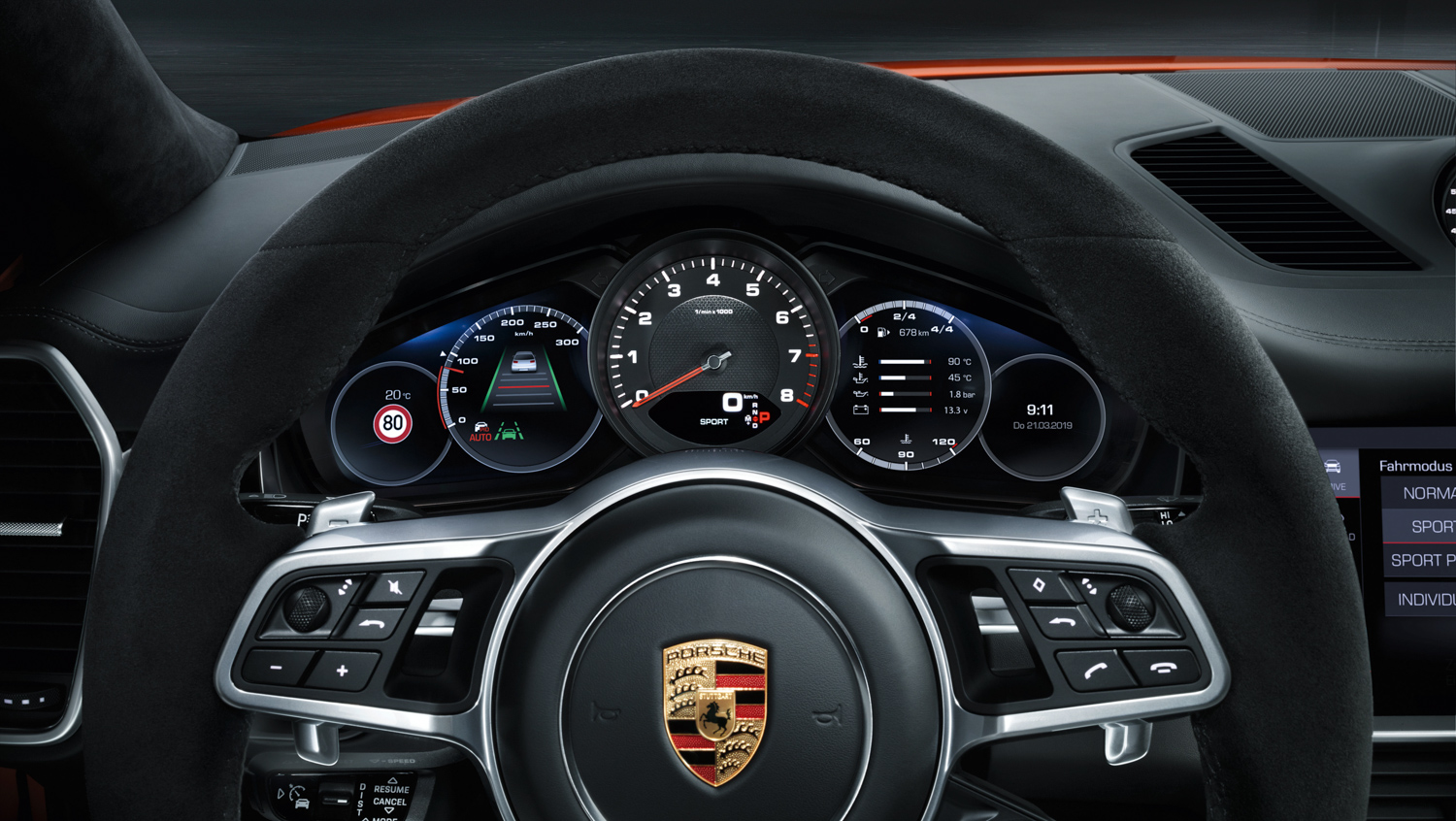 To maintain headroom with the lower roofline, the rear seats have been lowered more than an inch. The second row of seating is now only for two passengers rather than three in the standard Cayenne. Cargo capacity in the Coupé is 22 cubic feet with the rear seats up and 54.4 with them folded, which is a fair bit less than the 27.1 cubic feet and 60.3 cubic feet you get in the standard Cayenne. Capacity is 21.2/51.3 cubic feet in the Cayenne Coupé Turbo model, likely because of a high-performance exhaust system.
The base Porsche Cayenne Coupé comes with a 3.0-liter turbocharged V-6 with 335 horsepower and has a zero to 60 mph time of 5.7 seconds, with the sport packages making the vehicle a tenth of a second faster. Top speed is 151 mph. The 541-hp 4.0-liter, twin turbo V-8 in the Cayenne Turbo Coupé propels it to 60 mph in 3.7 seconds, with a top speed of 178 mph.
The Cayenne Coupé and Turbo Coupé will arrive in U.S. Showrooms this fall as 2020 models. Pricing starts at $76,550 for the Cayenne Coupé, with a steep premium for the Turbo Coupé, which starts at $132,350.