Mercedes-AMG A35 packs 302-hp in a tiny, high-tech package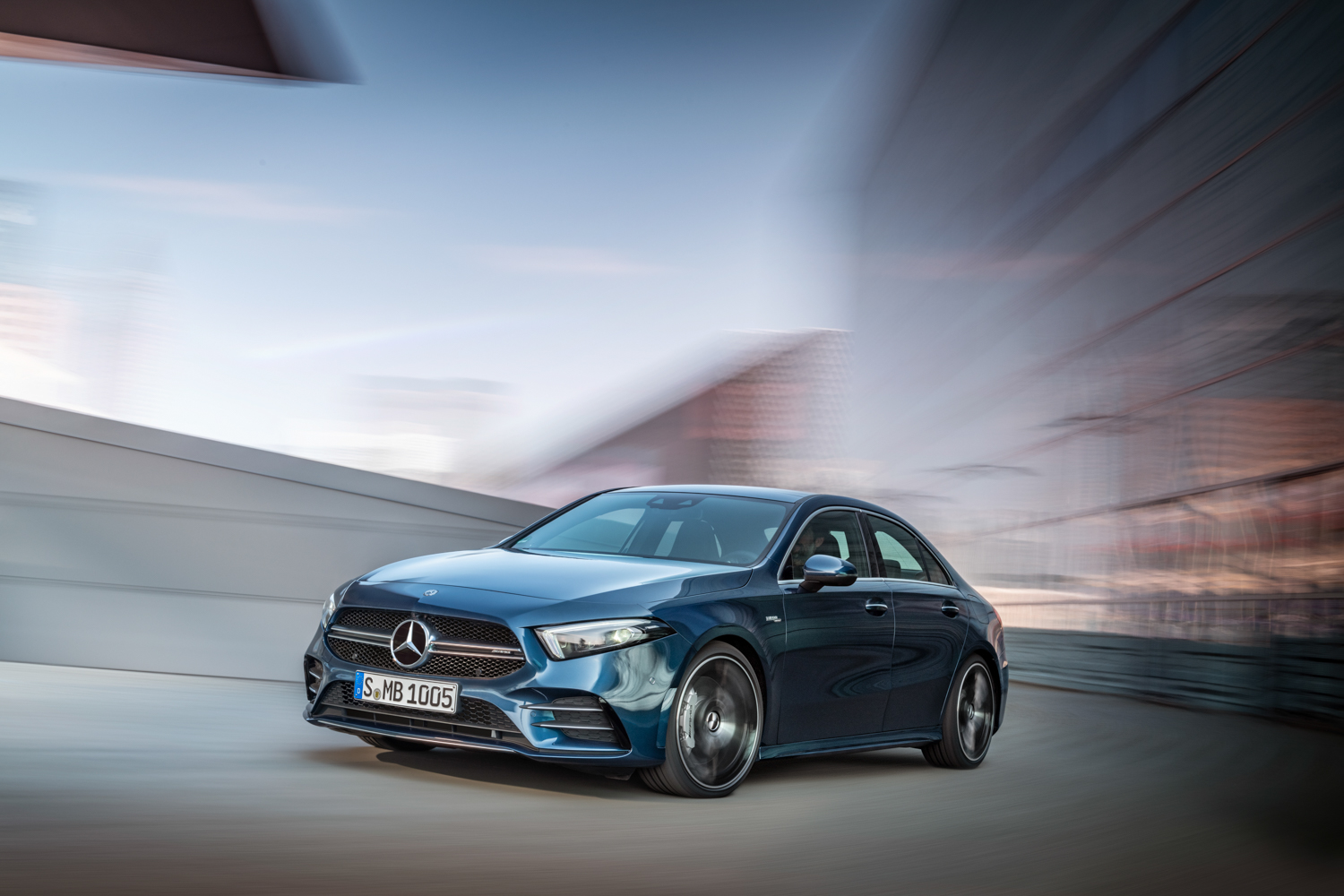 Mercedes-Benz is going after Audi's lovely S3 (and the M-Sport 2 Series Gran Coupe you know is coming) with the announcement that it's giving the A250 sedan the AMG treatment.
The wee AMG will get a 302-horsepower turbocharged inline four bolted to a seven-speed automatic; the combo will send power to each corner through the 4Matic all-wheel drive system. Assorted suspension upgrades will ensure AMG's entry-level model can handle the added oomph, and an aluminum "shearing plate" coupled with two diagonal cross braces will stiffen the chassis to sharpen handling. The front suspension also gets AMG-specific steering knuckles with radially mounted brake calipers. The variable steering rack offers sport and comfort modes.
To ensure no one mistakes the AMG A35 for a plebian A-Class, the modded model gets a twin-louvered grille, a unique bumper fascia and splitter, additional chrome, AMG sills, and lower mirrors. You'll find a diffuser out back, along with a spoiler and twin round exhausts. Woo-hoo. The car rolls out of the factory on AMG-specific, lightweight 18-inch 10-spoke aluminum wheels that Mercedes claims are "aerodynamically optimized." Nineteens are available if you want them.
All of this comes together to create a small sedan capable of hitting 60 mph in 4.7 seconds. No word on top speed, but figure it'll be fast enough to keep drivers from embarrassing themselves on the autobahn.
Inside you'll find something Mercedes calls "Widescreen Cockpit," which is another way of saying "two digital displays" instead of analog gauges and knobs on the radio. Spend a little time playing with it and you'll find three AMG-specific display modes you can customize to provide engine, G-force, and other data. Say "Hey, Mercedes" and the MBUX system will respond to pretty much any command for infotainment and vehicle operation. It even recognizes some gestures, though probably not the one most commonly used in traffic.
Want more gadgetry? A track data recorder and MBUX Augmented Reality will project the ideal racing line for a library of race courses on the screen or an optional heads-up display.
The A35 also marks the debut of AMG's next-generation steering wheel. It features a flat bottom, contrasting red stitching, and metal paddle shifters. A new tiller integrates swiped touch control of instrument panel displays and the multimedia system. The optional AMG Performance steering wheel adds the AMG Drive Unit to control driving modes without taking your hands off of the wheel.
No word yet on when the AMG A35 will appear or what it will cost, but figure "soon"—and at quite a bit more than the $33,495 A250.