The Koenigsegg Gemera is an AWD four-seater supercar with a 620-mile range
Koenigsegg surprised us with quite a few cutting-edge innovations in recent years. The Koenigsegg One:1 coined the term "Megacar", because at 1341 horsepower, its twin-turbo V-8 engine produces 1 megawatt of power on E85 fuel. The Agera RS became the world's fastest production car using a dusty piece of the highway in Arizona. The Regera made waves, given that it is a hybrid with no traditional gearbox, and the quickest car on the planet to do a 0-250-0 mph run. Then came the wild Jesko, yet perhaps no Koenigsegg could exceed our expectations as much as the brand's first four-seater, the new Gemera.
Launched alongside the hypercar designed to be Koenigsegg's fastest ever in a straight line, with the Gemera comes a Freevalve-engined (read: camless) three-cylinder twin-turbo hybrid powertrain, packaged inside a true mid-engine four-seater with all-wheel drive. Combining more features than ever, the Gemera even has enough cargo room for four standard-size carry-on suitcases, plus a total driving range exceeding 620 miles.
Koenigsegg's big reveal of these two mighty machines was originally planned for the 2020 Geneva Motor Show, which was canceled due to the coronavirus outbreak. With this much news and a year's worth of preparation in play, Christian von Koenigsegg decided to go ahead as planned, unveiling the new Gemera alongside the Regera and the Jesko Absolut on the show's largely empty floor:
At last year's Geneva Motor Show, Christian von Koenigsegg told me he was planning to make a higher-volume product for the 2020s, a car that uses not only electrification, but also a naturally-aspirated combustion engine with a camless head. It appears the Gemera was on his mind when he offered up that preview.
Since then, as a pioneer of camless engine technology through sister company Freevalve, Koengisegg decided to upgrade this idea with a twin-turbo setup using a 2.0-liter three cylinder Freevalve engine that can run on pure Methanol, E100, and other renewable fuels that offer carbon-neutral emissions. Together with the three electric motors onboard, this powertrain produces a combined 1700 horsepower and 2581 lb-ft of torque, sent through the Direct Drive system already at work in the Regera.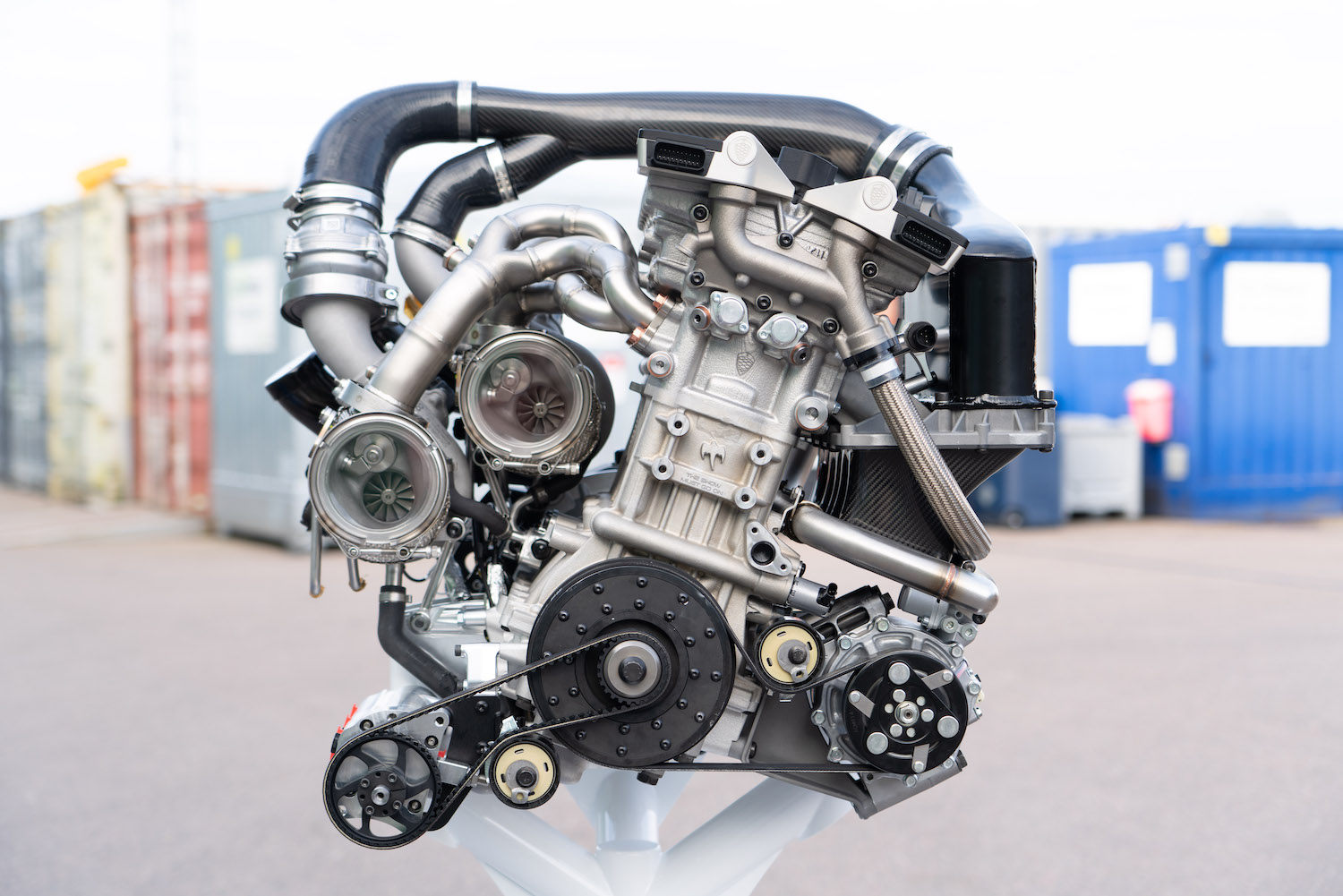 Camless engines—which instead of cams use electromagnetic, hydraulic, or pneumatic actuators to control the poppet valves—seemed like a very hot concept before OEMs decided to spend their R&D budgets on electrification, rather than advancements of this sort that improve combustion engines. A vocal fan of his personal Teslas, Christian von Koenigsegg himself said once that if he knew how quickly battery-electric vehicles would advance, he wouldn't have bothered chasing the camless dream. However, since lithium-ion battery technology isn't quite where it should be by now, using a three-cylinder twin-turbo combustion engine with Freevalve's electro-hydraulic-pneumatic actuators, plus three electric motors powered by a small 800-volt battery, result in a car weighing 30 percent less than a comparable EV, at under 3965 pounds. And with no batteries to occupy floor space, the Gemera can also sit lower, offering a lot more interior space for people and cargo.
Freevalve technology also makes for very efficient engines, regardless of which fuel you use. It's physical dimensions allow for flexible intake and exhaust flows, along with a unique twin-turbo layout and unlimited cylinder deactivation. Speaking of the exhaust, this 154-pound 2.0-liter exhales through a throaty dual Akrapovič system made of—what else—titanium. (In this application, the Akrapovič piping is much shorter than on the new Alfa Romeo Giulia GTA.)
To achieve all-wheel drive and complete torque vectoring, the Gemera's wild dry-sump three-cylinder powertrain also uses three electric motors. Two are positioned on the rear axle, and a single one with an open differential sits at the front. With a combined 1700 horsepower and a doubled peak torque figure of 2581 lb-ft up until 3000 rpm, Koenigsegg's Direct Drive makes the Gemera capable of an extremely quick 0-250-mph run in a single gear.
Yes, in some ways, this car is a Regera with a Freevalve three-cylinder instead of a V-8. Yet it has other tricks up its sleeve, like four-wheel steering, and because the Gemera has four seats, it has an interior befitting of a new breed of Koenigsegg:
Eight cupholders, two for each passenger, one heated and one chilled. Four heated and vented seats that are 55 pounds lighter than the industry standard, granting an additional four inches of rear legroom. Two inductive chargers, an eleven-speaker infotainment system, separate climate controls, and all the wireless functions one could demand. And for those moments on the track, digital instruments rotating with the steering wheel, just like in the Jekso.
Additionally, despite being a mid-engined combustion car boasting three electric motors, the Gemera's storage space can swallow up to four normal-sized carry-on suitcases. Try all that with a Porsche Taycan.
This is a car for the 2020s, after all, so the first four-seater Koenigsegg also comes with digital mirrors, AirCore hollow carbon-fiber wheels, and the full Autoskin remote door/hood/engine cover operation system, along with the brand's signature Automated Twisted Synchrohelix Actuation Doors, which have sensors to make sure you won't smack your garage ceiling.
Finally, when used as a pure EV, the Gemera's 16.6-kWh battery pack provides up to 31 miles of range on Michelin Pilot Sport 4S tires. Hybrid mode adds another 590 miles to that, using 19.8 gallons of fuel for a total of 621 miles.
And with that, acknowledging that it may be hard to find E100 fuel in your neighborhood, the Gemera previews a potential future for carbon-neutral combustion engines. For now, suffice to say that the Gemera looks to be as impressive and innovative as any Koenigsegg we've seen to this point. Koenigsegg's home is at an airfield that was once home to the Swedish Air Force's "Ghost" Squadron, and now that we've seen perhaps the hottest new hybrid on earth, that is becoming an increasingly less interesting fact about this fascinating company.