Keeping Hot Rodding Alive captures the true spirit of hot rodding: creativity
Defying widespread claims that the younger generation's enthusiasm for vintage cars is waning, a team of high school hot rodders in Arizona is taking tools into its own hands and giving a 1957 Ford Anglia wings. The students are also decking out their "Project X" with dual-control drive, rocket-style taillights, and rear flamethrowers.
The Anglia won't go airborne (sorry, Harry Potter fans, only the Weasleys' car can do that), but it's no understatement to say that, under the instruction and mentorship of Kenny Earls, Keeping Hot Rodding Alive has taken off.
Forging the hot rodding community
Keeping Hot Rodding Alive (KHRA) is a free safety and shop program taught by Kenny Earls in Golden Valley, Arizona. "I wanna keep my classic car dream alive, and I want the kids to learn a trade—not just taking apart a car and restoring it," Earls says. "Kids are our future. I want to give them a start."
The program is barely 2½ years old, but thanks to sponsor and fellow competitor Son of a Fink Kustoms, this group of highschoolers—taught free of cost by Earls—will land its space-age-themed "Project X" at SEMA after driving the rod nearly 2800 miles to Lincoln, Nebraska, and back to Arizona, then finally to the show in Las Vegas.
"We are the first and only youth team ever to compete in the RATical Rod Build-Off-Drive-Off, and we're competing against adult teams from across the country and overseas—New Zealand, Australia, Belgium, and Canada," Earls says.
The team fit 1957 Ford Anglia with a 1932 Ford Model A front suspension and a 1965 Dodge 318 poly engine. Out back, 3.5- to 4-inch cones will jut through a pair of tail fins plucked from a 1957 Ford station wagon to mimic rocketship exhausts. The functional taillights will be '59 Cadillac "bullet" lights frenched in with silver and equipped with LED bulbs to evoke jet engines.
When "Project X" lands at SEMA, the space-age rod will sit in a spot sponsored by one of the team's competitors, Son of a Fink Kustoms. "The kids seriously impressed me with how much they're working on the car," says Bryan "BJ" Barger, head of Son of a Fink Kustoms. "It's like seeing your passion alive again, when you were that age, and wishing you still had it, and that somebody believed in you like Kenny does in those kids."
From makers of gauges to ignition cable companies, sponsors are gathering around the kids of KHRA to help them realize their dreams.
"Our sponsors have been very thoughtful to sponsor a group of kids who, before they started, had no idea what they were doing building a car," says high school senior Kayda Migliaccio, who has been with the program since Earls founded it. "It amazes me how willing people are to help."
Winfield's wisdom
The kids caught the attention of one particular 92-year-old hot rodder who travels the country looking to give his knowledge back to the future. From Detroit chop shops to the salt flats of Bonneville and movie-theater screens, Gene Winfield has built, tuned, and tweaked cars in almost every way possible. Winfield populated 1982's Blade Runner (starring Harrison Ford) with 25 wild vehicles, including the flying police cars, and three years later decked out the DeLorean in Back to the Future. Original '60s TV shows Get Smart, Star Trek, and Mission: Impossible all feature his work—and so will Keeping Hot Rodding Alive when it shows "Project X" at SEMA.
The KHRA kids are making their second trip to Winfield's shop, where Earls says you can practically throw a rock and hit the police car from Back to the Future II. Winfield will help the kids of Keeping Hot Rodding Alive with the nose of their "Project X" Anglia, helping frame the 318 poly engine and incorporate the grille insert from a '57 Studebaker Golden Hawk.
"I might make thin cardboard patterns, like posterboard, and then we'll make some steel rods or station points and loft it out so it has the flow and the shape that we need," Winfield says. "Sometimes we'll make a wood buck and shape metal to buck on an English wheel or another tool so it flows in the proper design."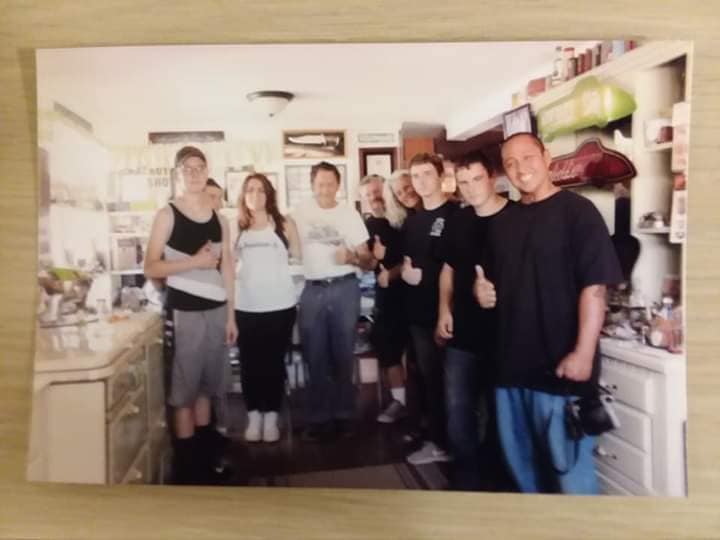 "I like to teach everything I've learned in the many, many years I've been doing this," Winfield says. "I want to teach it all because I don't want it to be a dying art. I want to teach young and old."
Winfield will have rapt students among the group that, true to its mission, is keeping hot rodding alive.
"It's not just that he knows how to do the same things better; he knows so much more—it's crazy," Migliaccio says. "He showed us tools I never knew existed."
Keeping the dream alive
In Migliaccio's estimation, however, the program's real hero is Earls.
Barger agrees. "Kenny is just dedicated to those kids."
Earls made it clear to the group that "there's hope for every car," and his students took his advice as seriously as his pointers on highway tire changes and metal fabrication.
The KHRA group wandered through Earls' yard of project cars, and when they saw the Anglia they knew they'd found their project. "They picked the worst car," says Earls, who was initially wary of their selection. He planned to donate one of his project cars, so Earls tried to talk them out of the Anglia—but the high schoolers would not waver.
The KHRA team has stuck to its choice despite the challenges. The aesthetic charm of the build may be in the '57 body, but the metal shows its age when it's time to weld. "Oh man, it's crazy," says Ryan Meritt, a junior at Kingman High School. "I'm the main welder on the project, and it's really annoying because the metal is so thin it blows through, and it makes it extremely hard to put pieces onto it."
SEMA goes space age
Though we associate recent years of SEMA with museum-quality airbrushing and collector-car budgets, Barger says the patina-laden Anglia captures the true spirit of the show: "It's doesn't have to be million dollar cars with perfect paint jobs and perfect everything. It's about having a different perspective and getting your point across."
The group of competitors that gathers in Nebraska and treks to SEMA has featured some truly wild creations, including a slammed 18-wheeler cab that carries two motorcycles.
"We think we're thinking forward," Barger says. The kids of Keeping Hot Rodding Alive? "They're in some other land."
"My dream is that the kids take over," Earls says.
And the kids of Keeping Hot Rodding Alive are on track to do exactly that. Meritt is currently dropping a 350 Chevy small-block into a 1958 Ford F100 and putting the whole thing on a Dodge Dakota chassis. When she's not doing the upkeep on her 1959 Willys Jeep, Migliaccio is studying the upholstery trade and restoring a '69 Ford Ranchero.
"I had to replace the intake manifold and switch it from a two- to a four-barreled carburetor, and I had to replace most of the wiring harness for the ignition and the distributor. It's running now, but the outside of it doesn't look too good, so I've still got to do paint and body."
What started as a safety and shop class in the corner of a garage has now grown into a team of young hot rodders who are welding, sawing, hammering, and dreaming their way into international hot rodding competitions.
Can't make it to SEMA this year to check out the Anglia? Stop by Golden Valley, Arizona, sometime next year. The Keeping Hot Rodding Alive program plans to raffle off "Project X" and donate one-half of the proceeds to teen-need shelters and the remaining half to next year's project. In the meantime, "like" the group's Facebook page and contact Kenny Earls with questions or donations at 928-530-1251 or P.O. Box 1124, Kingman, Arizona, 86402.