Jeep unveils 2020 Wrangler Freedom edition to honor U.S. military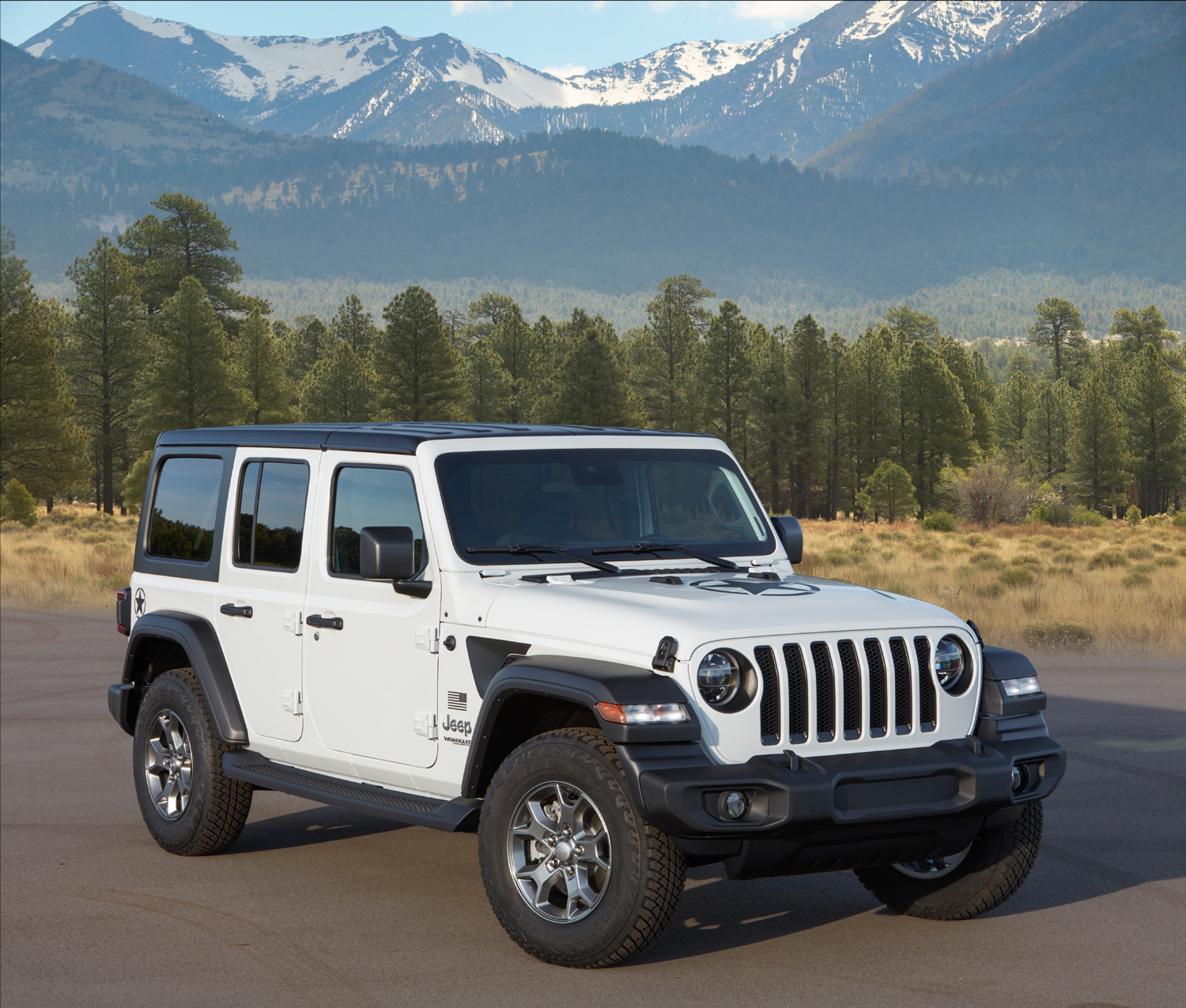 Today is Veterans Day in the United States, what some old-timers still refer to as Armistice Day. What originally started out as a commemoration of the armistice that ended World War I is now a day dedicated to more generally honor the service and sacrifice of American military men and women who have protected this country in peacetime and in war.
As a tribute to veterans and active duty members of the U.S. military, FCA's Jeep brand is reviving the Jeep Wrangler Freedom edition for the 2020 model year. For every Freedom Edition Jeep that is sold, the brand will donate $250 to the United Service Organizations (USO), which provides social facilities, entertainment, and other services to those serving in the American armed forces.
The initial run of special-edition Wranglers will appropriately be finished in Firecracker Red, Bright White, or Ocean Blue paint (with other production colors to follow after the introduction) and come with military-themed interior and exterior design touches.
"We are thrilled to bring the Wrangler Freedom model back to the Jeep lineup as a tribute to active and retired members of the U.S. military," said Jim Morrison, Jeep's brand head for North America, in a statement. "The Jeep brand has a long military history, and the new Wrangler Freedom model is a small but important way we can honor those who have and continue to serve their country."
That long military history actually predates the Jeep brand, which was originally based on Willys' civilian version of the quarter-ton military "General Purpose" MB truck produced during World War II by that firm and Ford Motor Company. Soldiers tagged the little GP "jeep," and the name stuck.
Based on the Wrangler Sport S, each Freedom edition will sport an American flag above the Jeep logo on each of the front fenders, a black premium Sunrider fabric roof with tinted rear windows, Satin Carbon finished 17-inch alloy wheels, all-terrain tires, and side steps. They will also feature "Oscar Mike" trim. That's military jargon for "On the Move," represented by a large badge on the tailgate and a military star decal on the hood.
Inside, the "Oscar Mike" graphic is also embossed on the seats, which are upholstered in McKinley black fabric with black leather bolsters. Completing the Freedom Edition package are light Tungsten accent stitching on the steering wheel, doors, seats, and front armrests.
Prices for the 2020 Jeep Wrangler Freedom edition start at $34,190 for the two-door version and $37,690 for the four-door Wrangler Unlimited version.