"No Time to Die" trailer is chock-full of Aston Martins, vintage and modern
There are tire-smoking donuts, and there are tire-smoking donuts while you spray your enemies with .30-caliber rounds… from the miniguns concealed behind your headlights. Welcome to the official trailer for Daniel Craig's final James Bond flick, No Time to Die.
Which, of course, seems an ironic title for his last Bond movie. Will Craig's Bond die? Who knows, but either way he'll go out in serious automotive style. The 1965 Silver Birch DB5 appears in the trailer's very first scene, tail out and sliding across a flagstone square with some serious scrape marks down its right side. Logically, it's pursued by a competing British marque, a Jaguar XF S that looks mammoth next to the trim '60s grand tourer.
Although the new Land Rover Defender is due to appear in the movie, the trailer features a late '90's Toyota Land Cruiser scooting under what appears to be a falling Evoque (good riddance, I say). Bond performs his obligatory motorcycle escapades through crowded city streets, up a set of stairs, and over walls—but there's no question this movie is all about Astons.
Bond opens a garage and rips a sheet off another vintage Aston Martin—most likely a late '80s V8 Vantage, since Timothy Dalton's Bond drove a similar car in 1987's The Living Daylights, and Aston had morphed the DBS into the V8 in 1973. In its day, the V8 Vantage held the crown of fastest production car, topping out at 160 mph and boasting a 0–60 time under six seconds. Equal parts brawn and class, as Bond's Astons should be.
However, despite the respectful tips of the hat to past Bonds, No Time to Die is unquestionably set in the current day and appropriately showcases the newest and shiniest Astons. Lashana Lynch's character gives Bond an over-the-sunglasses smolder from a dark gray DBS Superleggera. Aston Martin's top-of-the-line Valhalla hypercar will appear in the full-length film; most likely, we suspect, associated with the swanky dinner party scene in the trailer. In full cocktail attire, and in true Bond style, Lynch's character dishes Bond some lethal threats in a seductive tone, and what could better communicate Bond's stylish assertion of dominance than a $1.15 million, 1000-horsepower hypercar?
The DB5, as the veteran Bond car, receives more screen time than its more recent Aston Martin counterparts, returning at the end of the trailer for the bullet-spraying donut stunt. In Skyfall, Bond brought out his DB5 from storage only for it explode under an incoming hail of machine-gun bullets—we're glad to see this DB5 repaying the favor. Hopefully the directors of No Time to Die let the helicopters do the exploding and show the DB5 some mercy.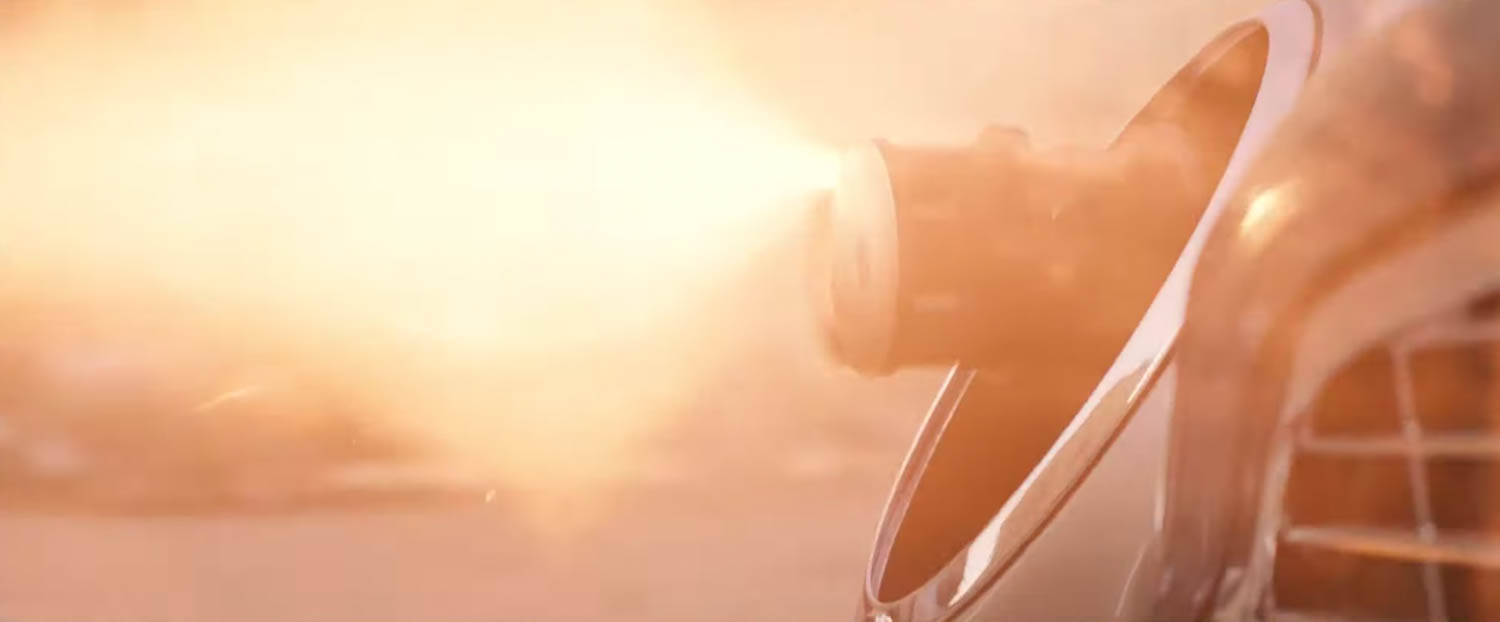 Which Aston Martin are you most excited to see in No Time to Die? Maybe you're just waiting to see the new Defender in action? Let us know below.