Behind the scenes at Jaguar's new design studio
Which cutting-edge gadgets and absolutely traditional hand tools does a modern design studio need in order to be ready for the 2020s? According to Jaguar, the answer is virtual and augmented reality animation technologies, along with computer-aided surfacing and clay sculpting that can help the British automaker create unique-looking automobiles for years to come. And who else could lead the brand's efforts at its redeveloped Design and Engineering Center in Gaydon other than Julian Thomson, Jaguar's design director perhaps most famous for being the father of the first Lotus Elise?
The layout of the buildings at the Design and Engineering Center is intended to support a seamless workflow between the creative and engineering teams. Their mission is to transfer "Jaguar's vision of modern Britishness" into products we'll want to own. Jaguar also says that "six key design disciplines, operating across Interior and Exterior teams, develop innovative solutions and define future trends."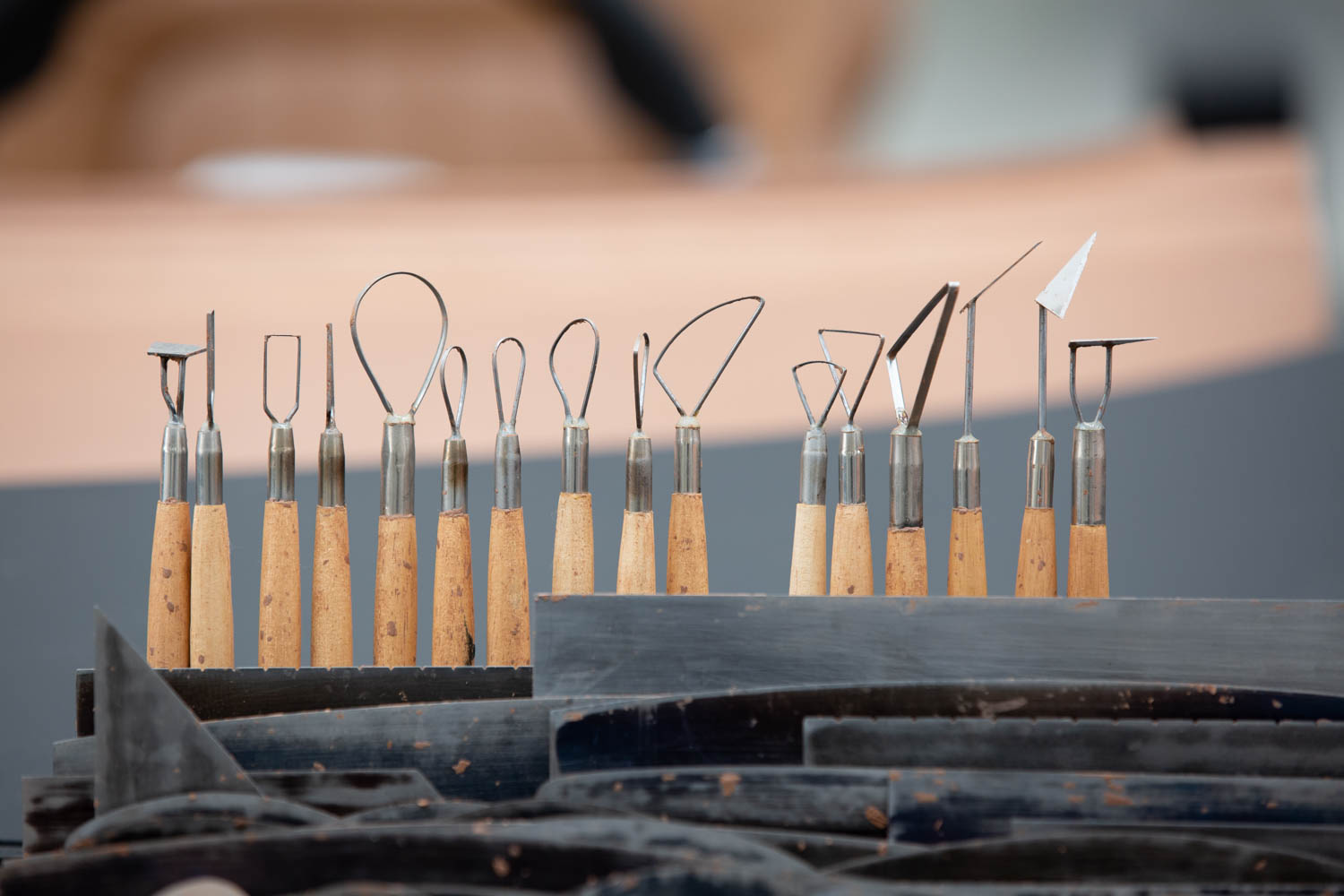 With its doubled floorspace, the new Design Studio allows 20 full-size clay models to be worked on simultaneously, while a 36-feet 4K display wall should help with digital sketching and the rest of the virtual toolkit. It's more or less an Stark Industries-esque design lair.
The first step here is sketching, which typically happens four years before reveal. Using pen, pencil or tablet, up to eight exterior key sketches will be taken through to the next stage, which involves turning the initial renders into digital data through Computer-Aided Surfacing (CAS).
With this data, Jaguar's team lands at stage two: the milling of the clay models. And this team of 46 sculptors have quite the playground. Jaguar can explain:
"The sculpting area has 1312 feet of custom-made floor-integrated machine rails across its ten clay milling areas, each one 65 feet long. Each clay model is positioned on one of 20 lifts, capable of lifting the full-size model up to one-metre and with a load capacity of 4.5-tons, which allows the sculptors to achieve the most ergonomic body position possible when crafting each part of the vehicle. The system allows double-sided processing of models by the 3+2-axis Kolb Concept Line CNC clay milling machines, using the 1kw motorised spindle capable of 16,000 rpm.
Each full-scale clay model comprises an aluminum chassis, foam core and, finally, up to 90 mm of clay. The only part that is 'real' at this stage are the wheels. The clay is milled by machine using data from the CAS team before being 'slicked' and refined by the clay sculptors—this process can take as little as two weeks.
Using carbon fiber and sprung steel splines, the tools used to precisely shape the clay, the team handcraft each clay to perfect their designs. The clay models are frequently removed from the plates and taken outside to view in natural light to replicate how the vehicle will be seen on the road, and from a variety of angles and heights. This process takes much longer with revisions and adjustments made over the course of several months as each element of the design is refined and finessed to achieve a cohesive and elegant outcome.
The clay models are constantly scanned with data re-inputted to computer software to ensure engineering points are met, with clay sculptors operating to tolerances of 0.2 mm. As designs are perfected, the clay models can be wrapped and painted to bring them to life. Jaguar Design utilises Virtual Reality (VR) to stitch a real-life 3D clay interior model into a digital world so designers and ergonomics experts can experience the look and feel simultaneously."
Throughout this rewarding (and extensive) process, others work on the complete digitalization of each part, while the colors and materials team figures out which shades and fabrics could win us over at the dealers four years later. And starting early with that is crucial, since bringing a new exterior color to the market takes just about all the time the team has until showtime, due to all the temperature and durability testing that is required.
While the materials team also puts the proposed seat upholstery through 60,000 cycles of abrasion resistance evaluation using the Martindale rub test, Jaguar's engineering crew needs to figure out how to make the packaging work with their long-term powertrain considerations, as well as their assembly lines. And when it finally all comes together, Jaguar's Design and Engineering Center can finally produce what everybody is most eager to see: full-size models of future cars. Here's how that goes:
"These interior and exterior models are used to evaluate size and proportion and are developed from initial concept sketches in the first six to 12 months. When one design is selected as the 'vision', a new model is created from milled resin, with non-functioning 3D printed lamps, grilles, mirrors and wheels with unique trims, production quality paint and plexi-glass glazing. Alongside these exterior models, full-size interior vision properties are also created. With real seats, steering wheels and trimmed and painted surfaces beautifully finished to a 'real' aesthetic standard, these models help to focus the business and can be used for market research and to ensure all engineering tolerances are met.
The step beyond the resin model is the exterior and interior Aesthetic Confirmation Models (ACM) produced when the design theme is frozen, the point at which clay modelling ends on the vehicle. The ACMs feature a higher level of detail such as milled metal components, functioning lamps, and are developed following design themes being refined and engineering feasibility work being completed.
The final model is the incredibly detailed Customer Design Reference Model—a full inside/outside driveable (low-speed) model created ahead of launch to showcase the vehicle before a full production version is available. It is built on a bespoke chassis with a body structure made up of a mix of carbon fiber and glass fiber, with fully functioning lamps, one-off machined aluminium wheels, and a fully trimmed interior complete with functioning displays."
Still with us? Well done. Indeed, creating cars is an utterly complex process, but also one that highlights the contributions and efforts of talented engineers and designers. And what about the sketches drawn at Jaguar's new studio this week? Well, some of those ideas should turn into show cars we can appreciate three to four years from now. Something tells us they'll turn out looking pretty slick.