Gordon Murray T.50 aims to be this era's McLaren F1, revs to 12,100 rpm
Gordon Murray Automotive just revealed an early look at its first production vehicle, the T.50 supercar, which designer Gordon Murray says will be the "spiritual successor" of the McLaren F1 (which Murray himself penned). GMA, which was established to build vehicles conceived by its corporate sibling, Gordon Murray Design, says that the T.50 will improve on the F1 "in every way."
Given the F1 (legendary as it is) came out in the early 1990s, we sure hope so.
The T.50 reprises the F1's three-seat interior layout and center driving position. Of course, it's a mid-engine design, and it will be rear-wheel drive only.
Eschewing both forced induction and the hybrid path other supercar makers are taking, the T.50 will be purely gasoline-powered, with an all-new naturally aspirated 3.9-liter, 650-horsepower V-12 engine, developed by Cosworth. GMA says the engine will be the highest-revving engine ever used for a production car, with a 12,100-rpm redline.
The T.50 will also have the most advanced aerodynamics of any road car ever produced, the company claims. It will be the first production "fan car," using an electrically powered 16-inch fan to control underbody airflow and ground effects, similar to Murray's Brabham BT46B Formula One car (and Jim Hall's Chaparral 2J).
Based on a bespoke carbon-fiber tub, at just 2160 pounds, the T.50 weighs about a third less than other supercars and it will have an "unrivaled" power-to-weight ratio, according to GMA. No projected performance data has been released, but the T.50 isn't solely about 0–60 times or top speeds.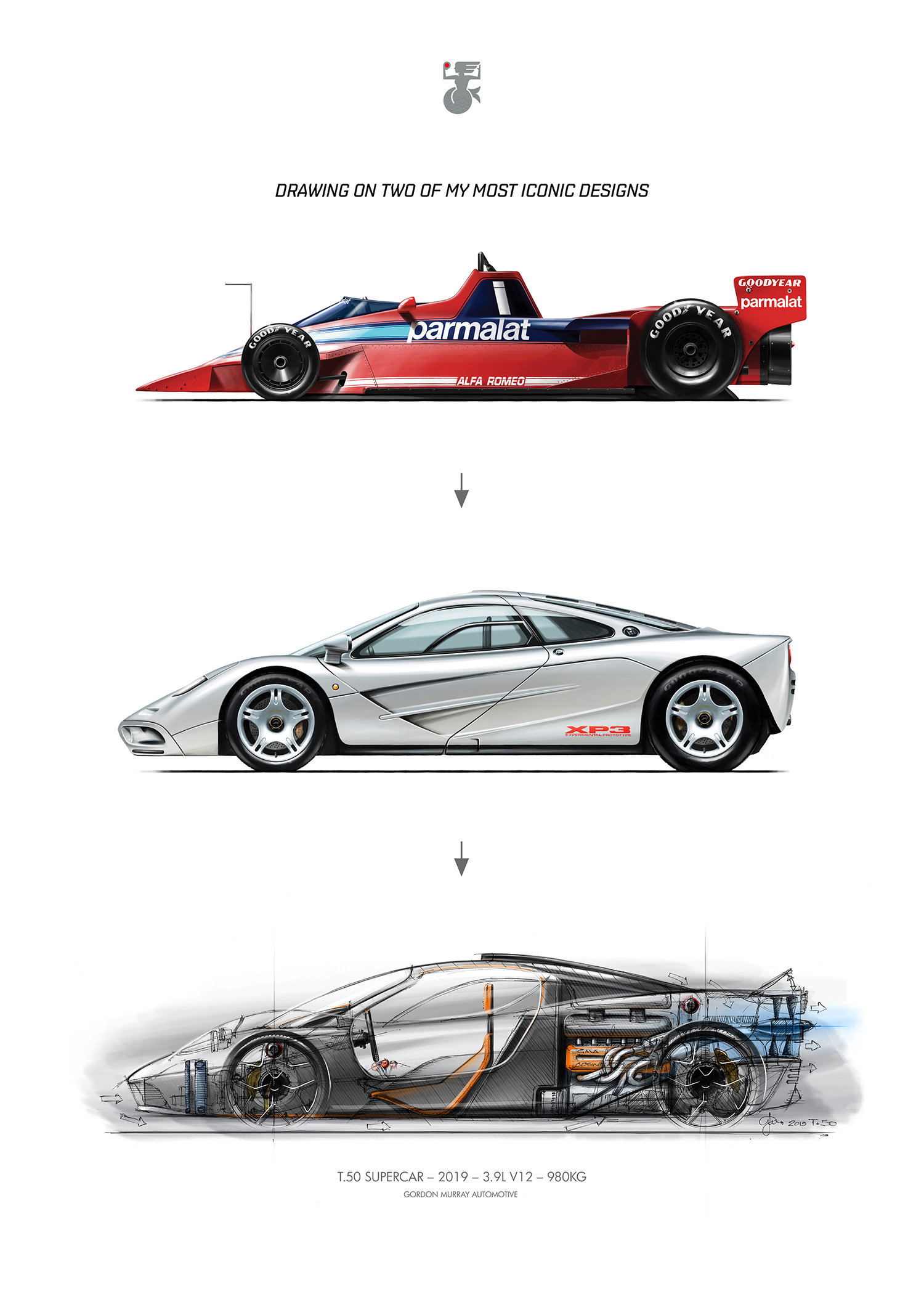 "We're not interested in simply chasing numbers, and never will be," Murray insists. "I have absolutely no interest in chasing records for top speed or acceleration. Our focus is instead on delivering the purest, most rewarding driving experience of any supercar ever built—but, rest assured, it will be quick.
"We expect this to be the last, and the greatest, 'analogue' supercar ever built," says Murray.
With a smaller footprint than that of the Porsche 911, the compact T.50 also eschews the aero add-ons that keep many ultra-performance sports cars on the road at speed. Using fan-based active aerodynamics allowed stylists to eliminate any wings, inlets, or outlets that might compromise the pure flowing lines of the body, although the layout sketch released does show a retractable rear deck spoiler.
Billing the T.50 as "a true British supercar," GMA indicates the car will be assembled at a new factory being built in Surrey, UK, and all major components—including the powertrain, body, and chassis—will be-UK sourced and unique to the T.50.
Just 100 examples of the T.50 will be made, with deliveries starting in the first quarter of 2022. The price will be "in excess of £2m". That works out to over $2.5 million at today's conversion rate. Relatively speaking, that's not far off the price of a Bugatti Chiron, and no doubt the T.50 will offer a totally different, more raw experience.