Review: 2019 Chevrolet Corvette ZR1
Tap start and 755 horses chomp bits, ready to stampede through the aperture in this Corvette's hood. The ensuing rock and rumble anthem salutes 10,245 C3, C4, and C6 ZR1s built with the best V-8s of their day to smash track records and shame sports cars costing twice their price.
This 2019 C7 edition is more of the same. The ZR (Zora Arkus-Duntov Racer) code name is more legit than ever. If anything, this $122,095 ultra-Vette has rocketed out the top of the supercar category into low hypercar orbit with its 10.6-second quarter-mile acceleration and 200-plus mph top speed. More remarkably, it also offers impeccable road manners with a twist of its driving mode knob. Dial Tour or Sport and the '19 ZR1 soothes your soul as it leaps vast distances in a single bound.
We learned this during a day hot lapping Road Atlanta followed by an assault on Blue Ridge Mountain roads through the Chattahoochee Forest on north Georgia's highway 19. The 2.54-mile Road Atlanta course near Braselton is a 12-turn joy ride combining squiggly esses, flat-out sweepers, and long straights with 125 feet of elevation change. There are but two kinks where you drop below 50 mph.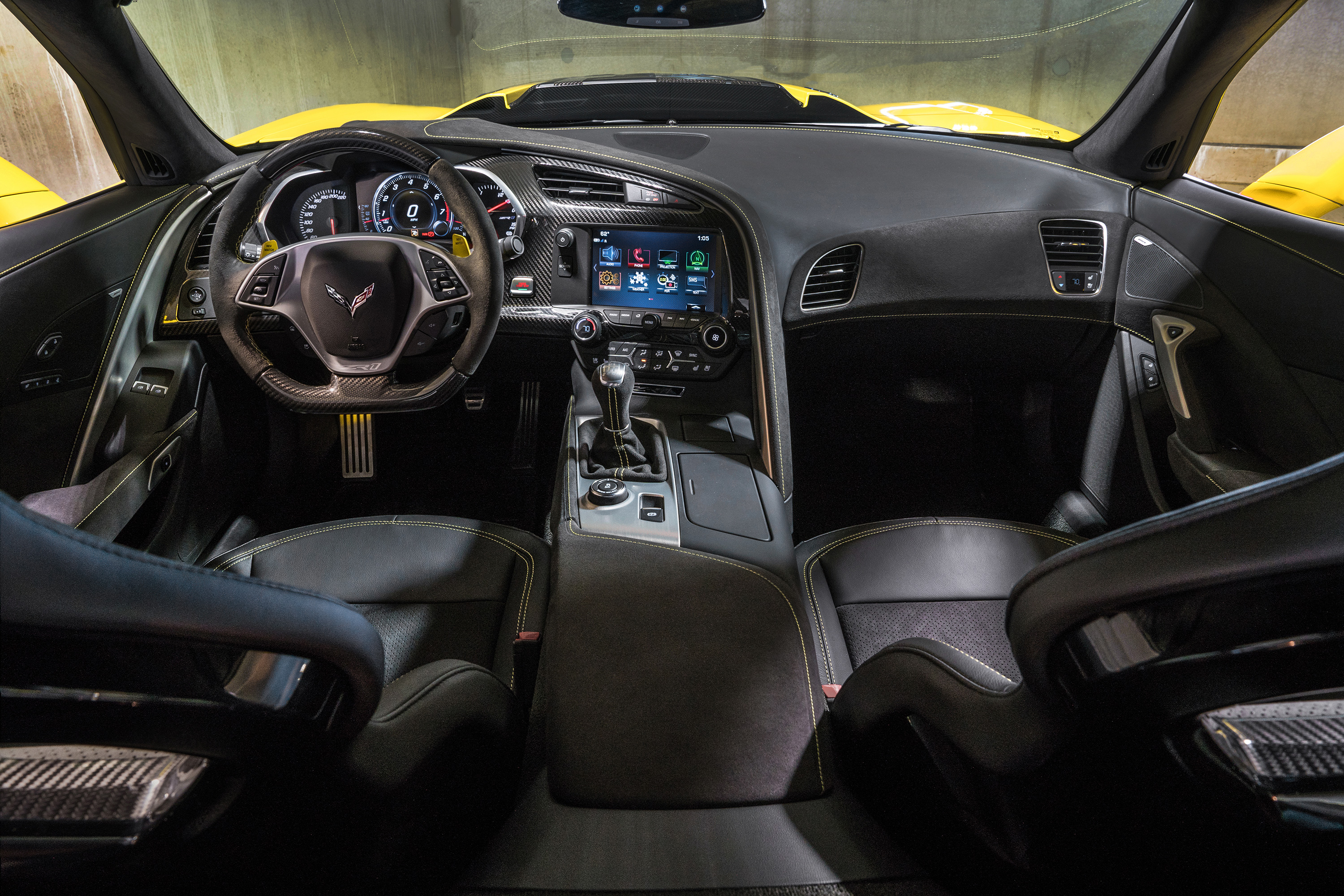 The ZR1's quick steering and Loctite grip attacked every apex with predatory intent. After a couple of orientation laps, we discovered that the apex and corner-exit rumble strips don't rattle this Corvette's magnetic dampers, so we used the normally forbidden curbs to straighten bends and stretch straights. The carbon ceramic brakes working through Michelin Pilot Sport Cup 2 radials shed speed with no hint of fade and a faithfully firm pedal. On the 0.8-mile back straight, we leapt from just under 50 to over 150 mph before threshold braking into the 10A/B kink. Mustering courage, we held the right pedal down through the turn 12 dive onto the start-finish straight.
We tried both the seven-speed manual transmission and the eight-speed automatic during track sessions. The stick is easy to operate with or without rev-matching assistance, in part because only third-, fourth-, and fifth gears are needed after pit lane. It's standard in both coupe and convertible ZR1s, and saves $1725 if you choose it over the automatic.
Nevertheless, the paddle-shift automatic was our preference on the track. Up- and down-shifts are tight, quick, and brilliantly timed. Not having to press a clutch, pull a lever, or tug a shift paddle lets the driver concentrate on holding the line and hitting late-braking points. But the most telling vote is that the automatic's tighter ratio spread and lack of torque interruption during upshifts yield quicker lap times. Chalk up another win for technology over technique.
All it took to convert the seventh-generation Corvette into a track star is engineering—that touched every chassis and powertrain system, body surface, and control computer in the car. Chief engineer Tadge Juechter and his team invested seven years in development, including 2000 hours of tuning at 10 race tracks in two countries.
The new LT5 6.2-liter V-8 is topped by an Eaton supercharger that's 52-percent larger than the one used on the LT4 engine in the Corvette Z06 but spins slower to deliver 14.0 psi of peak boost versus the previous 9.4 psi. The throttle body, bypass valve, and intercoolers are larger to handle and cool the extra air. A new port fuel injection system supplements the carryover direct injection during high load conditions. Peak output is 755 horsepower at 6300 rpm, 105 more than the LT4. The torque curve maxes out with 715 lb-ft at 4400 rpm, topping the LT4's peak twist by 65 lb-ft. Reaping 199 horsepower per liter from a pushrod V-8 is the engine world's moonwalk.
The new ZR1's Jekyll/Hyde personalities are the product of one computer-controlled and one passive valve per muffler. When closed the beast is relatively calm. When the valves open during full throttle use, hell in the form of 800-degree Fahrenheit exhaust gases spouts out the pipes with flames visible under certain conditions. There are 13 heat exchangers to purge heat from the cooling system, engine intake air, lubricating fluids, and cockpit. Cooling air is ducted to the centers of the vented brake rotors.
A low-mounted wing is standard in the ZR1. The $2995 ZTK Track Performance Package adds major aero upgrades plus the essential Michelin summer rubber and more aggressive suspension calibrations.
The Cessna-sized rear wing, in collaboration with a deck lid spoiler and a combination splitter and under-nose airfoil, presses the ZR1 toward earth with 950 pounds of force, spread equitably over both axles. Factor in algorithms that astutely manage how the differential locks and the transmission shifts—including a program to handle flight following an abrupt crest in your path—and you've got a car with the ability to convert any driver with basic track skills to a Penske grade super-shoe.
We selected the base $119,995 coupe for mountain pass driving and were lucky to experience light traffic, perfect spring weather, and a couple hundred miles of man-machine bliss. The aggressively cambered corners, frequent elevation changes, and perfectly smooth pavement provided the perfect stage for the ZR1 to strut its shrewdly tuned stuff.
While it seems sacrilegious to fault what we'd nominate as America's finest automotive engineering achievement, a few details could be improved. The standard bucket seat is easy to slip into and long-haul comfortable but doesn't provide enough support to stop thighs from flapping when the lateral g's build. The more aggressive competition seat is fine for street use but leaves you wanting more shoulder support on the track.
Soul searching is also required to select a rear wing. The high one works superbly well on the track but may prompt arrest for criminal intent on the street. The low one draws less attention but it blocks a clear view of enforcement effort homing in on your six o'clock. Let your driving record be your guide.
Last, the hunk of carbon fiber poking through the halo hood blocks the driver's forward view to the right. While that concern fades after very few miles, a comprehensive solution to the forward visibility issue is due in a few months: a new Corvette with its engine moved well out of the way, behind the driver. But if the ZR1 is the front-engine Corvette's swansong, it went out on a positive note. It's easily the greatest Vette ever made.