Watch this ungoverned, 840-horsepower Dodge SRT Demon hit 211 mph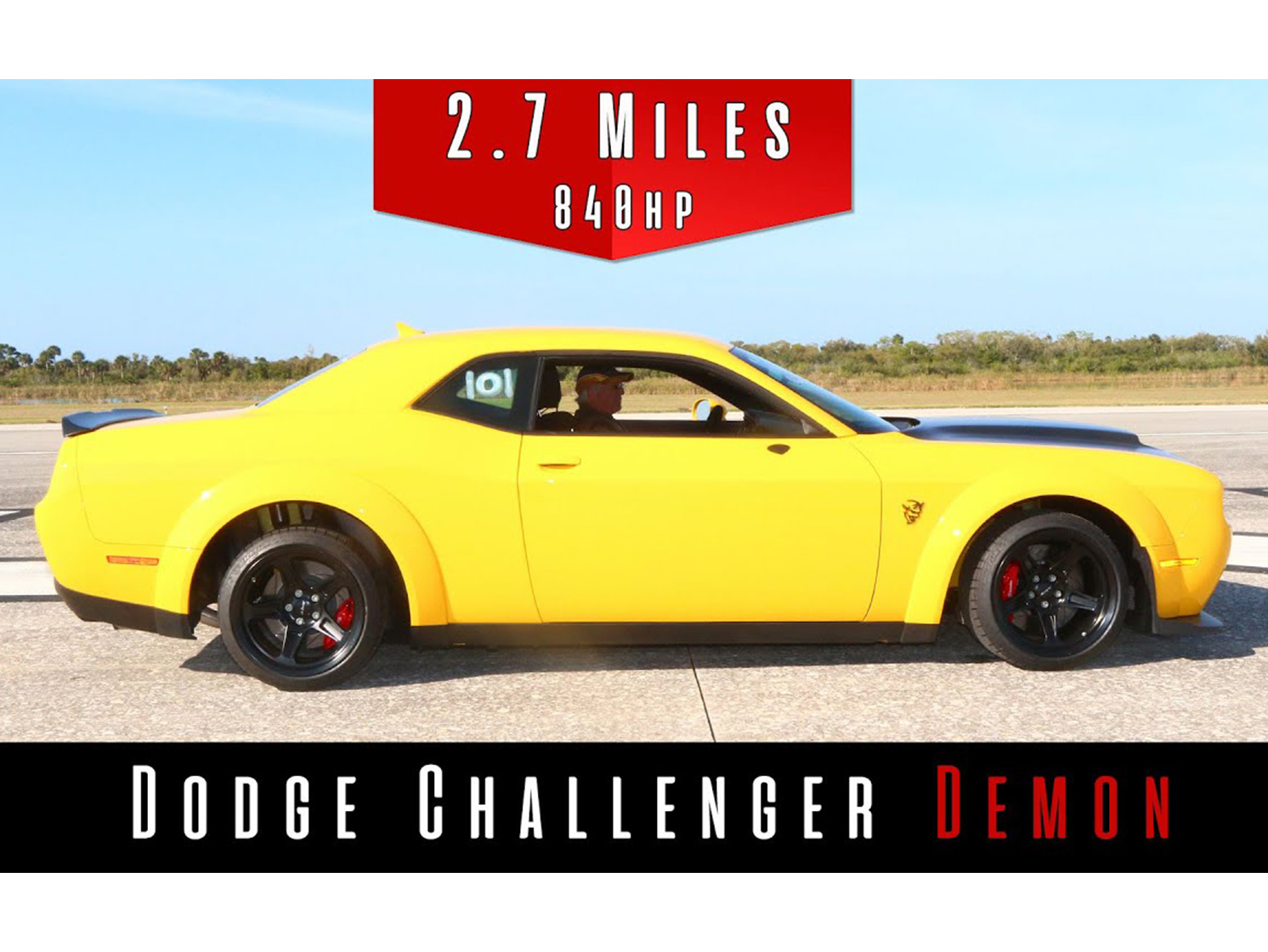 Dodge's SRT skunkworks may have built its 840-horsepower Demon to be a quarter-mile monster, but with a few tweaks, it has some pretty serious high-speed chops as well. A new video from Johnny Bohmer Proving Grounds proves just that, showing the beast hitting a staggering top speed of 211 mph.
For those not up to date on the Demon's specs and mythology, this Dodge leaves the factory with a 168-mph governor, a full 35 mph slower than the 797-hp Challenger Redeye's top speed of 203. Why is that? Tires. The Demon comes equipped with ultra-sticky Nitto NT05R drag radials, allowing it to pull the front wheels off the line and blast through the quarter mile at 9.54 seconds—but there's a catch. These pieces of road-going chewing gum are only designed to rotate so fast before their structure is compromised, necessitating the factory's speed limiter.
While not explicitly indicated in the Youtube video or its description, we have to imagine that the Demon at Johnny Bohmer Proving Grounds (which hosts top-speed and aero testing at a 3.2-mile space shuttle runway in South Florida) was able to overcome both of these obstacles prior to its record-breaking run with an aftermarket tune and set of Hellcat-spec tires. Other than these two items, the car appears to be bone-stock, with the 6.2-liter supercharged V-8 catapulting the 4200-pound muscle car to its terminal velocity in 2.7 miles.
Sure, it's not as shock-inducing as last week's modified Ford GT hitting a ridiculous 300.4 mph, but the Demon's performance is outstanding for a car with sub-four-digit horsepower figure. What are your thoughts on this Challenger's unleashed top speed? Sound off in the Hagerty Forums below.