The Dodge Charger Hellcat Widebody is America's greatest muscle sedan
Locking eyes with a California Highway Patrol officer is rarely a good idea, especially when you're driving a 717-horsepower super sedan. But it's too late. We're basically staring at one another. Wait, he's not looking at us, he's looking at our car, and that's not omnipotence in his eyes, it's envy. We're both driving Dodge Chargers. Only his aging black and white is powered by a V-6, and we're driving the new 2020 Dodge Charger SRT Hellcat Widebody Daytona 50th Anniversary Edition, the most powerful and fastest mass-produced sedan in the world.
Don't even try it, Poncharello; you can't keep up.
Dodge has devised its most powerful, quickest, and best-handling Charger Hellcat ever to commemorate the 50th birthday of the 1969 Charger Daytona, one of Mopar's most iconic muscle cars. It was a homologation special, built to legalize its radical aerodynamics, including a 23.5-inch tall rear wing and 18-inch nose cone, for NASCAR's superspeedways—Daytona and the newly constructed Talladega International Motor Speedway.
To satisfy the rulebook, just 501 were built (some say 503), all powered by a 440-cubic-inch V-8 or the almighty 426 Hemi. And they were dominant on the racetracks. A Hemi-powered Charger Daytona won the Talladega 500 that year, its first race, and it became the first stock car clocked at over 200 mph. In 1970, Bobby Isaac drove a Daytona to the championship.
For historic continuity, Dodge will offer just 501 new Daytonas. Although it's a 2020 model, they'll all be built in the 2019 calendar year, so technically the car didn't miss its great grandfather's birthday.
It's basically a $4500 appearance package on the new 2020 Dodge Charger SRT Hellcat Widebody, which has a base price of $71,140. The Daytona gets special badging, an oversized graphic on its rump, and new low-gloss Granite finish on its exclusive "Warp Speed" wheels. It's a cool look and a welcome contrast to the dark wheels on the standard car. "Black wheels have been popular for a while," says Mark Trostle, FCA's Head of Performance, Passenger and Utility Exterior Design. "We're searching for the next big thing."
The Daytona is also the only Charger available in B5 Blue, which also debuted in 1969 and remains a favorite color of the Mopar nation. "We matched the color exactly," Trostle says. Three other colors are also available, including Bill Hickman Black. Well, that's what it should be called, in honor of the actor/stuntman that drove the 1968 Charger in Bullitt. It's actually called Pitch Black.
Trostle studied under Bill Porter, who designed the 1968 Pontiac GTO as well as the second-generation Pontiac Firebird and Trans Am. He's also a regular at car shows around Detroit, has owned a 1970 'Cuda, and recently sold his '32 Ford, which was powered by a Chevy 383 with a five-speed. "It was a traditional-style Roadster on bias-plys," he says. "I really miss it."
Just as on the Widebody Challengers, which debuted in 2018, he has fitted the Charger with large plastic wheel well flares that add 3.5 inches of width and massive 20×11 wheels wrapped in 305/35ZR20 Pirellis, front and rear. "It looks super wide on the road," he says with pride. There are also new front and rear fascias and rocker trim, and a reshaped but quite tasteful rear spoiler. A 23.5-inch rear spoiler wasn't considered.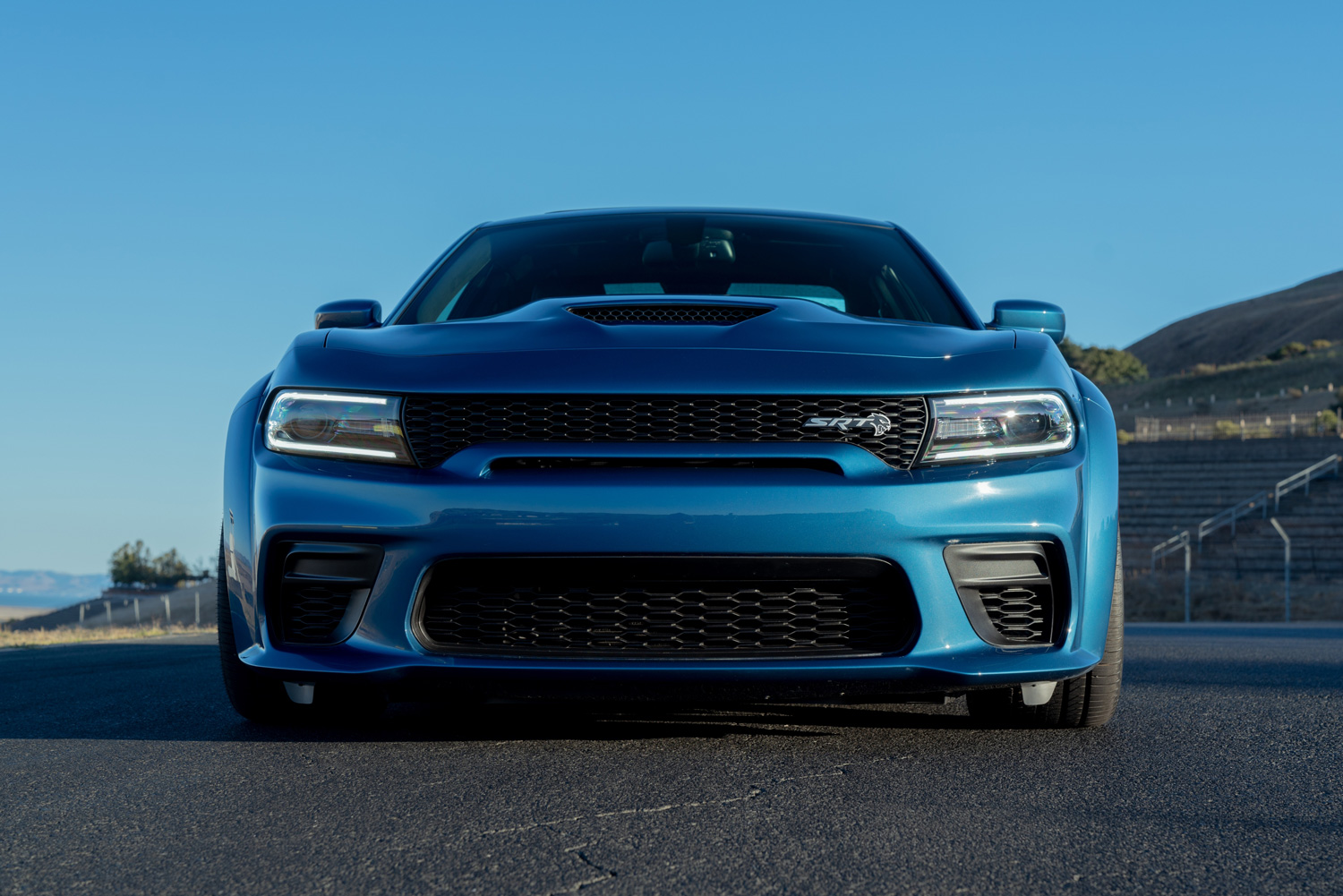 Smart move. Unlike the original Daytonas, which were considered too much in their day, the Widebody Charger is extreme and overwrought, but in a good way. And it does 200-foot burnouts.
Under its big hood scoop is the same supercharged 6.2-liter Hemi V-8 that has powered all Hellcats since 2015. In the Charger Hellcat Widebody, its power rating remains 707 horsepower at 6000 rpm and 650 pound-feet of torque at 4800 rpm, but Dodge has fudged the numbers a bit in the Daytona. By retuning its eight-speed automatic to shift at 6100 rpm (100 rpm later) starting with the upshift to fourth gear, it has raised the power rating to 717 horsepower. The Challenger Hellcat is also rated 717 horsepower, but its 6000 rpm peak is achieved with an open element airbox not used on the Daytona. They all have a 6200-rpm fuel cutoff.
A manual transmission remains available in the Challenger, but every Charger still gets the automatic, which packs shorter gears than the six-speed for maximum acceleration. "We never considered a manual for this car," says Jim Wilder, Vehicle Development Manager for the SRT Challenger and Charger. "It would require modifications to the floor pan, crossmember, and firewall. It would be a substantial financial commitment. Plus, it's quicker with the automatic."
Quick doesn't do the Daytona's acceleration justice. It wants to tear your face off. Half throttle turns its massive Pirelli summer tires to dust. Turn off the traction control and you better be ready to steer, and it'll keep the tires smoking into third gear. No other car does that. Use the launch control feature and Dodge says it blasts to 60 mph in 3.6 seconds and covers the quarter mile in 10.96 seconds at 125 mph. That's quicker than Dick Landy's 1970 Hemi-powered Pro Stock Charger, which, by the way didn't have air conditioning or heated seats. Top speed is 196 mph, about two mph faster than William Byron's pole speed at the 2019 Daytona 500.
Your mind will be blown by the way this 4586-pound sedan builds speed, but it's the smoothness of its ride and the athleticism of its chassis that will shock you. SRT's engineers have fitted 32 percent stiffer front springs, thicker sway bars, and firmer Bilstein shocks, which are adjustable. With all that extra rubber and 1.6 inches of additional track width, its handling is radically better than last years narrow-bodied Charger. There's significantly more lateral traction and the large sedan is well balanced, despite is nose heavy weight distribution.
It feels big at first, but it's easy to drive quickly on a twisty two-lane. Then you realize how much traction there really is and you start to push it. If you think a Charger is too big and heavy to handle, you're wrong. The Daytona has very little body roll, and it's capable of very impressive cornering speeds—Dodge says it generates .96g of lateral grip on a skidpad. It's a hoot in the hills. Turn off the traction control, if you dare, and powerslides are just a brave poke of the throttle away. According to Wilder, it can lap a 2.1-mile road course 2.1 seconds quicker than last year's narrow-bodied version.
Its Brembo brakes are the same as last year, with 15.4-inch front rotors with six-piston calipers, but with the help of the larger tires, it scrubs speed better, too. Dodge says it stops from 60 mph in just 107 feet, four feet less than before.
The Charger's suspension is still tuned a bit softer than the Widebody Challenger's, and its wheelbase is four inches longer, so it rides better. Impact harshness isn't a problem in Street mode and there isn't as much head toss as there is in the Challenger. It's firm, but comfortable enough for the daily commute or a family road trip, and its suspension, transmission, traction control, and new electrically-assisted power steering system are all adjustable, with Street, Sport, and Track settings. The new power steering, which the Challenger Hellcat got in 2018, is well tuned, with plenty of feel, and a quick 14.4:1 ratio. A flat-bottom Alcantara covered steering wheel is standard. In Track mode, the transmission changes gear with a punch reminiscent of a 727 TorqueFlite with shift kit.
With Cadillac putting the 650-hp CTS-V in the history books, this is undoubtedly America's greatest four-door muscle car. The only real problem with the new Daytona is the attention it draws from the local constabulary. Ponch is still giving us the eyeball.