Detroit Packard plant's iconic bridge collapses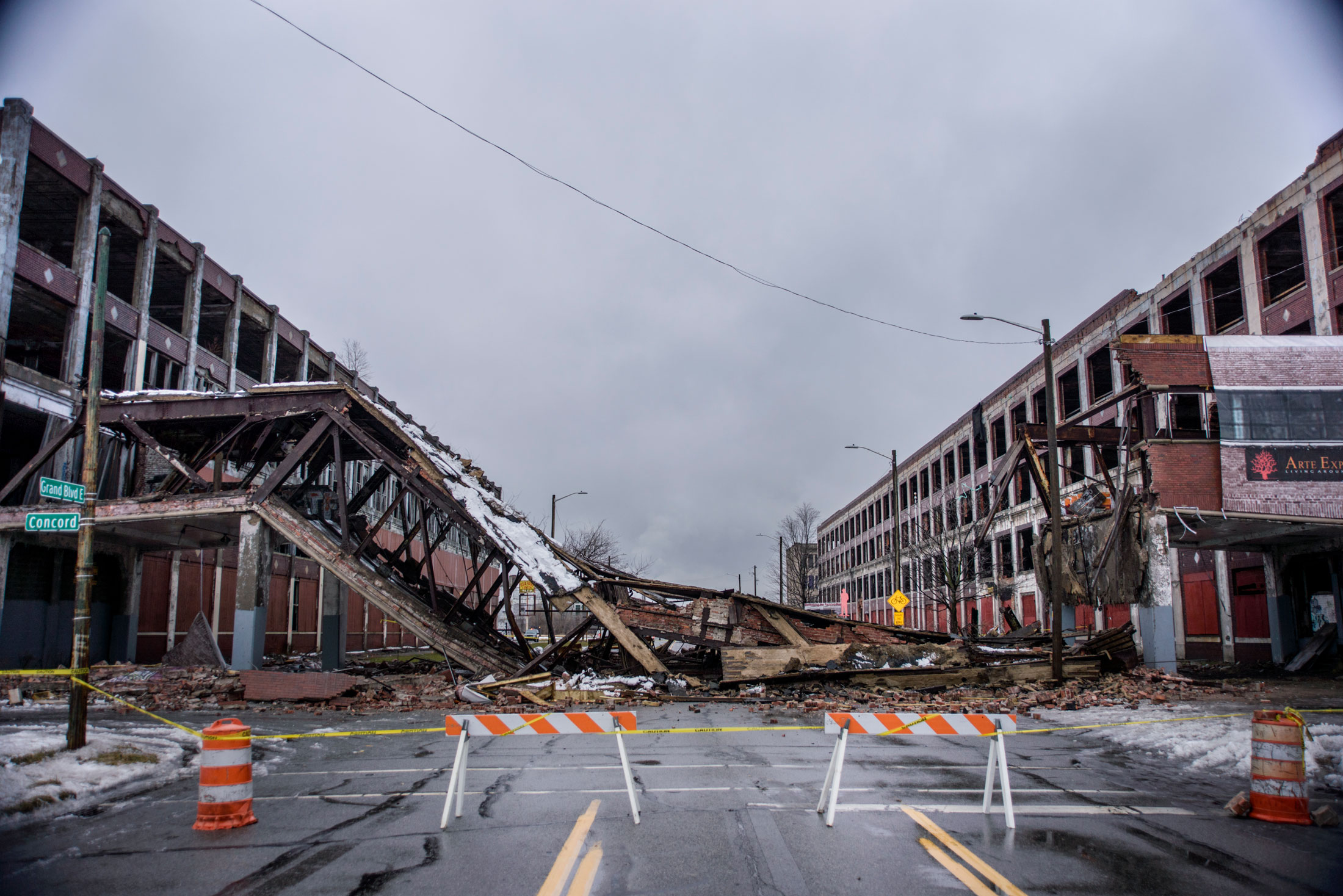 More than six decades after Packard's collapse, the most iconic portion of the company's long-shuttered Detroit plant has also been reduced to rubble. The plant's pedestrian bridge, once part of the assembly line that built luxury automobiles for the rich and famous, collapsed on Wednesday afternoon. No one was injured.
Officials say age and extreme weather weakened the bridge at the long-defunct plant, which was purchased by Peruvian developer Fernando Palazuelo in 2013. Palazuelo is in the midst of redeveloping the site, and the bridge plays a big role in the project's marketing materials. It is featured in various stages—past, present, and future—on packardproject.com.
City officials say plans are in the works to remove debris from the bridge so that East Grand Boulevard can be reopened. The street was closed about 1 p.m. Wednesday after contractors for Palazuelo's Arte Express development firm witnessed bricks falling from the bridge. Detroit police were called an hour later after cars were seen driving around the barricades. The bridge collapsed at approximately 3 p.m.
Complicating the issue, the bridge is co-owned by Palazuelo and the city of Detroit, since it formerly connected the Palazuelo-owned building that was home to Packard's executive offices and main lobby with the city-owned building on the other side of the street.
Joe Kopietz, a spokesman for Arte Express, told The Detroit News: "We have calls into the city of Detroit to discuss how to move forward, given the joint ownership of the bridge. Mr. Palazuelo has reiterated his desire to convince the city to transfer control of that building to us, at least under a development agreement, to stabilize and secure it."
The Packard plant, built in 1903, includes multiple buildings totaling 3.5 million square feet. The bridge was constructed in 1939. The last fully Packard-designed vehicle, a Patrician four-door sedan, rolled off the assembly line on June 25, 1956. Other businesses operated on the property until the late 1990s, when it became a popular destination for looters and urban explorers.
According the News, Palazuelo plans to turn the plant into a mixed-use development. He has spent more than $5 million to clear more than 17,000 yards of debris since purchasing the plant for $405,000 in back taxes.