You can't help but daydream about these Nitemares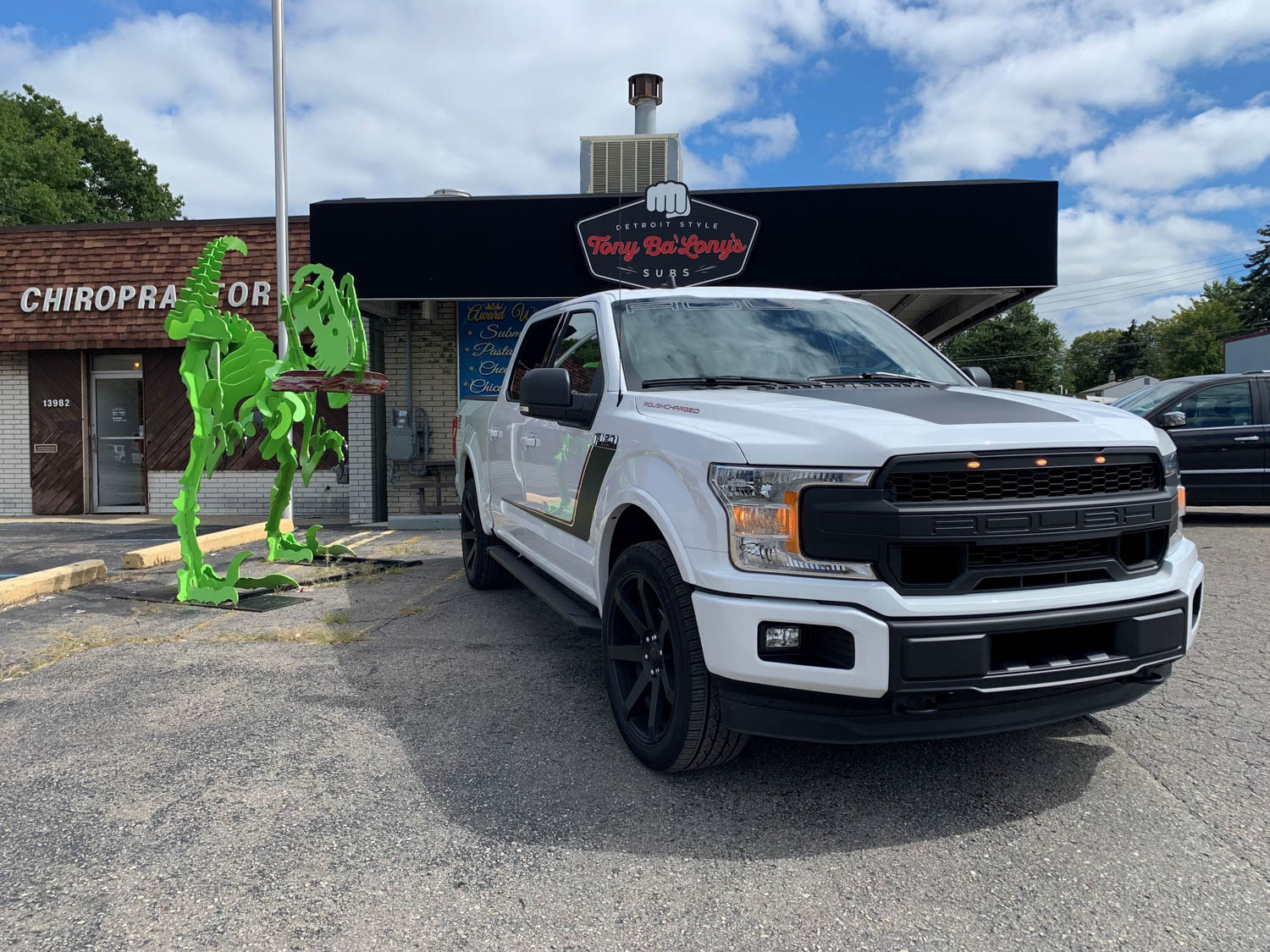 "We're here to burnish the Ford brand, not to tarnish it." Luke MacInnes punctuates this statement with a general wave of his hand; every single car around us in this 60,000-square-foot facility is a Ford in the process of receiving the Roush treatment. There's a line of four-cylinder EcoBoost Mustangs receiving basic performance upgrades; next to that, a brace of Mustang GT convertibles have their hoods up to display superchargers the approximate size of a 1990s-era desktop computer.
"For a while," MacInnes notes, "we were doing a lot of business with people who wanted an automatic transmission in their supercharged Mustangs. Now that the GT500 is coming out without a clutch pedal, many of our orders are for a stick-shift."
Roush Performance has long been known as a purveyor of bespoke sporting 'Stangs. The company is a "manufacturer of record," meaning that you don't have to have long, detailed talks with your DMV or state EPA about your "hotrod." They exhaustively test their products the way Ford might, across a wide variety of conditions. If you're in the market for a Mustang that exceeds factory capabilities, particularly in a straight line, they've got you covered. About two hundred Roush (the company upper-caps it to ROUSH, like MINI and NEXIUM) vehicles leave the Michigan facility every month to be delivered by more than four hundred dealers globally. I'll tell you a secret, however: most of them aren't Mustangs.
Nowadays, Roush does the majority of its magic on something with an open bed in back. There's an entire line in the building devoted to Ford Super Duty pickups. They receive a variety of visual, interior, and dynamic upgrades, but the company doesn't do much to the engine besides wake up the intake and exhaust. If you want absolute-corruption level of power in a Roush pickup, you'll want to look at the supercharged Nitemare.
Roush can make a Nitemare out of almost any F-150, from the cowboy-Lincoln crew-cabs to the virtually zero-option regular cab, complete with Nokia-cellphone-grade infotainment screen, tucked away in the corner of the assembly line. ("A very serious fellow," MacInnes says, about the kind of person who wants a regular-cab short bed truck with more power than a McLaren 570S.) And the price is right: $19,150 above a base XLT or Lariat F-150.
For that money, you get a supercharger, a set of 22-inch black wheels with Continental tires, a mild lowering kit, and a remarkably in-your-face set of exterior changes, including a Raptor-ish grille. Your neighbor with a real Raptor might have something to say about that, but you won't have to hang around to hear it, because the difference in straight-line pace between Ford's twin-turbo off-road rig and this angry-faced mongrel is like going from a Corolla to a Camaro SS.
I drove a crew-cab short-bed F-150 4×4 with all the Nitemare upgrades plus a full Katzkin-sourced leather interior. (MacInnes: "We actually recalibrate the airbag sensors to account for the different upholstery.") It also had "active exhaust," configurable from dead-quiet to Bristol-by-night with a rotating switch. Part of the fun of owning a Nitemare must be sitting next to people in workaday SUVs and whatnot with the exhaust set to "off-road" specification. Even the potato-potato Harley open-pipe crowd might flinch a bit. When I saw a police officer, I switched it to the stock setting, immediately.
When I didn't see a police officer, however, I wasted no time in letting the Nitemare engage hyperdrive. It has to be pointed out that virtually all of the negative dynamic aspects of daily-driver pickup trucks disappear after you've given them 650 horsepower and a tightening-up of the suspension. This F-150 feels inertia-free in the manner of today's best supercars. It has 10 speeds to the transmission but it would be perfectly fine with two, because there's no discernible beginning or end to the torque curve. Any open spot you can see in freeway traffic will be accessible with nothing more than a mild press of the accelerator.
The suspension changes make the Nitemare feel measurably more planted at higher speeds. Be aware, however, that the factory speed limiter is still intact, which is the admittedly hilarious reason Roush won't quote quarter-mile times: you hit the limiter well before you hit the timing beams, in the manner of a Honda CB1100 and certain other motorcycles brought directly from Japan without an ECU reprogramming. Instead, the firm says the Nitemare will do 0–60 in 3.9 seconds. Less, if you're interested in a regular cab 4×2 short bed.
Everything else you like (or dislike) about the F-150 is here, just the way you remember it. The only difference is the speed and the composure at that speed. Does fuel economy suffer? What do you think? On a level road at 55 mph and cruise control engaged, however, it's still better than what you'd get in that McLaren 570S.
(About the name: Remember the 1991 F-150 "Nite," the neon-trimmed all-black half-ton that was supposed to bring some urban cred to Ford's country mouse? At some point in the past, Roush acquired the rights to that name. So now we have a "Nitemare." Will the company build you a gloss-black tribute to that old "aero-nose" pickup? Of course it will.)
At about 20 grand, the Nitemare package qualifies as a bit of a bargain in the world of modern pickups. You'd spend that much just turning your XLT crew cab into a King Ranch, and you wouldn't gain the ability to warp time and space. And since Roush has Burger King's attitude towards customization, you can have yours without the stripes or the various exterior accents if you like. One that you might want to keep: Jack Roush's signature in the rear window.
Given a choice, I'd have my Nitemare built with the mechanical bits only, on a plain white F-150 XLT super cab. It would be a speeder's dream: vicious power with a work truck's invisibility to law enforcement. Think about it. Have you ever seen a white F-150 getting a speeding ticket? Of course you haven't—but just to be sure, I'd make up a construction-company logo for the doors. Now you have a license to ill, so to speak.
There's just one bit of irony here: The F-150 is plenty fast with its EcoBoost V-6, particularly if you spring for one of the more expensive models. The truck that really needs the Nitemare treatment is probably the pleasant, but pleasantly plump, Ram 1500. Can you imagine a vehicle with the Ram's massive center screen, that Laramie leather, and an X-15's worth of thrust on demand? Save your cards and letters; it's not going to happen. Roush is here to burnish the Ford brand, remember?