David Brown's $100K Mini Remastered is maximum Mini
Avert your eyes, purists. David Brown doesn't do stock and standard. And his company, David Brown Automotive, aims to give the British automotive industry's superstar Mini the build quality it deserves—the one that British Leyland, Rover, and its other custodians never came close to delivering.
"My father was an engineer, and he always said the Mini was one of the best-engineered cars ever, particularly in its time," Brown explains, "but also one of the most badly-manufactured cars ever."
Brown, speaking at the 2019 Geneva International Motor Show, says making each Mini Remastered—shown at the 2019 Geneva International Motor Show—requires more than a thousand hours of work on every part of the car. The shell is de-seamed for a cleaner look, for example. It also gained fender flares (welded, not riveted), a new grille, modern headlights, bullet-style mirrors with integrated puddle lights, and redesigned taillights—the original units were "the most hideous thing ever," Brown says.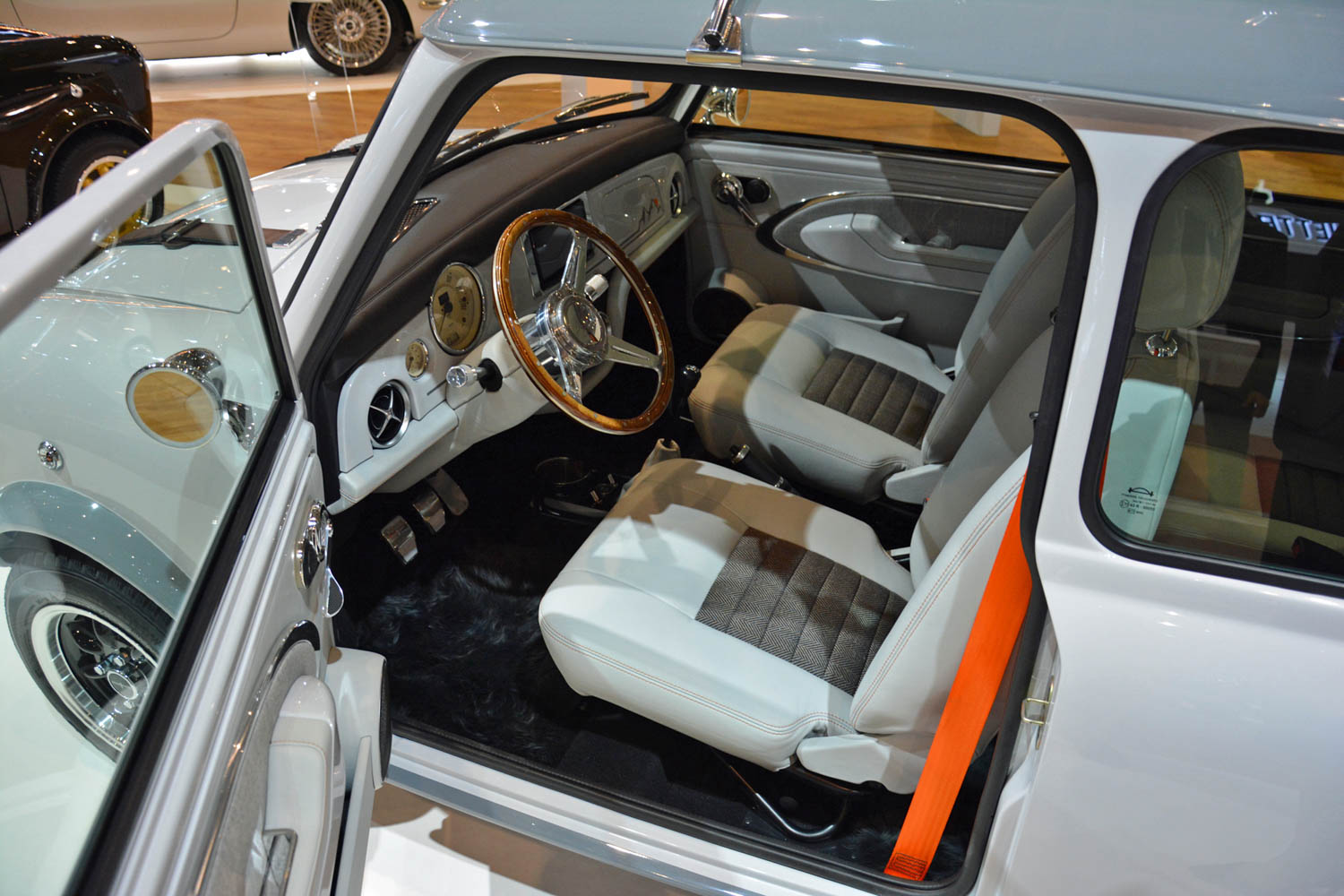 "They never did a good job of making the thing, so that's what we thought we would do," Brown adds. "Far and away, it looks like a new car. If you wanted a really, really genuine Mini, you'd go and buy a well-preserved example and that would be it. That's not what we're doing."
All told, the basic changes are reasonably subtle; the Remastered still looks like a Mini. More upgrades are hidden under the sheet metal, like a brand-new wiring harness with better connections than the one supplied by Lucas, the infamous Prince of Darkness.
There are two basic ways to configure a Mini Remastered. First, customers can choose the color of the body, roof, and leather from an existing palette. Second, they can work directly with David Brown Automotive's in-house styling team to tailor a car to their exact specifications. Like Singer has demonstrated, offering a wide selection of customization options is of paramount importance because a resto-modded classic is not a rational purchase; it's a car people want, not one they need.
"We encourage customers to do whatever they want to do," Brown says. While his firm has never worked on a Clubman or a pickup, he's not opposed to the idea of building one. It's not a priority, though.
Regardless of how it's painted, the Remastered uses a 1275-cc, four-cylinder engine that's completely rebuilt. It delivers 71 horsepower at 4600 rpm and 88 ft-lb of torque at 3100 rpm, which is enough for an 11.7-second sprint from 0–62 mph and a 90-mph top speed.
The Mini Remastered remains very much a city car at heart. David Brown Automotive's own ECU controls the engine, and it's programmed to deliver the low-end torque that makes racing from stoplight to stoplight a breeze (and a blast), rather than the top-end horsepower needed to cruise effortlessly for miles on end. The four-cylinder spins the front wheels through a four-speed manual transmission, though buyers can order a five-speed manual at an extra cost.
Brown says his customers ask for modern-day tech features. To that end, the Remastered is better equipped than the entry-level variant of the current, BMW-developed Mini Hardtop. The list of standard features includes remote keyless entry, a push-button ignition, plus a seven-inch touchscreen that displays an infotainment system compatible with Android Auto and Apple CarPlay. Clients want luxury, too, so the Remastered features a wood-rimmed steering wheel, thicker carpet, knurled aluminum dials that wouldn't look out of their element in a Bentley, and better sound-proofing than the original eardrum-crushing model. It nonetheless tips the scale at 1630 pounds. That's heavier than, say, a 1275 GT (which checks in at about 1444 pounds), but it's still a lightweight compared to almost anything else made in 2019. To add context, the fourth-generation Mazda Miata weighs 2339 pounds.
Pricing for the Mini Remastered starts at approximately £75,000, a hefty sum that converts to nearly $100,000. Brown hopes his clients will drive the cars regularly, but collectors willing to shell out Porsche 911 money on a Mini will understandably try to keep it in like-new condition for as long as possible. One customer was so impressed with the attention to detail that he wanted to put the car in his living room. "I don't know if he did," Brown says with a smile.