Craig McIntosh, is this your barn-find 1969 Plymouth GTX?
Where are you, Craig McIntosh? You may hold the key to solving the mystery of an abandoned 1969 Plymouth GTX found in a northern Michigan storage facility. If the car is yours, you'd better come forward soon. The two-door muscle machine is about to be auctioned.
The Leelanau County Sheriff's Office recently took possession of the red GTX after the owner of the storage company asked law enforcement to get involved. Unpaid storage fees have been mounting for years, and the facility no longer has a record of the car's owner. Leelanau County Sheriff Mike Borkovich said the Michigan Secretary of State came up empty too.
We found a couple of clues, however, when we checked out the car for ourselves. The trunk—which had been locked and was opened only recently—contained a replacement carpet kit from Auto Custom Carpet. There was an order number on the end of the box, along with the date of purchase: August 12, 2002. Then we found an even bigger clue: a shipping label indicating that the box was mailed to Craig McIntosh, Hastings Street, Traverse City, Michigan.
A preliminary Google search didn't turn up additional clues, but we aren't giving up that easy. There must be someone out there who knew Craig McIntosh when he lived and worked in northern Michigan 17 years ago.
Borkovich says he first learned about the two-door GTX in March 2014 after the storage facility was sold. The new owners asked him to stop by and check out the car, which they knew nothing about.
"When I opened that door I immediately saw the dual exhaust, and then I leaned over and saw GTX on the side," Borkovich says. "My heart skipped a beat. I'm a gearhead, and this is a cool car. I'm not a Mopar guy, I'm a Chevy guy—I've owned a '68 Camaro, a '69 Camaro, and a '66 Corvette—but I know this car very well from street racing in high school. It's a barn-find hunter's dream."
Borkovich attempted to locate the owner by using the VIN, but he had no luck. The storage owner didn't ask the Leelanau County Sheriff's Office to take possession of the car until recently. Once that happened, the county was required to auction it. A three-hour preview was held on the morning of June 4; the online auction (MITN Surplus Auctions) begins June 5. Bidding ends June 18; cash payment is due to the Leelanau County Treasurer by 4 p.m. on the fifth business day after the close of the auction.
Upon payment and presentation of government-issued photo identification, the Leelanau County Sheriff's Office will issue a written receipt and Bill of Sale.
The second-generation 1969 Plymouth GTX convertible is powered by a 440-cubic-inch, 375-horsepower V-8 with TorqueFlite automatic transmission. When new, it had a claimed top speed of 132 mph and acceleration of 0–60 mph in 6.1 seconds. The odometer reads 20,269, but considering the rough condition of the car, the actual mileage is more likely 120,269.
Only 700 GTX convertibles were built in 1969 and considering the unusual combination of options on the Leelanau barn-find car, it is considerably rarer than that. It has air-conditioning, which is unusual for a rag top, as well as a power top. The car also has power steering and power windows, as well as AM radio. The seats do not appear to be original, and it doesn't have a battery. Borkovich says he hasn't attempted to start the car, but the engine turns freely.
Dozens of potential buyers and curiosity seekers showed up at Tuesday's preview at Bingham Towing, some of them wearing clothing expressing their love for Mopar. One of them was Kim Sandlow of Lake City, who drove more than an hour to see the car for himself—because it's a Plymouth.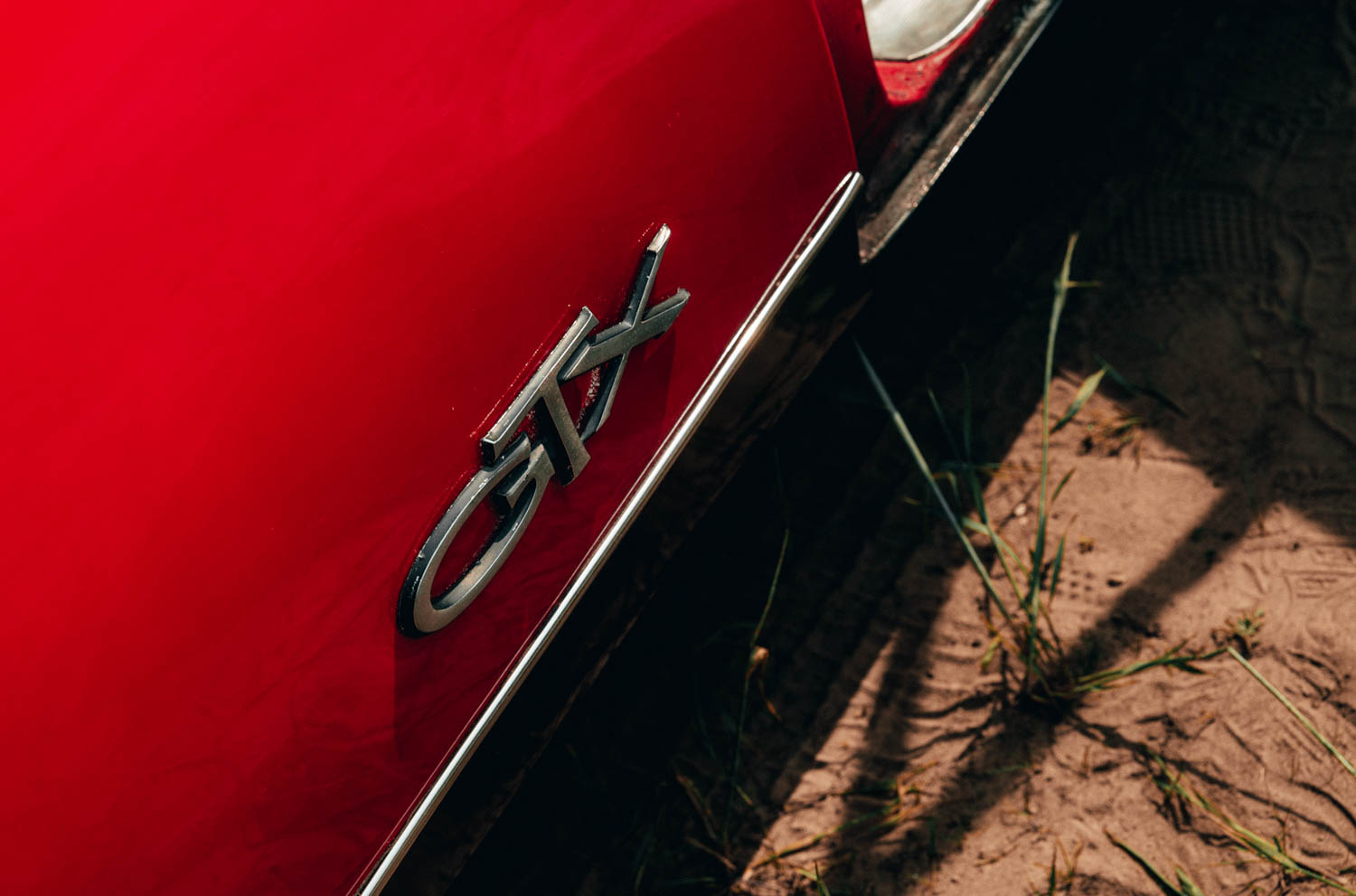 "I wouldn't have come up here if it wasn't," says Sandlow, who owns a 1964 Plymouth Fury and a 1936 Plymouth Business Coupe. "I worked at a Mopar dealership in Midland when I was just out of high school, and I retired from Northfield Dodge in Grand Rapids. My first Mopar was a '62 Dodge Lancer [he laughs], but my first big Mopar was a '65 Belvedere 440 tri-power with four-speed."
Asked if he street-raced the Belvedere, Sandlow smiled. "I did a little of that, yes."
Sandlow says he hopes the GTX ends up in the right hands. One thing is for sure, they won't be his hands. "I'll be watching online to see how it goes."
Hagerty parts specialist Davin Reckow examined the car and estimated "it's worth $30,000—$40,000 as it sits." The Plymouth has seen plenty of body work, both good and rudimentary—"For instance, the new panels that were put in have been pop-riveted," he says—and it still has some rust. It has been painted at least twice since it wore a different shade of red in the showroom. The GTX's engine appears to be in decent shape, Reckow says, but it's hard to tell how much work will be required to get it running.
The average value of a 1969 Plymouth GTX convertible in #4 (fair) condition is $27,800. One in #3 (good) condition is $43,200.
"The car is worth restoring, as long as the person restoring it has the right desire," Reckow says. "I mean, you've got to really want this car."
Borkovich says the auction has no minimum bid requirement. According to a document he provided, proceeds will be disbursed in the following manner:
(a) Accrued towing and storage charges.
(b) Expenses incurred by the police agency or custodian of the vehicle.
(c) Payment of the $40 abandoned vehicle fee ($25 to Secretary of State, $15 to towing company)
(d) Any extra money shall be sent to the department of treasury's unclaimed property division and disbursed as follows:
To the secured party, if any, in the amount of the debt outstanding on the vehicle.
Remainder to the owner. A reasonable attempt shall be made to mail remainder to the last titled owner. If delivery of the remainder cannot be accomplished, the remainder shall become the property of the unit government governing the location from which the vehicle was towed.
The person who ultimately drives away in the car will be determined soon. Will it be you, Craig McIntosh? The clock is ticking.