The Audi e-tron GT looks good without being too far out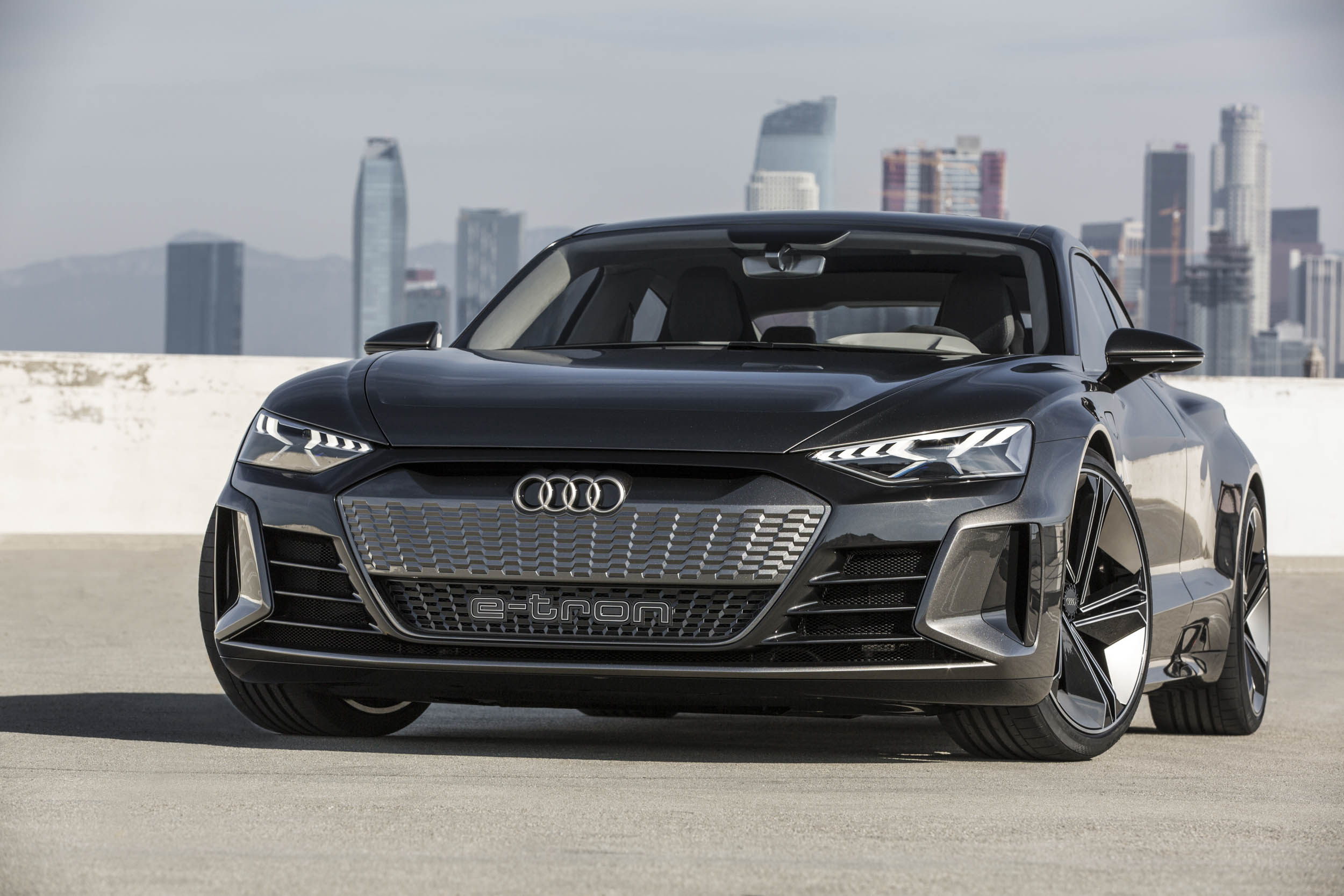 We've said this before, and we'll say it again (at least until it becomes a worn-out cliché): The proliferation of future electric vehicles is good news for performance cars. For proof, look no further than the Audi e-tron GT concept, revealed at the 2018 Los Angeles auto show. It's a thinly-veiled version of a production version that will go on sale in 2020, following the 2019 launch of the e-tron SUV and e-tron Sportback in 2019.
In short, the Audi e-tron GT is an A7 in electric form, with a similar size, sloping hatchback, and four doors. But the GT looks lower, wider, and more aggressive, with some serious curves on the exaggerated rear fenders. The initial impression in person is that the e-tron GT looks fairly traditional, especially when taking in the styling cues of the front fascia. Audi closed off the grille area, as there's no need to supply air to a conventional radiator, but shapes mimic combustion-engine styling as opposed to the smooth look adopted by Tesla.
Look at the e-tron GT a little longer, though, and you start to notice all the intersecting character lines and the balanced proportions. It looks good without being too far out. Another point we'll repeat here: electric cars of the future will be styled a lot like the cars of the past. And the concept car appears to be close to production body work. Pretty much the only things missing are exterior door handles and a realistic ride height.
The e-tron GT will share some of its underpinnings with the upcoming Porsche Taycan, but Audi says the front and rear motors are unique to the e-tron. Of course the e-tron GT, like any electric sports car, boasts numbers that seemed crazy for gasoline cars only a few years ago. Total system output is 590 horsepower, and 0–62 mph comes in 3.5 seconds. A hypothetical bummer is a top speed limited to 149 mph (to preserve range). During normal driving the range is rated at 248 miles.
Audi says that by 2025, 30 percent of its volume will be electric vehicles. Like the Porsche Taycan, the Audi e-tron GT is equipped for 800-volt charging, which will restore 80 percent of the battery's power in as little as 20 minutes. The concept also has a wireless charging coil underneath it, which can fully charge the car overnight when parked over the corresponding charging mat. No clunky wires or plugs. If this is the future of sporty luxury, it can't come soon enough.
As long as there's room in the garage for a classic to balance the scales, of course.