Audi confirms 591-hp RS 6 Avant is finally U.S.-bound
As part of the expansion of the Audi Sport lineup in the United States, Audi has announced the all-new high-performance RS 6 Avant station wagon, set to arrive at these shores some time next year. This is the first time Audi will be selling a RS 6 Avant on this side of the Atlantic Ocean.
While we will have to wait for Audi to publish power and performance data for the North American version of the car, in European spec, the wagon's gasoline-fired twin-turbo 4.0-liter V-8 puts out 591 horsepower and 590 lb-ft of torque, yielding a 0–62 mph (100 kmh) time of 3.6 seconds with a top speed of 155 mph. It has all-wheel steering and Audi's quattro full-time all-wheel drive, with wheel-selective torque control and a torque-vectoring active quattro sport differential on the rear axle. An eight-speed Tiptronic automatic transmission will be the sole gearbox offered, and for the RS 6 Avant it has been recalibrated with performance-optimized shift points. The transmission also features a new launch control system.
The new RS 6 Avant is also equipped with Audi's RS adaptive air suspension that features a number of driver-selected comfort and performance modes, including automatic level control. Available as an option is the RS sport suspension with Dynamic Ride Control and three-way adjustable shock absorbers. The dampers are hydraulically linked diagonally, with digitally controlled valves. In high G-force turns, the valves selectively regulate oil flow in the shocks, stiffening the outside front corner, which improves cornering and reduces body pitch and roll.
Audi's drive select system is standard, with six driving modes, including configurable RS1 and RS2 modes, specific to RS models, controlled with a button on the steering wheel. The drive select system changes mapping for most of the Avant's mechanical systems, including the engine, transmission, differential, suspension, power-steering, and even the exhaust. Additionally, the RS2 mode alters the Electronic Stabilization Control system settings. Even without changing the driving mode, the RS 6 Avant's progressive steering with a new power assist system raises return force as the steering angle increases, improving steering feedback.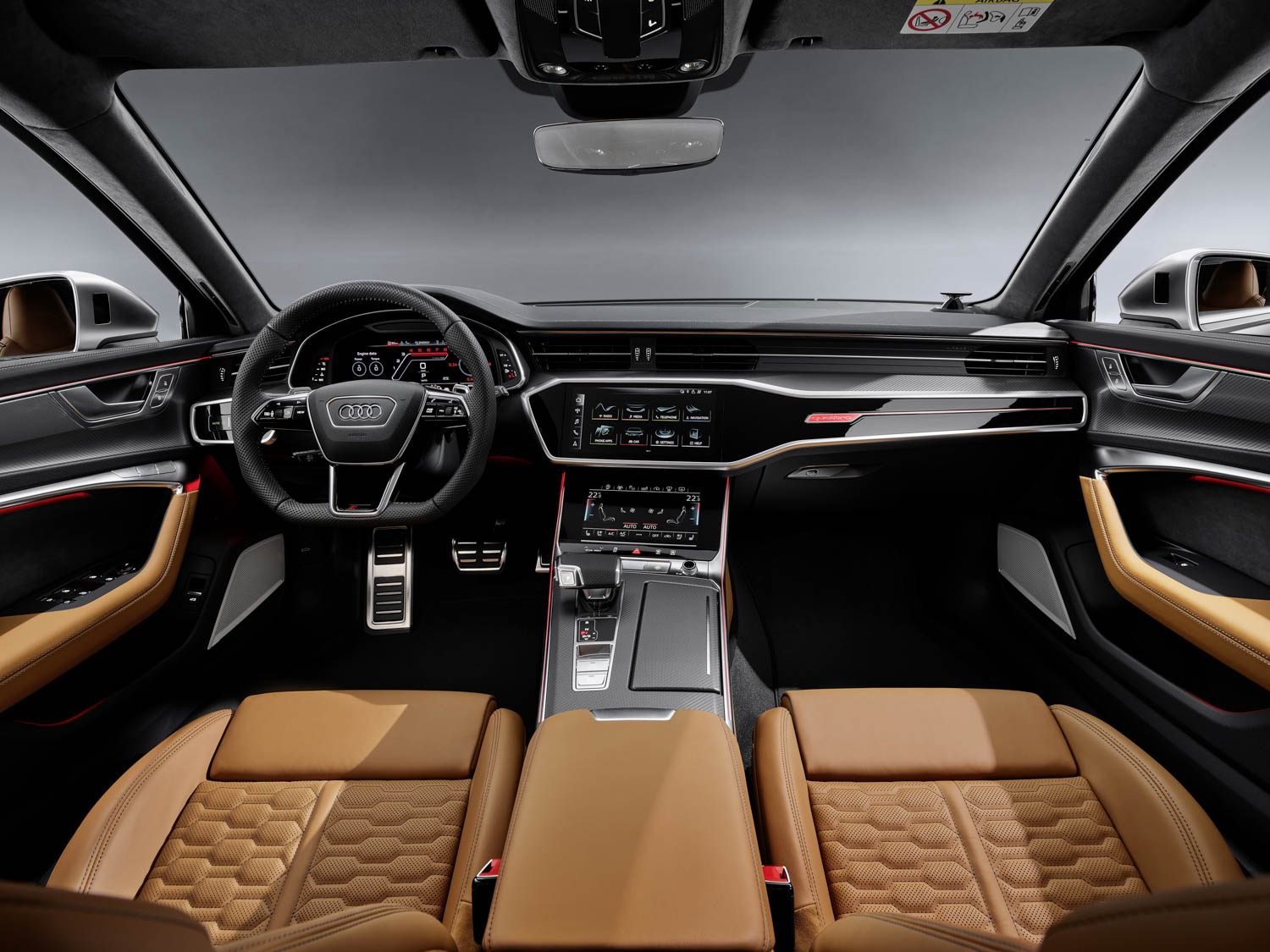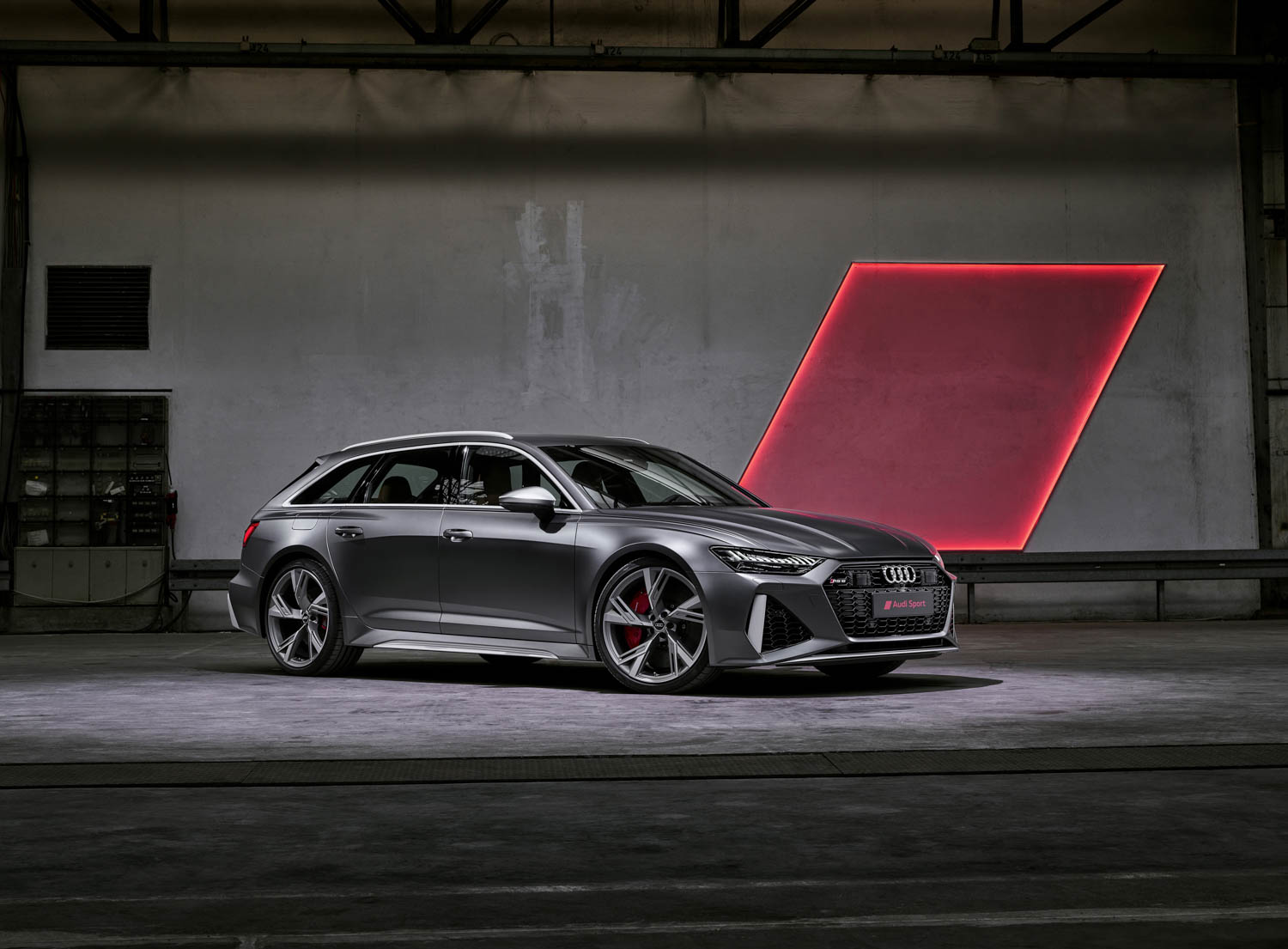 On the exterior, the RS 6 Avant continues traditional Avant styling with a stretched front end, long flat roofline, and flat D-pillars, while wearing a new RS design language, with a three-dimensional RS honeycomb insert in Audi's gloss black single-frame grille, broadly flared wheel arches, LED headlights, and side air inlets on a new RS-specific front bumper. Apparently, no body panels are shared with the regular A6 Avant, making the sport wagon 3.2 inches wider.
In back, the RS 6 Avant gets a roof edge spoiler, RS-styled bumper, a rear diffuser, and twin chromed oval exhaust tips.
RS accents are also added to the interior, which features Audi's latest MMI user interface. For the RS, Audi's Virtual Cockpit has special RS display modes, giving immediate data on tire pressure, power and torque output, engine oil temperature, boost pressure from the turbochargers, as well as recording lap times and g forces from acceleration and cornering.
Audi hasn't yet announced when it will start taking orders, but as mentioned, the RS 6 Avant will arrive at dealer showrooms in 2020.