The Alpina B3 Touring is gorgeous, green, and not for us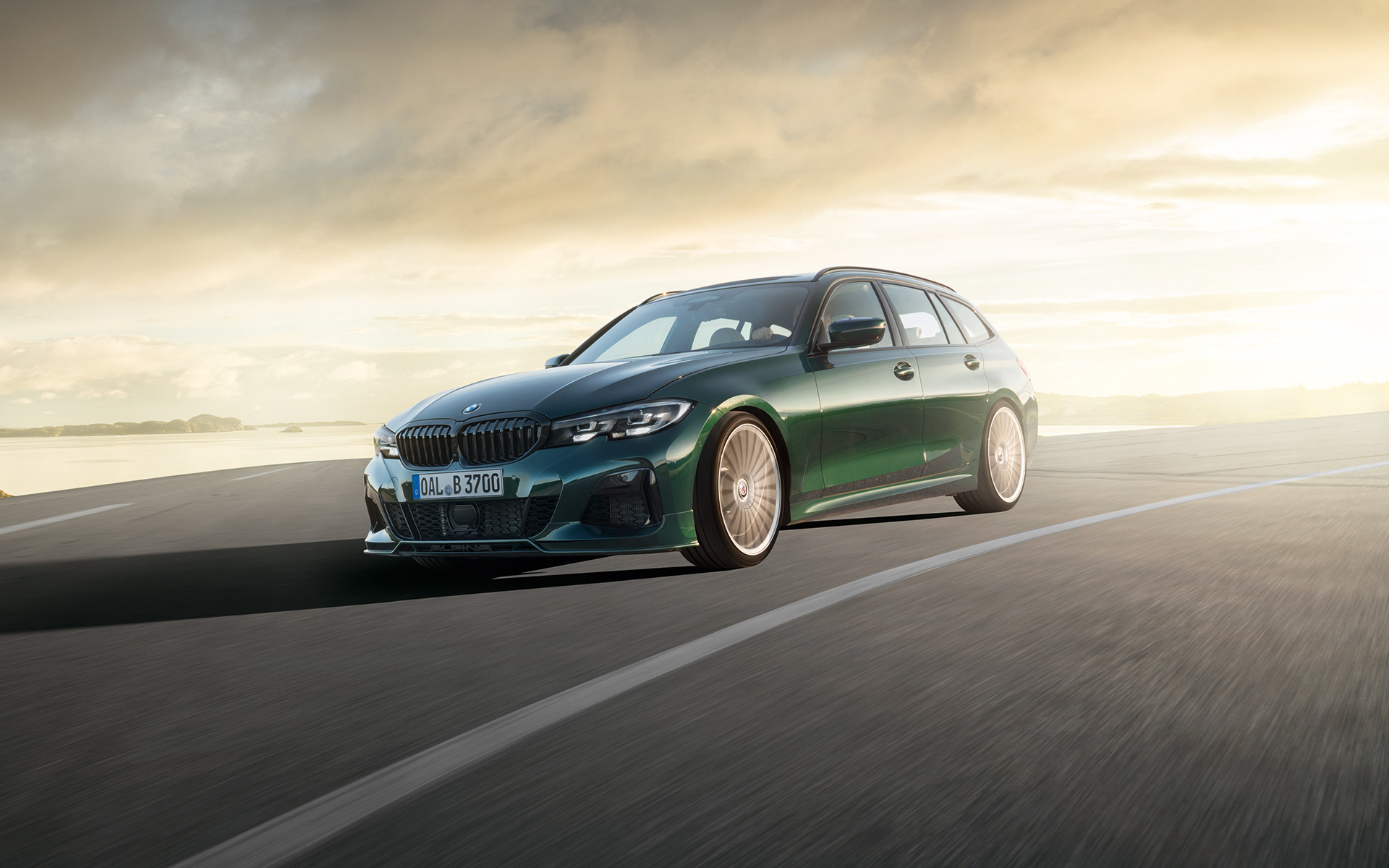 Earlier this week, Alpina pulled the silk from atop the B3 Touring, the latest work of art from the famed German tuning house. Predictably, it's a looker. Based on the latest generation of BMW's 3 Series station wagon, the B3 Touring benefits from Alpina's knack for taking the best elements of a BMW and turning them up a few notches.
For starters, Alpina slapped an all-new front fascia onto the wagon, improving both form and functionality. The fascia features larger air intakes and more sculpted aerodynamic elements, plus a floating Alpina logo. A revised rear bumper sports quad exhaust tips and similarly optimized aerodynamic elements.
The whole package is slathered in seemingly bottomless deep green paint, although Alpina mentions that its signature blue paint will be available.
The interior is equally as luxurious. Metal Alpina logos make their way into the cushy floor mats, the soft leather headrests, and elsewhere throughout the cabin. In case you forget which lush, green über-wagon is yours, all the B3 Tourings feature a metal plaque denoting the car's unique build number.
As today's luxury cars are as much about choice as they are about chintz, Alpina plans to offer copious amounts of customization for the interior. Things like seat piping, stitching, embroidery, and embossing are all wide open for personal touch.
The engine, too, has been Alpina-ed. The 3.0-liter twin-turbo straight-six engine receives optimized intake components and turbos to coax output to 462 hp and 516 pound-feet of torque. Grunt travels to all four wheels via an eight-speed automatic transmission.
All that muscle is kept cool thanks to an Alpina-designed cooling system that takes the place of the original BMW system. It's optimized to keep the engine in the happy range for longer periods of peak performance. In that same vein, Alpina notes that the launch control system has been optimized for 0–120 mph runs, as opposed to 0–60 bursts.
The B3 Touring rides on revised dampers tuned by Alpina engineers that offer three driving modes—Comfort, Comfort+, and Sport. Larger brakes (15.6 inches in front, 13.6 inches out back) help haul the two-ton-plus wagon down to a stop. All that bite sits behind 19-inch wheels that wear Pirelli summer tires. The classic Alpina 20-inch, 20-spoke wheels are optional.
And you can't have it. Sadly, The B3 Touring is not currently slated to make its way Stateside. Still, we're happy such beauty exists somewhere in the world.