Cheat sheet to the sweet '80s cars from Ready Player One
In Steven Spielberg's Ready Player One, the year is 2045 and the global economy, climate, and political structures are in dire straits. The only reprieve is a virtual reality called the OASIS, which hosts a massive Easter egg hunt for immeasurable real-world wealth. For us, the hunt is just as much about the nostalgia we feel as we are along for the ride.. There are countless pop-culture references packed into every frame, and for fans of this era's cars, the Ready Player One trailer suggests the movie won't disappoint. It's in theaters now.
The 1980s saw the muscle car's last gasp, but the vehicles that replaced them had forward-thinking designs that were often sleek, sexy, or futuristic. Above all, they had imagination and personality. Everyone in film, comics, and television seemed to have a cool car imbued with special features, superpowers, even artificial intelligence or sentience. And even if the cars weren't exactly fancy, they had been modified to become something unique.
Some of the crucial vehicles I didn't glimpse in the trailers (but hope to see in the film) include the Ghostbusters' Ecto-1, The Blues Brothers' Bluesmobile, Magnum P.I.'s red Ferrari 308 GTS, Miami Vice's 1986 Ferrari Testarossa or 1972 Daytona Spider, and the real K.I.T.T., Knight Rider's 1982 Pontiac Firebird Trans Am. Because the 1960s Batmobile is featured, I'm perhaps too optimistic we could see Bullitt's Mustang or the Bandit's Trans Am, despite originating a little earlier than the film's favored decade. A cameo from pretty much any car from The Cannonball Run would be welcome (maybe that Lamborghini Countach). And it's probably too much to ask that Ready Player One feature Repo Man's incandescent Chevy Chevelle Malibu or Cobra's custom 1950 Mercury Monterey Coupe, but a girl can dream.
Here are the legendary rides we did catch:
V8 Interceptor, Mad Max
Max Rockatansky's only steady companion in George Miller's Mad Max saga. The Interceptor was once a 1973 Ford Falcon XB GT Coupe modified to look like several cars cobbled together, weathered by use. It's the Wasteland's most mythic ride, a worthy object of worship in a post-apocalyptic future that reveres cars.
GMC Vandura, The A-Team
The A-Team were ex-U.S. Special Forces who became mercenaries helping the helpless. For all five seasons, their mode of transport was a GMC Vandura: gray on black with a diagonal red stripe, a rooftop spoiler, and red turbine mag wheels. The van experienced a lot of punishment during the show—it was beat up, shot up, torn apart, jumped, crashed—but was always lovingly reassembled by its owner, master mechanic B.A. Baracus.
1958 Plymouth Fury, Christine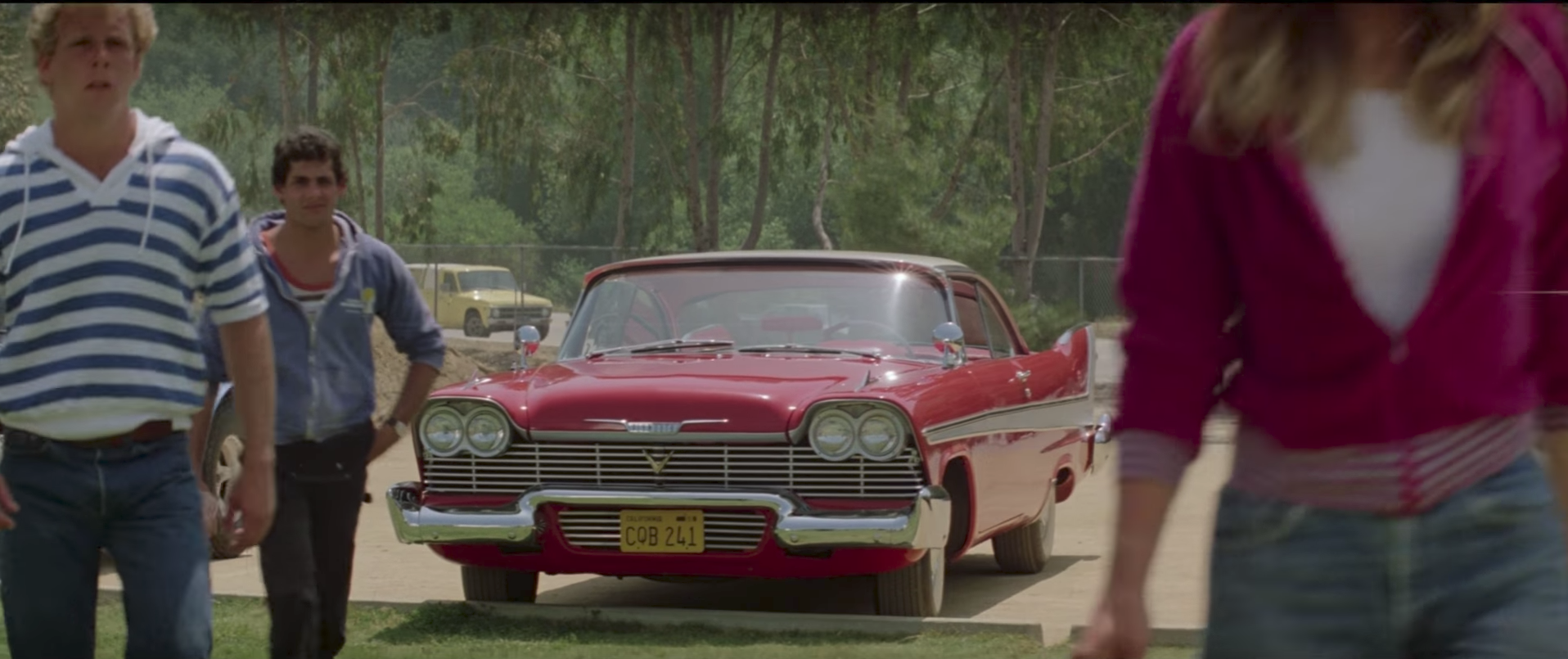 Stephen King's and John Carpenter's sentient, indestructible, malevolent car Christine makes a brief appearance in the trailer, sharing the frame with the A-Team's van and the Interceptor. As beautiful as she is deadly, Christine is quite literally a killing machine—one that deserves to be called a Fury.
Bigfoot Monster Truck
The original monster truck. Bigfoot debuted in 1979 and was built by former construction worker Bob Chandler from his family's Ford F-250 pickup, out of a desire to create something better, with bigger suspension, axles, tires, engine, and more. It also happened to run on alcohol. It's possibly the most American vehicle ever, and it can be glimpsed flying the Stars and Stripes in the Ready Player One trailer.
DeLorean DMC-12, Back to the Future
The DeLorean DMC-12 was chosen as the movie's time machine because it looked like the future, with gullwing doors that made it resemble an alien spaceship. In the trailers, the red scanner in the DeLorean's grille suggests the presence of K.I.T.T. technology, an artificially intelligent computer system originally installed in David Hasselhoff's Trans Am in Knight Rider. Although the DeLorean isn't exactly a practical car, it looks cool as hell, and we should be grateful the filmmakers didn't go with their original concept for their time-traveling machine: a refrigerator.
Kaneda's motorcycle, Akira
Although the motorcycle in the trailer appears to have an Atari logo in lieu of its distinct stickers, Shotaro Kaneda's cherry-red motorcycle from Katsuhiro Otomo's 1988 anime (and the source manga comic book series) is unmistakable. Kaneda's motorcycle is doubly iconic because its design was influenced by Tron's lightcycles, created by legendary concept artist Syd Mead. Customized just for Kaneda, it crackles with neon electricity, "too wild" for anyone else to ride.
Racer Motors Mach 5, Speed Racer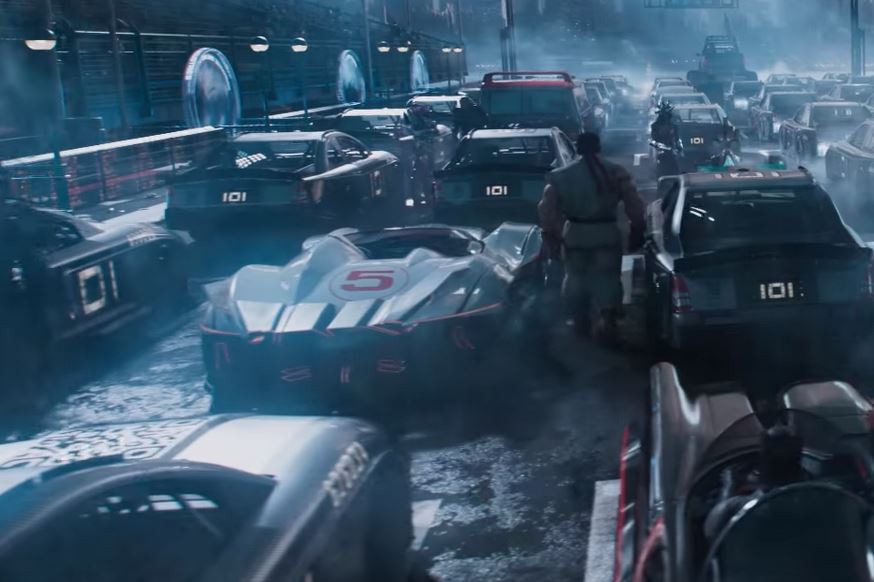 Even if you haven't read the manga or seen the anime series or missed the 2008 film, you still know Speed Racer's Mach 5. Designed with love by Speed Racer's father, the aerodynamic Mach 5 boasts all kinds of neat tricks like rotary saws, jacks, a homing device, wings, a periscope, and a "deflector" to make the cockpit bulletproof, crash-proof, airtight, and waterproof. It's a fever dream of a race car.
"1961 Ferrari GT California Spyder", Ferris Bueller's Day Off
The Ferris Bueller Ferrari was mostly portrayed by a kit car or a 1985 Modena Spyder California with a Ferrari insignia slapped on it. For close-ups, though, the filmmakers used the real deal: a 1961 Ferrari 250 GT SWB California Spider, and it may just be the film's best character. Ferris, Sloane, and Cameron "borrow" the car from Cameron's dad for a joyride, but it tragically becomes a casualty of Cameron's rage.
"Eagle 5," Winnebago Chieftain 33, Spaceballs
The Eagle 5 is a Winnebago with wings, piloted by the film's heroes Lone Starr and Barf. Mel Brooks's parody of the Millennium Falcon can fly through space, and a few of its special features include secret hyperjets, seat belts, ice cream, and the music of Bon Jovi.
The Batmobile, Batman '66
Originally a 1955 Lincoln Futura concept car. With its long fins and bubble canopies, it was already beautiful before George Barris customized it, painting it glossy black with red trim, modifying the fins so they'd resemble batwings and the front end so it'd resemble a bat's face. It was outfitted with all kinds of gadgets: radar, a phone, a police beacon, lasers, rockets, and more. The Batmobile driven by Adam West is arguably the coolest Batmobile of all time, and undeniably the most iconic.