The 2020 Porsche Taycan 4S packs 563 hp and practical real-world range
With up to 563 horsepower and a lighter drivetrain, Porsche's first "sub-Turbo" Taycan gets to 60 mph in 3.8 seconds, and to a limited top tracking speed of 155 mph. Plugged into an 800-volt high-speed DC charging station, it will also charge up from 5 percent to 80 percent in 22.5 minutes, as long as the circumstances are favorable.
Compared to the Porsche Taycan Turbo and Turbo S, the rear synchronous motor of the Taycan 4S features a rotor that's 3.14-inches shorter. Still, while the pulse-controlled inverter used on the front axle operates at only up to 300 amps, the one on the rear axle goes up to 600 amps, just like in the Taycan Turbo. With those motors onboard, the 4S' standard single-layer Performance Battery delivers up to 522 hp (390 kW) with a total capacity of 79.2 kWh. However, the Turbo's double-layer Performance Battery Plus is also available, with up to 563 hp (420 kWh) and a capacity of 93.4 kWh. While the 522-hp base car starts at $103,800, the Taycan 4S with the Performance Battery Plus option is a $110,380 affair.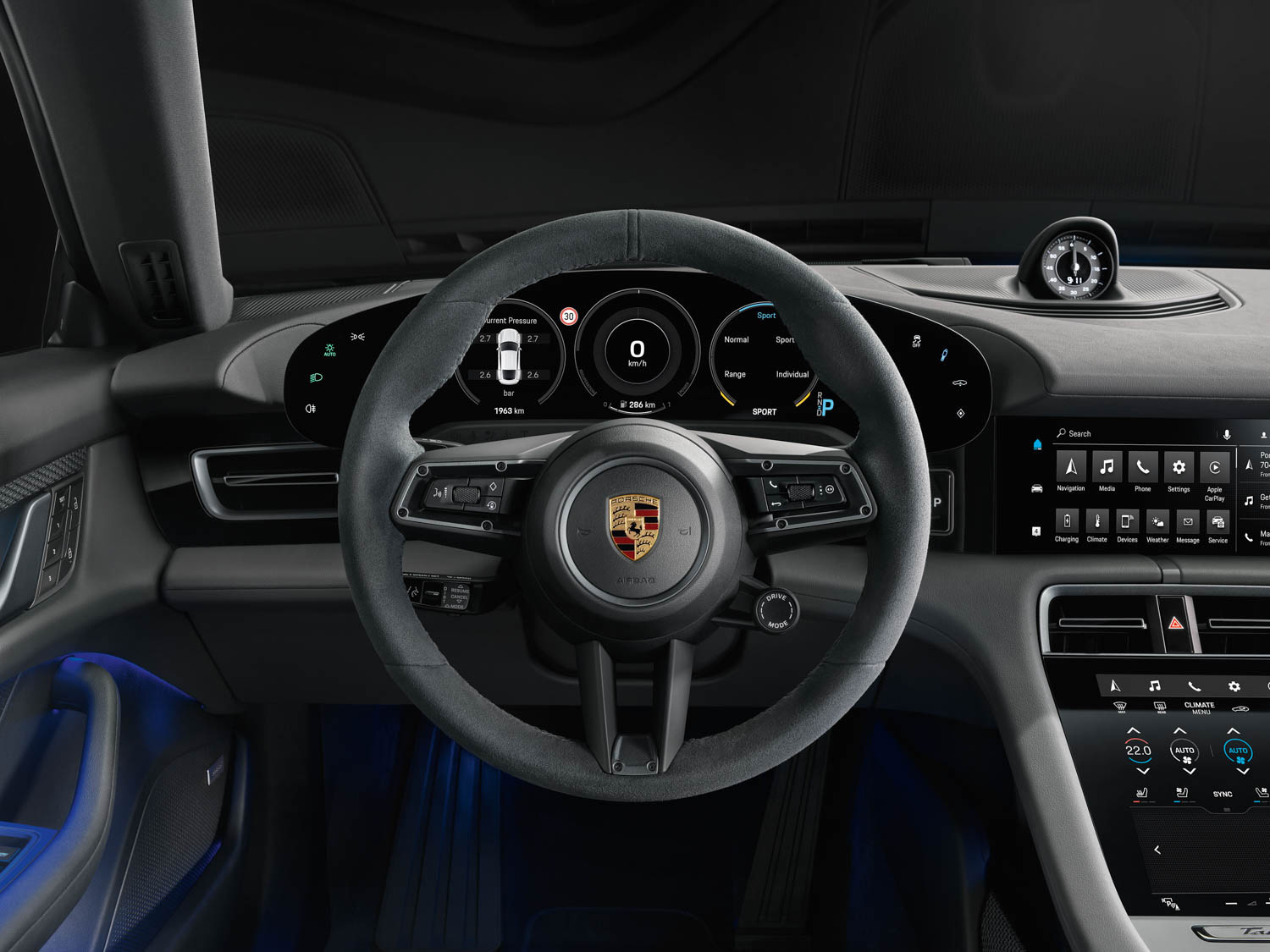 When the moment comes to plug in, an 800-volt high-speed DC charging station can provide a peak charging capacity of 225 kW for the Performance Battery, or 270 kW for the Performance Battery Plus. Under ideal circumstances, that can translate to charging from 5 percent to 80 percent in 22.5 minutes. However, standard 400-volt high speed DC charging occurs at 50 kW, with an optional Booster increasing the charge speed to 150 kW. Of course, given some time, the Taycan 4S can also be topped up using its included charger at any J1772 compatible AC charging station.
In the U.S., Porsche throws free 30-minute charging sessions for three years at Electrify America sites nationwide, and DC fast chargers at Porsche dealerships. Customers can also get 240V home charging installation at www.amazon.com/porschecharging.
On the European WTLP cycle, the Performance battery allows for about 253 miles (407 km) of range, versus 287 miles (463 km) for the Performance Plus battery. The U.S.-spec EPA range estimates will be available before point of sale.
With a cd value of 0.22, the Taycan 4S remains a sleek four-seater that will also use its massive brakes to recuperate energy at up to 265 kWh with a deceleration of 0.39 g. If that's not enough, six piston fixed calipers on the front axle and four on the rear can help slow down all that weight, with internally vented cast-iron brake rotors measuring 360 and 358 millimeters. The Taycan 4S features a three-chamber adaptive air suspension with PASM (Porsche Active Suspension Management) as standard. You also get 19-inch Taycan S Aero wheels, LED headlights including Porsche Dynamic Light System Plus (PDLS Plus), and a partial leather interior featuring eight-way comfort seats.
Is this enough gadgets and performance for $103,800? Porsche will know once the Taycan 4S starts to arrive in U.S. dealerships in Spring 2020.