The 2019 Subaru WRX STI S209 is taking on America with full force
Long before an American audience was introduced to Subaru's three-letter high-performance division, Subaru Tecnica International played a key part in the development of the brand's most niche sports cars. Formally incorporated in 1988 to spearhead Subaru's motorsports efforts, it wasn't long before STI's engineers were trying their hand at building street cars, too.
Most enthusiasts are familiar enough with STI and its souped-up takes on the Impreza and Forester. But largely unknown outside of the Japanese domestic market was the S line of STI hot rods, starting with S201 in 2000, followed one-by-one with additional track-bred variants leading to the S208 for 2018. These cars leaned heavily on STI's racing efforts, tagging in high-revving turbocharged engines and suspension setups better suited for the circuit than the daily commute.
The latest in this line is the 2019 Subaru WRX STI S209—and for the first time ever, an STI S car will be sold exclusively in America.
How STI turned up the wick
Four years into its existence, STI had birthed the Legacy RS Type RA into the world, a model that snagged a series of stealth engine upgrades lifted from the turbocharged drivetrain of an earlier Legacy that had been built specifically to set a 100,000-kilometer (60,000-mile) land speed record in 1989.
It wouldn't be until the end of the decade, however, that STI found its legs as something more than Subaru's in-house tuner and race car constructor. Tucked away in Kiryu, it was then that the Tecnica team began a streak of diverting standard Subarus from the company's main factory in Gunma. After applying varying degrees of performance magic the team would create machines that gradually came to be considered wholly-owned STI models, rather than basic Subaru variants.
More than just rally
As with so many striations of the Japanese car market, STI "complete cars" are identified by an alphabet soup of badges, including tS, Tuned by STI, and numerous Specs, Types, and Rs. Although the people-movers like the Forester were occasionally included in the fun, by and large STI focused on the Impreza and the Legacy platforms. Standouts included the STi 22B, a widebody homage to the company's 555 rally racing team, and the limited-edition S line of Impreza STIs that followed directly in its footsteps.
Always produced in small batches, the low-volume S line initiative amounted to a fraction of the 13,000 STI-branded cars offered over the past 20 or so years.
The decision to keep each and every one of these models exclusive to Japanese enthusiasts was a point of contention among North American Subaru fans. There were practical reasons for the segregation: footing the bill to federalize STI-badged cars was not cheap or easy; the cars were so different from Subaru's already-imported WRX STI sedans and hatchbacks as to require their own crash and emissions testing regimens.
Then there was the issue of culture. Subaru simply wasn't convinced that it would be able to make good on its investment if it started sending S line cars to America. In fact, it wasn't until Matsuo Takatsu, former head of the WRX/STI program at Subaru, took the reins at Subaru Tecnica International a few short years ago that the group clued in to the pent-up interest among compact performance fans sitting off Japan's western shore.
Same game, new player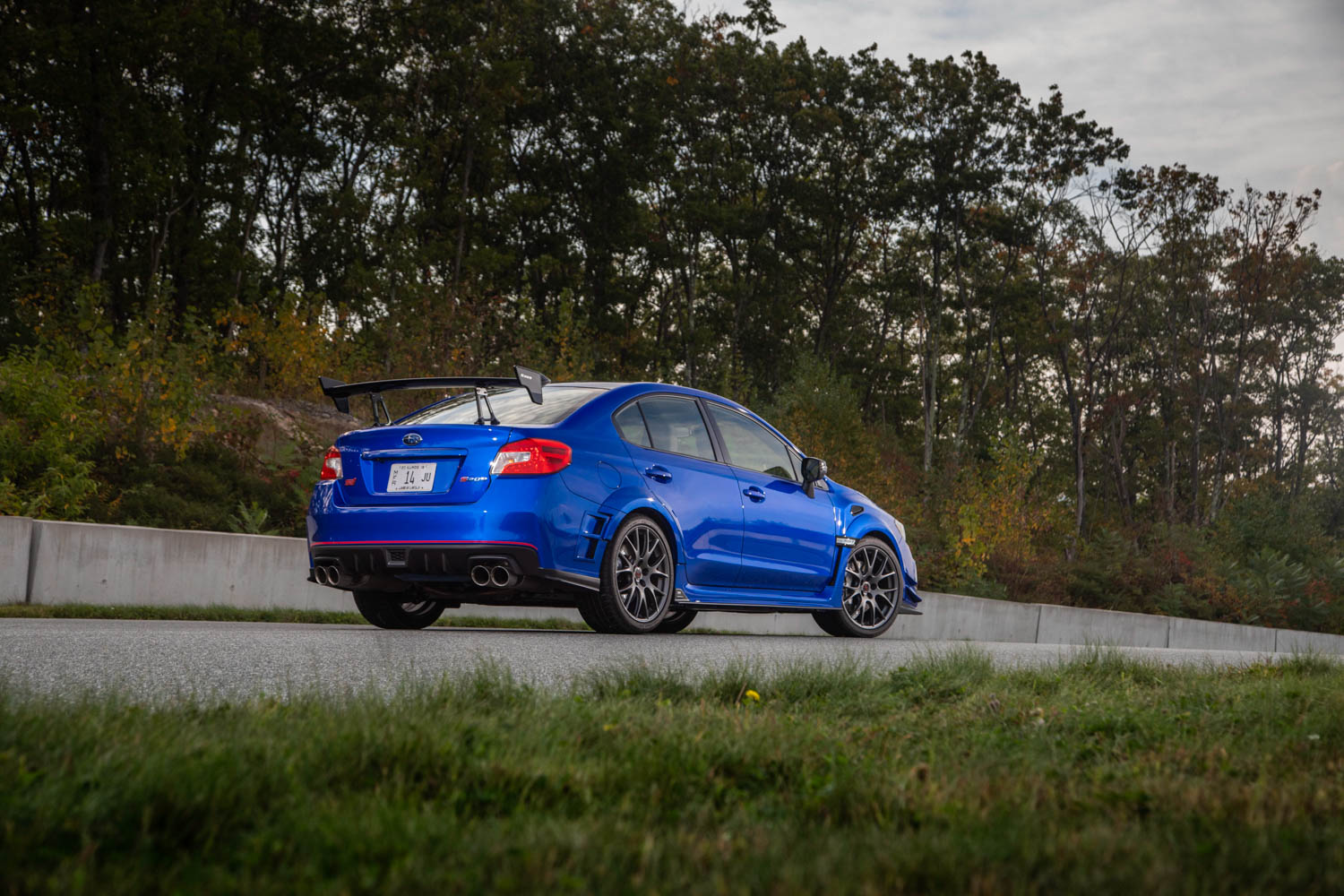 Enter the 2019 Subaru STI S209, the first full-Tecnica vehicle to have made it to America. Limited to (of course) 209 units, the vehicle may at first glance appear to be yet another breathed-on version of the WRX STI in the same vein as the recent Type RA (Record Attempt) model that recently preceded it.
In actuality, the S209 shares very little with any showroom stock Subaru. Everything from how it drives, to how it looks, to how it was screwed together and was handled by STI, with only the bare shell of the car contributed by the corporate mothership. This isn't just PR bluster; Subaru had to spend millions of dollars to homologate the car.
Put more succinctly, the STI S209 is as close to a road-going race car as has ever been sold by Subaru of America. It's also the kind of halo car STI needs if it's going to continue to enjoy the same level of success here as it so far has at home.
Details, details, details
There are three primary points of focus that separate the STI 209 from other go-fast Subies. First, the engine. Although still the 2.5-liter EJ25 turbo four-cylinder familiar to North Americans, rather than the 2.0-liter turbocharged unit used in past Japanese S line models, the motor has seen a series of important upgrades. These include a larger HKS turbocharger capable of higher peak boost than ever before, numerous internal and driveline components borrowed from the 2.0, a free-flowing exhaust system, an entirely new air intake and filter, and a retuned ECU.
The end result: 341 horsepower and 330 lb-ft of torque, reasonable upgrades over the 310 ponies in the base WRX STI. More importantly, the powerband has been shifted to a track-friendly latitude on the dyno chart, with peak torque available earlier on, and a trick water spray system for the intercooler (accessible via steering wheel-mounted paddles) has been included to soak the charge before the charge gets soaked.
Next up is the car's suspension system, which features lowering springs, unique Bilstein dampers, and draw stiffeners borrowed from Tecnica's endurance racer front and rear that peg all four wheels to the tarmac by preloading the suspension. Get granular and you'll discover a litany of finishing touches installed by STI, including spherical joints on the car's lateral links, redesigned stabilizer bushings, a new front crossmember support, and a stronger rear subframe.
Finally, there's the unavoidable extroversion of the S209's aero package. With a towering trunk-mounted wing (borrowed from the Type RA and featuring up to 42 lbs of adjustable downforce), a widebody treatment to conceal its bespoke Dunlop rubber (wrapped around 19-inch BBS rims), and flagrant front canards, it's impossible to ignore the sedan regardless of whether it's ordered in white or blue (the only available colors).
Transcending its roots
There's no denying just how effective STI's efforts have been in transforming the character of what is by now a familiar car on a platform well beyond the denouement of its lifecycle. On the climb-and-plunge curves of Palmer Motorsports Park, nestled near Ware, Massachusetts, the S209 turns in far quicker than an all-wheel drive sedan has any right to, dispelling the tinge of understeer that has traditionally haunted the WRX STI in a high-performance environment. In fact, the suspension is so forgiving that even late braking, rear leg-raising momentum shifts by way of the car's six-piston Brembos do little other than momentarily upset the apple cart before all four wheels once again grip a straight line.
The car's SI-Drive system—responsible for managing its all-wheel power management—has also been re-tuned to take advantage of the extra power under the hood. I found there to be a noticeable difference between Sport and Sport Sharp modes in terms of throttle response, and of course, tasking the center differential with pushing more torque to the rear axles was key to achieving controllable tail-end slip through longer corners.
If only the car's six-speed manual transmission were able to keep up with the rest of the S209's thoroughly engaging experience. Now featuring a 10-percent shorter throw, it's far too easy to swap fifth for third at an inopportune moment, making for a confusing three-pedal dance until you've settled back into a comfortable rhythm.
On the street, all of the above is far less intrusive than one would think. In fact, it's safe to say that the S line is the smoothest-driving STI-badged sport sedan to date, achieving a Zen that has to be experienced to be believed by anyone familiar with the standard WRX STI's more boisterous daily drive.
Best foot forward
STI, and by extension, Subaru, have expended a huge amount of effort and an equally voluminous amount of cash to introduce a very low-volume automobile. On top of that, it's been done without the cushion of any home market sales. Each and every example will be distributed to and sold by U.S. dealers.
That the car is worthy of such an investment is, in my estimation, a certainty. By far the most refined version of the STI formula, the first American Tecnica offering can hold its head high alongside last year's Type RA as an example of true motorsports engineering in a street-legal package.
Although pricing has yet to be released (think a touch more than the RA's hefty $50,000 ask), it's practically a given that Subaru will find a home for each and every S209. Believe it or not, there is enough pent-up demand among brand superfans willing to pay luxury money for what amounts to a full interior factory race car. It may be tough to recoup its sunk costs on such a mere smattering of S line sales, but Subaru's decision to bankroll STI's official introduction to an entirely new market is certain to pay dividends down the road.