The 2019 Honda Passport fills a niche while following a trail
Mother Nature used a lot of her best ideas while sculpting the red-rock canyons, fins, spires, and arches around Moab, Utah. You can't get a bad photo, even if your technique amounts to drop-kicking the camera in the air. Which is no doubt why Honda chose Moab to expose the media to its new, in-between SUV, the 2019 Passport.
Taking its name from the 1993-2002 Honda Passport, a quickie slam-it-to-the-dealers job that was just a rebadged Isuzu Rodeo, the new Passport is here to fill exactly the same role as the old Passport: plug a gap in the lineup as quickly and cheaply as possible. But this time Honda has done the work itself, and with a lot more polish.
Pilot-lite
Honda SUVs currently come in small (HR-V), medium-small (CR-V), and pretty large (the three-seat-row Pilot). The company figures its losing about 35,000 owners a year to other brands because it doesn't offer a medium-ish two-row SUV, comparable in size to the Nissan Murano. The Murano is a very healthy seller at over 70,000 units a year and no doubt a pretty good profit generator for Team Nissan. Not everyone has kids. And not everyone wants to drive a compact or a seven-seat bus.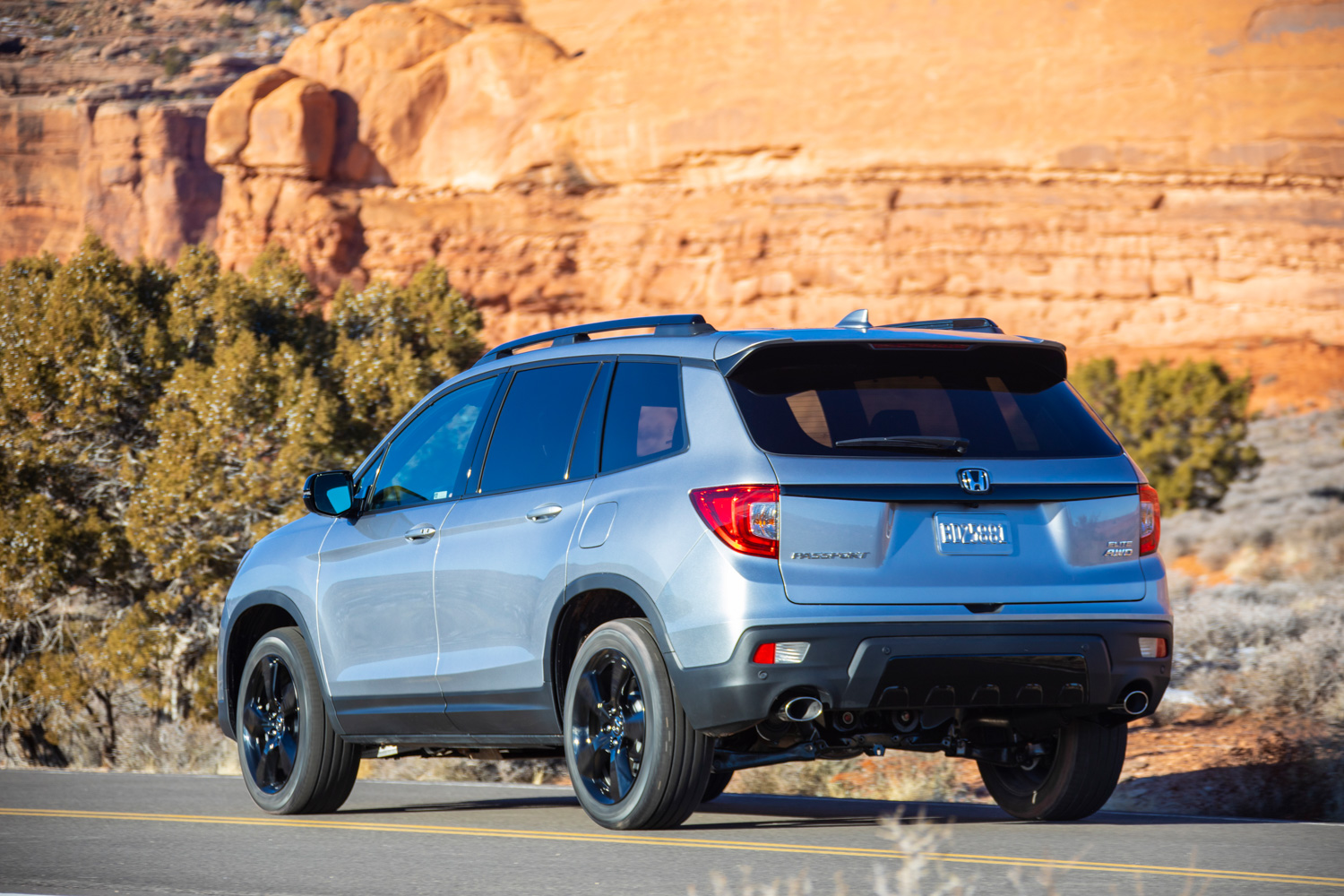 So Honda figures that it needs to plug that leak, and it has done so by chopping 6.2 inches off the Pilot, adding 0.8 inches to its ground clearance, and tossing the third row. Besides that, it put a new version of the current Honda corporate racoon face on the car and changed a few other pieces of sheetmetal, plus massaged the driveline, steering, and stability control software a bit. But most of what is there, including the front and rear seat mounting positions, is straight up Pilot minus about 75 pounds of steel and upholstery.
Passport to on- or off-road fun
Honda modestly figures it will sell—surprise—about 35,000 of the Alabama-built Passport per year, maybe 45,000 if they take off. And unlike the Murano, which is very sleekly city-oriented, Honda is pitching the Passport as an outdoorsy lifestyle buggy. Hence the Moab launch, where Passports were sent over slickrock trails and up sandy tracks that were far tougher than what 95 percent of owners will ever do.
Indeed, when nobody was looking, this driver went up a track to Monitor and Merrimac, two towering buttes of ancient Entrada sandstone near Arches National Park. The trail there, a winter mix of iced-over slickrock shelves and muddy troughs, was fully 100 percent tougher than anything a Passport owner will do, and the car did it with aplomb, not even scraping bottom.
Back on the blacktop it's a nimble handler, thanks in part to a slight quickening of the steering ratio, from 16.0:1 in the Pilot to 15.8-15.9 in the Passport depending on the driveline. Indeed, the steering is so pleasant and reactive in the Passport that we hereby call on Honda to make this small but noticeable change to the Pilot. Honda says it also shortened the brake travel throw for the Passport, another change Pilot would benefit from.
All-wheel-drive is an option on all except the top-tier Elite trim, and an expensive one at $1900. But at least it is one of the most sophisticated systems out there. An evolution of Honda's old Super Handling AWD, this unit is shared with Pilot and packs a clump of clutches, planetary gears, and computer circuit boards into a hefty box astride the rear axle. For the money it gives you both on-road handling agility and off-road traction chops. Really, we're not exaggerating here, this is a do-it-all system.
On pavement it can supply extra torque through its clutch-controlled planetary gearset to the outside rear wheel, which helps turn the car in the same way a canoe paddler can turn her boat by paddling harder to the outside. Off road, the system works almost like a set of lockers to send up to 70 percent of the engine torque aft, then narrow that torque down to one wheel. When you're stuck in wet muck spinning the wheels, as we often were, the computer needs a second to figure out what to do. Your job: be patient, give it light throttle, and just wait for the microchips to catch up. Eventually, with some gentle clunking from the back, the diff will find and engage the right wheel that can move you up the trail. One graphic display available in the instrument cluster lets you monitor the torque distribution to each wheel. It's kind of fascinating though, occasionally, you'll want to look up at where you're going. Lockers? Who needs 'em?
The Passport is more fun if you explore the different drive modes, selectable via a button on the center console. There's a normal mode for, well, normal driving, plus a snow, mud, and sand modes. Mud was by far the most entertaining, as it greatly reduces the stability control interference while ramping up the rear torque bias. We were able to get a Passport full on sideways in greasy slime, red ooze pea-shooting off the rear tires, occupants grinning stupidly. Not in a national park, of course.
Niche filled, and wisely so
The base price on the low-line Passport Sport is $31,990 including destination charge. So it's not cheap, but Honda says buyers in this segment don't want taxi-grade strippers, and the Passport comes pretty well equipped in base form. The 20-inch wheels, the auto climate control, the LED exterior lighting, the Honda Sensing suite of safety gadgets—all are standard. So is the 280-hp 3.5-liter V-6, the Passport's only engine, as well as its only transmission, a nine-speed automatic. Honda figures the bulk of buyers will go for the $36,410 EX-L trim, which installs leather upholstery, a one-touch power sunroof, the all-important power tailgate, and a juiced audio system that runs Apple Carplay and Android Auto. The gimme-everything version is the Elite, at $43,680. It indeed has everything, including a heated steering wheel and rain-sensing wipers, plus the all-wheel-drive system thrown in.
Honda says cars are still important to the company, and it would say that because it makes two of the market's best-sellers, the Accord and Civic. But SUVs are on the march, and Honda feels it needs one in all the popular sizes. By sharing so much of the Pilot while shaping the package just enough to have its own winning personality, Honda has delivered a fresh product to the hungry public at fairly minimal cost to itself. And that is what smart car companies do.