This year's wild 7 Easter Jeep Safari concepts
Jeep is gearing up again for the annual Easter Jeep Safari in Moab, an enthusiast off-road gathering that draws seasoned rock-crawlers, trail runners, and Jeep fans from all over the world. Every year Jeep churns out a tasty array of concept cars to show off at the event (many showcasing Mopar accessories and parts you can buy), but these projects are more than just eye candy. Head to Moab and you'll see each of these dirt-dominating monsters really walking the walk off-road.
Jeep Jeepster
Probably the coolest new concept of the bunch, this project was inspired by the 1966 Jeepster. The two-tone color palette really pops, down to the contrasting custom roof and tube-frame rollbar. Jeep shortened the roofline of a Wrangler Rubicon by two inches, angled the windshield back 2.5 degrees (it still folds down, don't worry), added a two-inch lift kit with 2.5-inch diameter aluminum shocks, as well as serious 37-inch BF Goodrich K02 rubber. The spare tire fits in the cargo area, while there are storage packs (as well as a rear camera) fitted to the side-opening rear door. It's a fun-loving off-road maniac we'd love to have a run with.
Jeep Sandstorm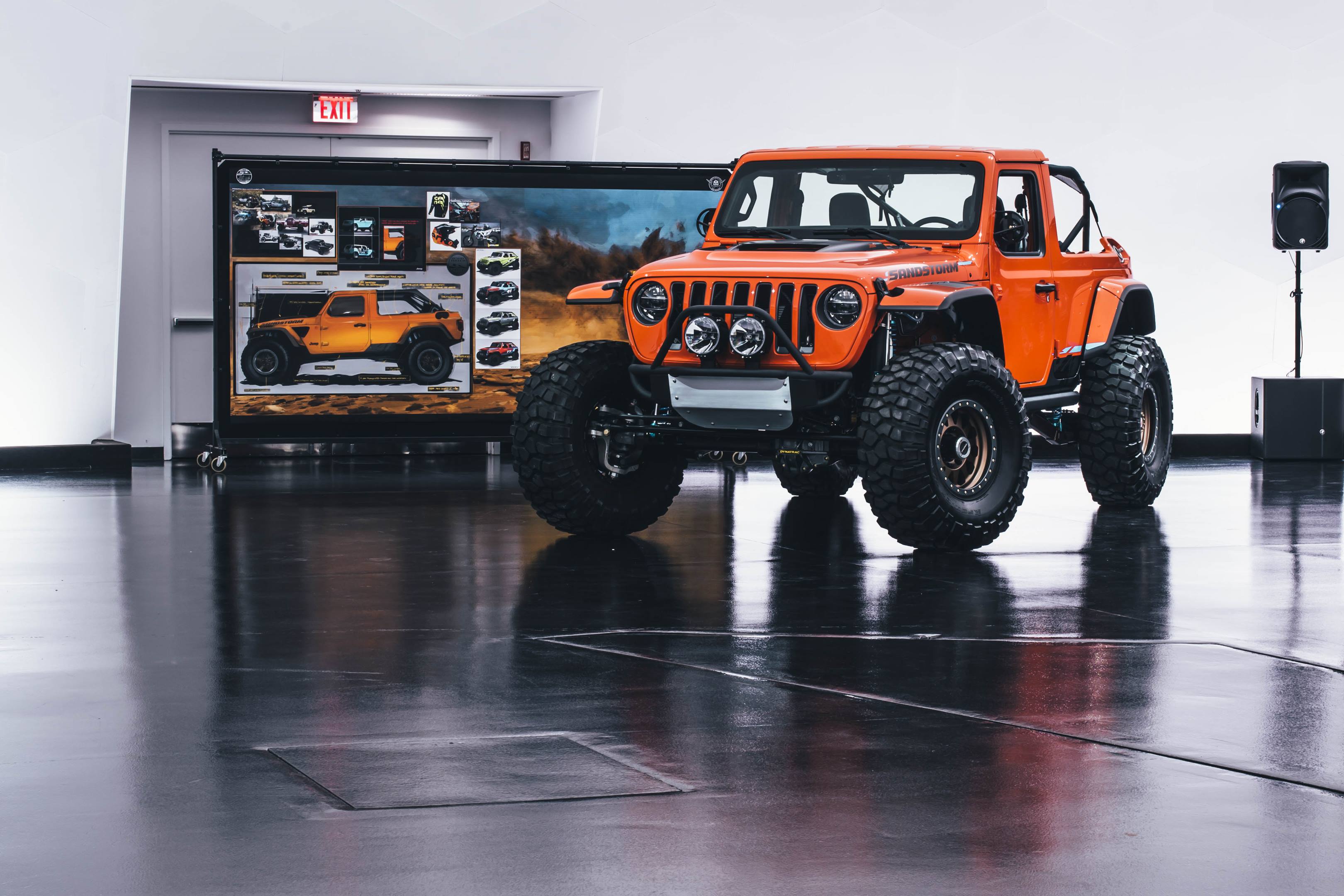 Based on a new 2018 (JL-generation) Wrangler Unlimited, the Sandstorm is Jeep's take on a Baja-style off-roader. Given the popularity of trucks like the Ford Raptor and Chevy Colorado ZR2, it's no surprise Jeep dreamed up something like this. With its 14 inches of front and 18 inches of rear suspension travel, extended wheelbase, 39-inch beadlock tires, and stripped-down rear bucket seats, this thing is apparently still streetable—but just barely. Under the hood lurks a 485-horsepower 6.4-liter Hemi mated to a six-speed manual transmission, because why the hell not?
Jeep 4SPEED
Following in the trail markings of previous lightweight Jeep concepts for the Safari, the 4SPEED makes use of the new Wrangler JL's four-cylinder power plant. The idea here is a laser focus on weight reduction, which means no carpet, doors, HVAC, radio, and anything else superfluous, including several inches of the rear of the body that were docked to improve the departure angle. It also sports a carbon-fiber rear floor, hood, and fenders. The result? A loss of 950 pounds. The 4SPEED rides two inches higher thanks to the weight loss, and easily fits 35-inch tires. Of all the concepts it's bringing to Moab, Jeep says this is the most fun to drive.
Jeep Wagoneer Roadtrip
As much a trip down memory lane as a purpose-built off-roader, this resto-mod beauty started life as a 1965 Jeep Wagoneer. After Jeep found it almost completely rust-free on Craigslist in the Southwest, they went to work turning it into a nostalgic road trip time warp complete with a later-year razor grille. Jeep strengthened the chassis and boxed the fame, extended the wheelbase, added a four-link suspension with modern dampers and coilovers, Dana 44 axles with lockers, and steering from a JK-generation Wrangler.
The 17-inch wheels are custom-built in California, wearing 33-inch BF Goodrich Mud Terrain rubber. To accommodate the new dimensions, Jeep modified the wheel wells and fender flares, and added custom steel front and rear bumpers. The paint, dubbed Mintage Green and echoed in the similarly-colored Rhino floor coating, goes beautifully with the Oxblood-colored interior and wicker headliner. In the fold-down rear cargo area there is even some period-themed luggage, as well as an amazing toolbox made from the valve cover of a Tornado engine.
Oh, and under the hood is a big-honkin 5.7-liter Hemi mated to a four-speed automatic from the '80s-'90s Chrysler catalog. We could geek out about this thing all day.
Jeep B-Ute
Using the smaller Renegade as a basis, the B-Ute is a kind of modern military-themed concept using a lot of Jeep Performance parts and a 1.5-inch lift kit. Underneath is the same base 2.4-liter four-cylinder engine and nine-speed automatic gearbox, but the main change here is the removal the front sway bar, which allows for a lot of additional front wheel articulation.
Jeep J-Wagon
Perhaps a somewhat shameless nod to the Mercedes G-wagen, the J-Wagon concept is supposed to be an upscale urban Jeep that doesn't sacrifice off-road chops. There are lots of Brass Monkey details to go with the grey paint job, custom roof rack, and snazzy interior, but the big snorkel kit is a nod to the off-road ambitions most are after when they walk into a Jeep showroom.
Jeep Nacho
Believe it or not, that's an available color. The Nacho Jeep is a "rolling catalog" of Mopar and Jeep Performance Parts kit totaling more than $14,000. It starts as a Rubicon, adds a steel bumper and winch, two-inch lift kit, Fox Shox with a Jeep-specific tune, special rock rails, tube doors, all-weather mats with a unique plug feature for the Wrangler's rinse-out floor, and a major dollop of lighting equipment from the Automotive Lighting arm of Magneti Marelli. At the very least, you'll never get it lost in a mall parking lot.