2018 Collector Car Madness: Best in the West
If you've been following our Hagerty Collector Car Madness tournament shootout, and you should be, you know by now that we've assembled 64 of the most popular sports cars (as determined by number of new insurance quotes) to go head to head until only one champion sports car is left standing.
The South bracket tipped off competition with a couple of big upsets. Next up is the West, featuring competitors from three continents and 13 marques. Who will move on? Who will choke and stumble? Read on.
West
1984–1996 Chevrolet Corvette (1) vs 1981–1983 DeLorean DMC-12 (16)
Our first matchup had the potential for a huge upset, but a #16 could never take down a #1, right? The DeLorean brought its exotic stainless-steel body, gullwing doors, and mid-mounted V-6 to battle the Corvette's numerous V-8 engine options—some mediocre, some absolutely brutal. All the pop-culture provenance couldn't help the DMC-12 against the C4 Corvette's actual sports car chops. Even without the vaunted 32-valve ZR-1, the solid handling of the Corvette, especially in Grand Sport form, let it coast to victory.
Winner: 1984–1996 Chevrolet Corvette (1)
1962–1980 Triumph Spitfire (8) vs 1966–1983 Fiat 124 Spider/1983–1985 Pininfarina Azzura (9)
Two long-lived roadsters battled for supremacy in a double-overtime nail-biter. Triumph's quintessential British roadster was designed by Italian Giovanni Michelotti, who has more than a dozen Ferrari designs and the BMW 2002 on his resume. The Fiat 124 was penned by American Tom Tjaarda, who has an enviable resume himself, filled with Italian and American cars including the De Tomaso Pantera. Both open-top lightweights are a driving enthusiast's dream, and the contest could have gone either way. Truth be told, this one was so close that we picked the Spitfire because its name more closely matched its barnstorming spirit.
Winner: 1962–1980 Triumph Spitfire (8)
1975–1980 MGB (5) vs 1997–2002 Plymouth/Chrysler Prowler (12)
Another long-lived British roadster, this time from MG, took on the throwback roadster from Plymouth. Prowler's polarizing 1930s-hot-rod styling was striking, especially once the black plastic bumperettes were removed from the front. Its advanced construction and peppy V-6 (more powerful than a contemporary Magnum 5.9-liter V-8) kept weight down, and a rear-mounted transaxle kept it balanced. Still, the MGB is a better representative of the sports car genre and took the win for the Brits.
Winner: 1975–1980 MGB (5)
1989–1994 Nissan Skyline R32 GT-R (4) vs 1955–1963 Triumph TR3 (13)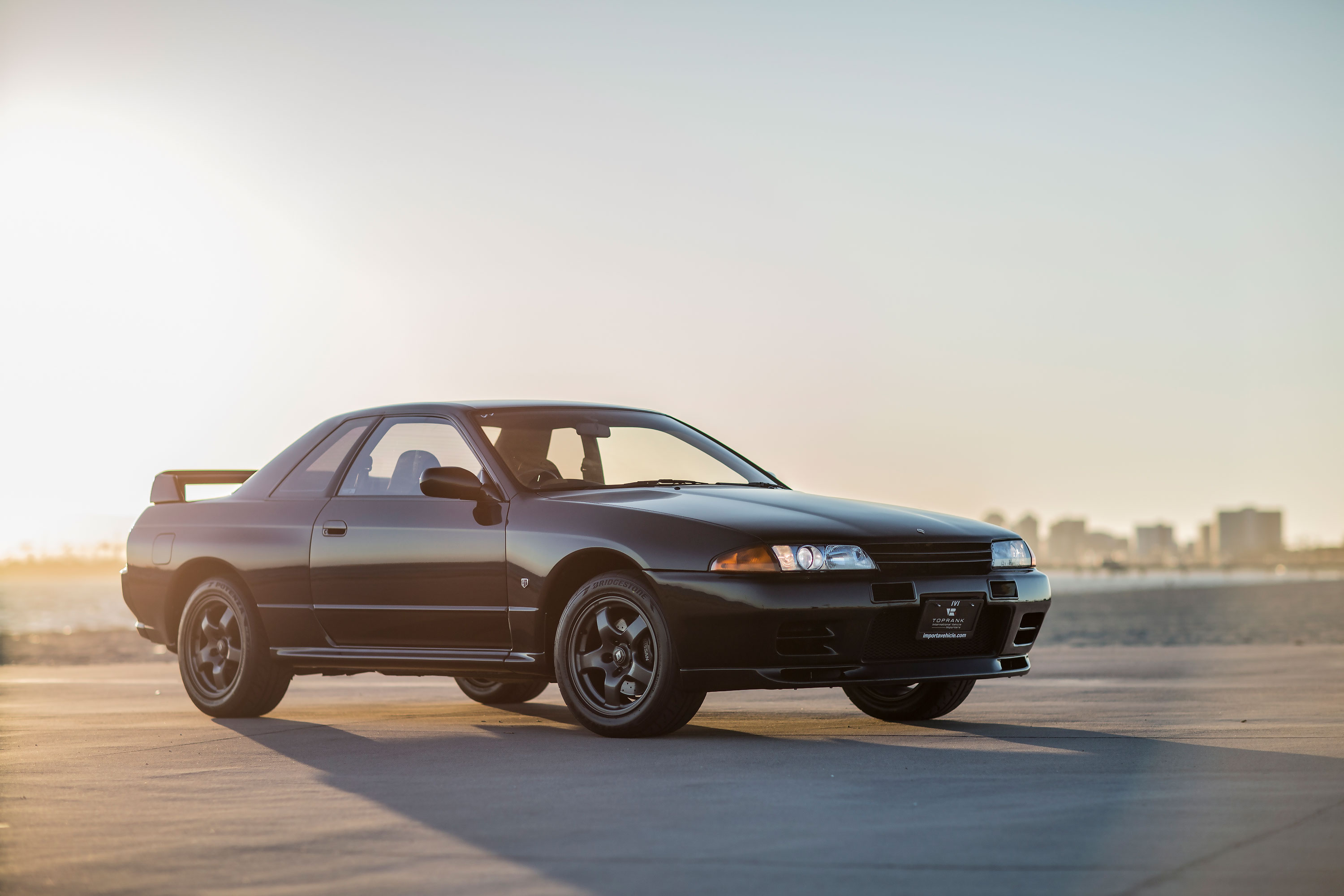 As much love as we've been showing the British roadsters, you might think that the plucky little underdog TR3 had a chance in this contest. Not even close. Nissan's R32 Skyline was a technological triumph of twin-turbo inline-six, all-wheel drive, and four-wheel steering that took international racing by storm. It's Godzilla, and it rose up from the sea and levelled poor little Coventry, England. Yeah, we know Coventry couldn't possibly be further from the ocean and still be in England. Just go with it.
Winner: 1989–1994 Nissan Skyline R32 GT-R (4)
2002–2005 Ford Thunderbird (6) vs 1956–1962 MGA (11)
Ford's 11th-generation Thunderbird had decent V-8 power and rode on a competent chassis shared with Lincoln's LS and Jaguar's XF. Initial sales were brisk but tapered off quickly, proving perhaps that the market had had its fill of retro-styled cars, at least ones that reach all the way back to the '50s. Meanwhile, the actual '50s car in this battle began its life as a concept for a race car in 1951 and eventually did race at Le Mans in 1955. The MGA's racing prowess in SCCA G production class vastly overshadows its little-known NASCAR career and its success in vintage racing carry it to the upset in this round.
Winner: 1956–1962 MGA (11)
1982–1991 Porsche 944 (3) vs 1979–1985 Mazda RX-7 (14)
The first-generation RX-7 was sort of a Japanese muscle car with its solid-rear axle and crisp fastback styling. The high-winding rotary engine needs no introduction other than its soundtrack and could remain a standalone reason to buy the car even if it weren't attractive and fun to drive. Unfortunately for the fun-loving Wankel-powered 2+2, a Teutonic challenger awaits with turbocharged power and some of the best fender flares the '80s had ever seen. Porsche's front-engine, rear transaxle cars are seeing a resurgence in popularity and a corresponding increase in price.
Winner: 1982–1991 Porsche 944 (3)
1984–1988 Pontiac Fiero (7) vs 1987–1997 Cadillac Allante (10)
In this battle of short-lived GM oddballs. . . wait, Cadillac made the Allante for 11 model years? Really? Hmph. This contest was still easy for us, as the Allante is forgettable and Fiero is a fun, mid-engine sports car that masqueraded to production past GM brass under the guise of an economy commuter. The last year is the best, as it got the suspension its engineers had hoped it would get from the onset. Unfortunately, engine options were the Iron Duke and the 2.8-liter V-6, neither of which are inspiring. Still, it's not an Allante.
Winner: 1984–1988 Pontiac Fiero (7)
1999–2005 Porsche 911 (2) vs 1968–1971 Jaguar E-Type (15)
In the battle of the unappreciated middle children, Jaguar's Series II E-Type, with its new side marker lights, wraparound rear bumper, and newly-naked headlights, goes up against the 996 generation of 911. The Jaguar is not quite as attractive as its earlier E-Type brethren, and the 996 comes on the heels of the 993 generation of 911s, the last of the air-cooled era. Tipping the scales in the Porsche's favor is the fact that it is one of the best sports car bargains at the moment, putting reliable performance in reach.
Winner: 1999–2005 Porsche 911 (2)