2018 Collector Car Madness: East Bracket
Our Hagerty Collector Car Madness tournament heads to the East bracket for the third of four opening rounds of competition.
The South bracket tipped off competition with a couple of big upsets, the West featured competitors from three continents and thirteen marques, and now the East is up with some of the most beautiful, iconic classic sports cars ever built, as well as the Nissan 350Z.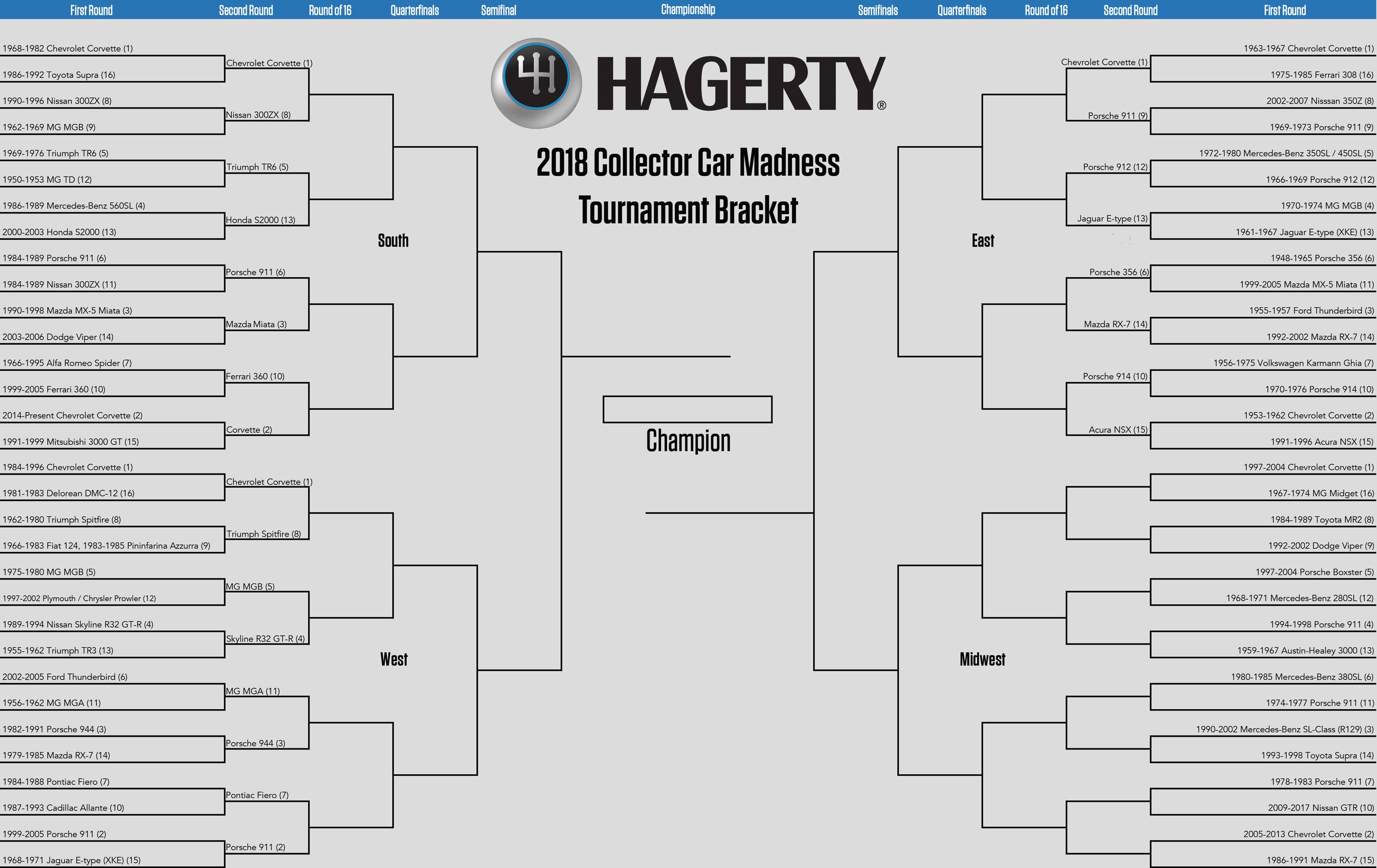 East
1963-1967 Chevrolet Corvette (1) vs 1975-1985 Ferrari 308 (16)
Ferrari's 308 was the brand's entry-level model and yet it still packed enough mid-engine V-8 performance and style to be the car of choice for Hawaii's number one Private Investigator. Even with the boost from Magnum's mustachioed manliness, the lithe Italian just couldn't top the split-window splendor of a '63 Corvette coupe with a fuel-injected 327. Team Corvette kept the big-blocks on the bench conserving their energy for the later rounds and this was still a runaway.
Winner: 1963-1967 Chevrolet Corvette (1)
2002-2007 Nissan 350Z (8) vs 1969-1973 Porsche 911 (9)
Porsche's never-ending evolution of the 911 brought a longer wheelbase to tame the tail-happy handling and a number of engine upgrades between 1969 and 1973. Likewise, the 350Z, upon returning to North America after a six-year-Z-car hiatus, was available in numerous trims and special edition models. Despite returning with much fanfare, the 350Z was no match for the classic rear-engine German coupe in this matchup. The 350Z is a tuner favorite and has become incredibly affordable, but we can't help but think it looks like a police sketch artist version of a 911. Chins up Nismophiles, the Skyline is still in it.
Winner: 1969-1973 Porsche 911 (9)
1972-1980 Mercedes-Benz 350Sl/450SL (5) vs 1966-1969 Porsche 912 (12)
The Mercedes-Benz 350SL isn't made for spirited driving, it's made for motoring. It's stately, refined, and elegant. Meanwhile the Porsche 912 is a sputtering four-cylinder version of the 911 (or a Porsche version of the VW Beetle, depending on how you'd like to look at it or who you'd like to infuriate). It was conceived to appeal to cheap Americans wanting to get a piece of Porsche 911 greatness without the 911 price tag. It just so happens that some of us are a bunch of cheap Americans, so thank you, Porsche, for lowering the bar.
Winner: 1966-1969 Porsche 912 (12)
1970-1974 MG MGB (4) vs 1961-1967 Jaguar E-type (XKE) (13)
British brands were putting on a clinic in the West bracket, with MG taking two wins in the opening round of including the later 1975-1980 MGB taking down the Plymouth Prowler. But this matchup pits Brit against Brit. The lovely lines of the MGB GT, perhaps the genesis of the hatchback, just couldn't keep up with the E-type's iconic curves and the glorious inline-six engine nestled under that oh-so-long hood.
Winner: 1961-1967 Jaguar E-type (XKE) (13)
1948-1956 Porsche 356 (6) vs 1999-2005 Mazda Miata (11)
Even though the second-generation Mazda dropped the pop-up headlights for a smiling front end, it wasn't as cute as the original. Still, its formula for lightweight fun was there and there's nothing bad to say about the NB Miata in this matchup except that it's not a Porsche 356. Porsche's first model is beautiful in its simplicity and was available in coupe, roadster, and speedster variants. Add the thrill of revving a four-cam Carrera engine and Miata, as sound a sports car as it is, never had a chance.
Winner: 1948-1956 Porsche 356 (6)
1955-1957 Thunderbird (3) vs 1992-2002 Mazda RX-7 (14)
Ford's two-seater came out of the gate with V-8 power and even had an optional McCullough supercharger that made it a terror at Daytona, where it set a two-way speed record of 138.775 mph on the beach. It had three glorious years of svelte styling before the wheels absolutely fell off for 1958. What happened? The FD RX-7 was powered by some of the best production rotary engines Mazda ever built, had tremendous handling, and its design has aged incredibly well. Because this is all about sports cars, those attributes allowed it to upset the T-bird by a wide margin.
Winner: 1992-2002 Mazda RX-7 (14)
1956-1975 Volkswagen Karmann Ghia (7) vs 1970-1976 Porsche 914 (10)
The Karmann Ghia is a looker but it isn't our favorite Ghia design even though it's likely the most attainable way to get that classic style. Based on the same architecture as the VW Beetle, and even more closely related to the Thing, the sleek coupe bodywork didn't improve the VW's driving dynamics. Conversely, the Porsche 914, which was initially slated to be the replacement for the Karmann Ghia, used Volkswagen air-cooled flat-four mounted amidships for better weight distribution along with an all-new chassis. Look at it, it's just so little! That's how you make 100 hp fun.
Winner: 1970-1976 Porsche 914 (10)
1953-1962 Chevrolet Corvette (2) vs 1991-1996 Acura NSX (15)
Corvette got off to a rough start. Chevrolet had problems making the fiberglass bodies, and the performance was lackluster until the legendary Chevrolet small-block V-8 debuted for the 1955 model year. Then Zora Arkus-Duntov came on board at Chevrolet and started pushing development of high-performance parts that made the 327-cubic-inch V-8s into fuel-injected 360-horsepower road-racing terrors. On the other side of the spectrum, Honda's entry to the supercar world was a mid-engine masterpiece that was so good it shamed Ferrari into making better cars and casts a long shadow over the current NSX. The superb handling and crisp styling, combined with Honda reliability turned the supercar community on its ear and was enough to hand Corvette its first elimination.
Hold on! Hold on! A Corvette Fuelie got beat by a V-6 "supercar"? Who wrote this!?!
Winner: 1991-1996 Acura NSX (15)