Behold these 135 barn-find cars, and all must go!
Near the top of the list of "crazy stuff I found on Twitter" is this upcoming Nathaniel-Carter-McScally auction in the UK, which offers 135 long-parked cars from a mysterious English collection. The auction is November 1–2, featuring vehicles ranging from very rare classics to heavily modified kit cars and other British oddities. This sale is just full of surprise items—some of which are beyond saving.
We've reached out to the auction house to learn more about the source of this collection, and how this many cars ended up languishing away like this. We'll give you an update if we hear back. For now, here are the nine vehicles we'd put to a good home: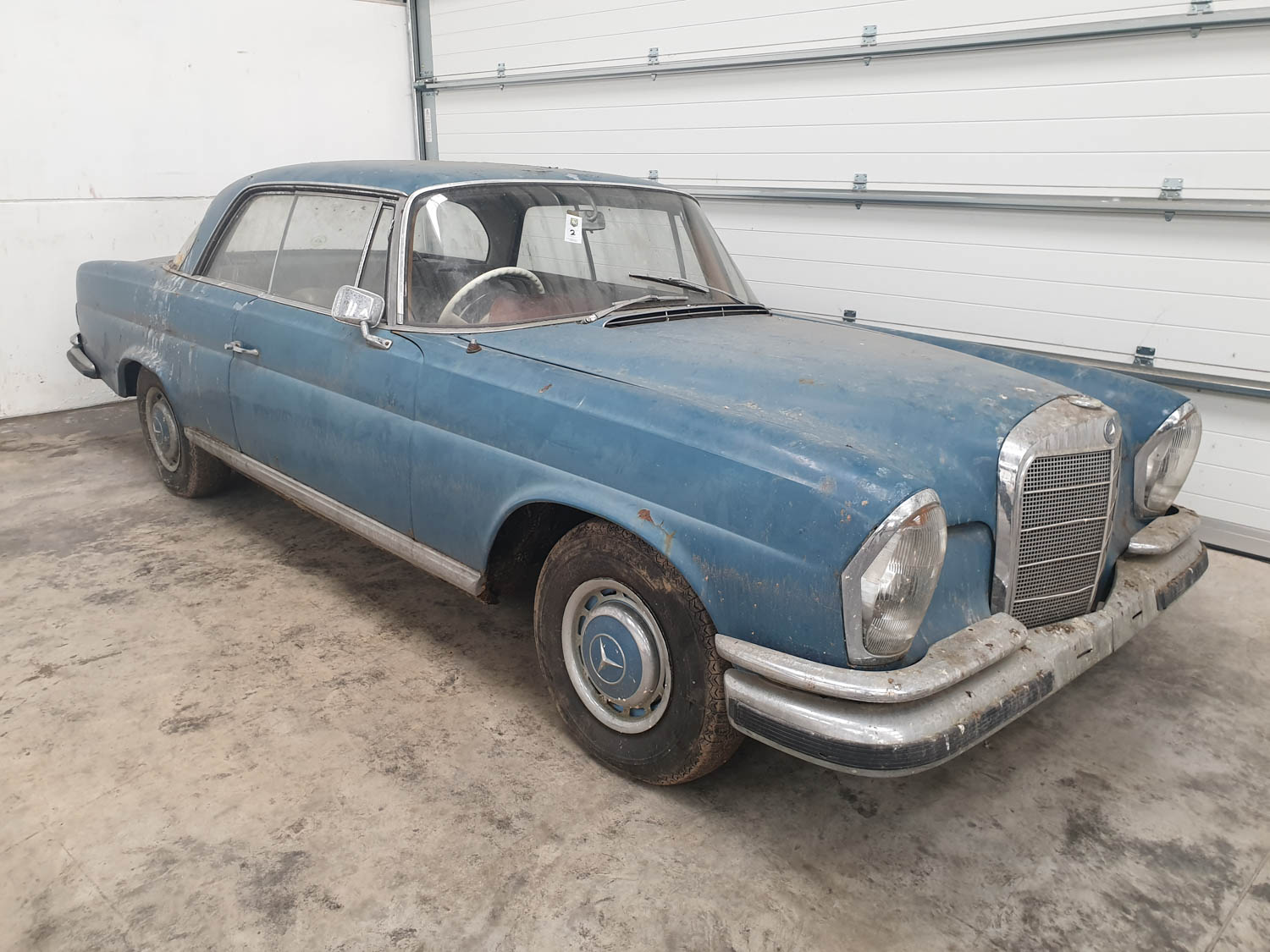 A nice Paul Bracq-designed coupé with a straight-six from the early '60s. The 220 SE may not be the fastest of the bunch, but this one with the stick shift is definitely worth saving based on its condition and completeness, especially if you're looking for a classy weekend cruiser. (Keys present, engine present.)
Looking for an early Jensen Interceptor with the four-speed manual? Tough luck. This is an automatic Mark III, which means it's a '70s car with the bigger 440-cubic-inch V-8 and the three-speed Torqueflite gearbox. Seemingly as fixable as it is filthy, this blue Interceptor could be bound for more action if it goes to the right owner. (Engine present, hood questionable.)
A lightweight delight with a Pininfarina-designed body. Only 836 were built in right-hand drive, and this is one of them in the correct shade of green. Very clean by this collection's standard, this tiny cabriolet could be ready for next summer, given you have a heated garage to work at over the winter. (Keys present, engine present.)
On top of having an extremely cool name, the Rootes Group's Humber Super Snipe is a straight-six four-door with plenty of chrome and wood to go around. This particular car may be lacking its windshield, but it makes up for it with a unique two-tone blue and gray paint job. Don't forget to check out the rear seats! (Engine present.)
Lancia Flaminia Coupé
Designed and built by Pininfarina, only 5236 Flaminia Coupés were built on the Berlinetta's shortened wheelbase, powered by either 2.5- or 2.8-liter Lancia V-6s. Need I say more? Left-hand drive with 46,000 miles in an engine that's no longer present, this classic Lancia will grab a lot of attention once redone. (Engine missing but gearbox and keys present.)
Midas
Is a Mini-based Midas kit car faster than a Mini Marcos? I don't know, but the cars made after 1981 came with upgrades suggested by then Brabham Formula 1 ace Gordon Murray himself. Featuring Triumph TR7 tail lights and a whole lot of character, this Midas is ready for whatever engine you may wish to jam in it. (Engine missing.)
Land Rover V-8
No further information on this one either, but what's certain is that this Land-Rover-based, somewhat Jeep-faced "racing truck" has giant V-8 stickers on its doors and an interior that could put a Baja racing buggy's dash to shame. Somebody just needs to keep waking up the countryside with this Landie. (Engine present.)
Gilbern Genie
Talk about rare. The Genie was one of the three models kit car manufacturer Gilbern managed to put to market between 1959 and 1973. And while I for one have always been Team Invader Estate, there's nothing wrong with the equally Ford V-6-powered Genie, which is an earlier car produced in just 197 units. This one needs a new sunroof and plenty of fiberglass work, plus all the work that Essex engine may require. But for a Gilbern, the juice might be worth the squeeze for something unique. (Engine present.)
The NSU Ro 80 is the last European-made rotary car, and a wonderful luxury sedan that's getting harder and harder to come by these days. I've driven a fine example in this very color, and the car offered here looks almost as neat. The big question, of course, is the condition of that Wankel engine, but there's also another, possibly donor-contender Ro 80 you can grab at the same auction. While the good car comes with a bunch of British car magazines in its trunk as a bonus. (Engine present, keys present.)
These are just the nine cars we would grab the quickest, and the Austin Minor Traveller you see below proves there's plenty more, including cheap Rolls-Royces. Please go through the complete list here, and don't forget that the bidding starts on the 1st of November. Good luck, and happy wrenching!