Your ultimate guide to the SCG 004, America's latest supercar
Scuderia Cameron Glickenhaus' 004 supercar is an absolute game-changer of an American mid-engine dream machine. After the SCG Boot (the SUV that beat Ford at the Baja 1000), it's SCG's next real production model. The Boot sold out for this model year shortly after its victory in Mexico; the first road-going 004Ss are set to leave SCG's new Connecticut factory as early as this summer.
Thirty SCG 004S build slots are scheduled for 2020, but before those three-seater supercars hit the road, the racing version—the GT3-spec 004C—will stretch its legs at the Nürburgring. The 'Ring run will be in March, testing for a total of 30 hours under race conditions, with the next to follow during the 24-hour main event in May.
In the opinion of many, the 24 Hours of Nürburgring remains the toughest endurance race held on tarmac. SCG has already completed it six times, first with the Ferrari-based P4/5 Competizione in 2012, and then with the twin-turbocharged SCG 003C from 2015 to 2019.
Now that SCG's 2020 challenger is ready to make that big-displacement GM small-block noise, we went to Cremona Circuit in Northern Italy to witness its first shakedown laps. We also had the chance to ask chief Jim Glickenhaus about what's cooking at SCG. To get a taste of the 004C's 650-horsepower naturally-aspirated GM LT4 and central-seat layout, Glickenhaus offered up this POV video from the perspective of test driver Thomas Mutsch:
The V-8's roar is, as you'd expect, even more magnificent in person.
A rather important detail about the 004 is that SCG also engineered the car to be a three-seater that's legal as such all over the world. Remember—the McLaren Speedtail ended up being a single-seater in the United States for regulatory compliance reasons.
Up until now, SCG only built six examples of the 003 (the 004's predecessor), the last of which was a road car. With the new model right around the corner, it's hard to imagine more leaving the workshop. The new 004 is a fresh start, and as a race car, it represents such a vast improvement over its Honda-powered predecessor that the comparison almost seems unfair.
Gone are the turbochargers that caused nothing but trouble for SCG. The 003's Honda-based V-6 is gone in favor of GM's battle-tested, naturally-aspirated 6.2-liter V-8, which should offer much better reliability as well as loads of extra low-end torque out of the corners. The 004C's new carbon-fiber body also produces a lot more downforce at the front, which allows for a bigger wing at the rear. The result is much more grip and balance that through corners; where the 003 tended to break loose, the 004 just sticks. The new design is also completely modular, which means it will be much quicker to fix body damage during races, while the monocoque remains upgradeable for many seasons to come. What's more, Glickenhaus intends to sell its race cars to customers at cost in exchange for promoting his road cars, while still making some money in the racing business on the replacement parts front.
Those parts, by the way, are now more efficiently integrated than ever. The 004's steering box takes 10 minutes to swap out, unlike the 003's, which took 3-4 hours. Its clutch can be replaced in an hour. The 004C also uses an Xtrac transmission, which is transversely oriented unlike the previous longitudinal Hewland, so there's minimal overhang and less tendency for the car to spin.
Yet perhaps the biggest improvement is the cockpit itself. Driver comfort is important when a stint on track can last for up to three hours, and I've never experienced as much headroom in a race car as I did sitting in the middle seat of the SCG 004C. Despite the full safety cage, the seating position offers great visibility all around, something that will only get better with the road version's glass roof. And to compensate for the fixed racing bucket seat, there's an easily adjustable pedal box to suit just about any driver's body within seconds. SCG also moved all the fluid reservoirs into the cabin, so that the team can immediately see if something has leaked.
During these first tests, the SCG 004C was showing all the right figures on the engineers' laptops, including the clear need for slower coolant pump settings—a true relief after the 003's cooling took three years to dial in. Granted, testing in a cool February helped maintain temperatures, but that doesn't mean that you can't troubleshooting cooling issues in these conditions. And with the SCG 004C showing no sign of such issues, or any other major concerns, the team ended its session having shaken down one promising machine that in naked carbon looks like some kind of Italian Batmobile.
This is nominally a GT3-spec car, but Scuderia Cameron Glickenhaus is still not allowed to play with the big guns, whose reign is secured by homologation regulations which require production numbers achievable only in large factories. Those regulations ultimately put the SCG 004C in a class of its own, year after year.
In the loop
Jim Glickenhaus is a tough old-school racing enthusiast with the financial backing, as well as the deal making experience, to take SCG's effort to the highest level at Le Mans in 2021 while spending about half of what is usually required. That's quite a feat, especially given that an American team hasn't won the French 24 since 1969. There's also the fact that Aston Martin, a company in the sports car business now for 107 years, just backed out of its previously solid commitment. Aston Martin is citing rule changes as the reason for its separation rather than its noted financial troubles and the company's separation from Red Bull Racing. It's tough to run at this level no matter how much money you bring to the table.
So there's the SCG 007C bound for Le Mans, which will be a huge endeavor, and Glickenhaus says his company has already sold a second 007 car at around $2 million to somebody who "gets it."
While Glickenhaus enjoys the tinkering and problem solving just as much as driving his cars on the road, the sixty-nine-year-old has no intention of racing. He leaves that to his professionals, who helped SCG break lap records during the Nürburgring 24 and drive so fast on the long straights that track officials decreed they had to dial it back to not exceed the speeds of the homologated GT3 cars.
Yet, while everything is seemingly on the right track, SCG remains unable to break into the GT3 class.
As of now, the math seems simple. 200 cars have to be built before a GT3-spec race car can officially become a GT3 race car eligible for competition. Could these rules be bent? Think about the late '60s when Porsche could allegedly get away with not building enough 917s in the name of avoiding bankruptcy, the '80s when Lancia got perhaps a little creative with its road-going Group B car sales, and even 2016, when Ford was allowed to go racing in the LMGTE Pro WEC class with the twin-turbo GT, long before any of its road cars were ready. (In Ford's defense, it was the company's 50-year Le Mans anniversary…)
As one of America's budding low-volume manufacturers, SCG wants to build 30 road-going, small-winged 004S models at its new factory this year, with plans to ramp up to 100 units in 2021, given there's enough demand. That still wouldn't add up to the required 200, by which point SCG would be past its first entry 24 Hours of Le Mans, still without GT3 permissions. No wonder many doubt we'll ever see an SCG GT3. Yet Glickenhaus remains hopeful that pressure coming from the fans' side can bring changes to the table.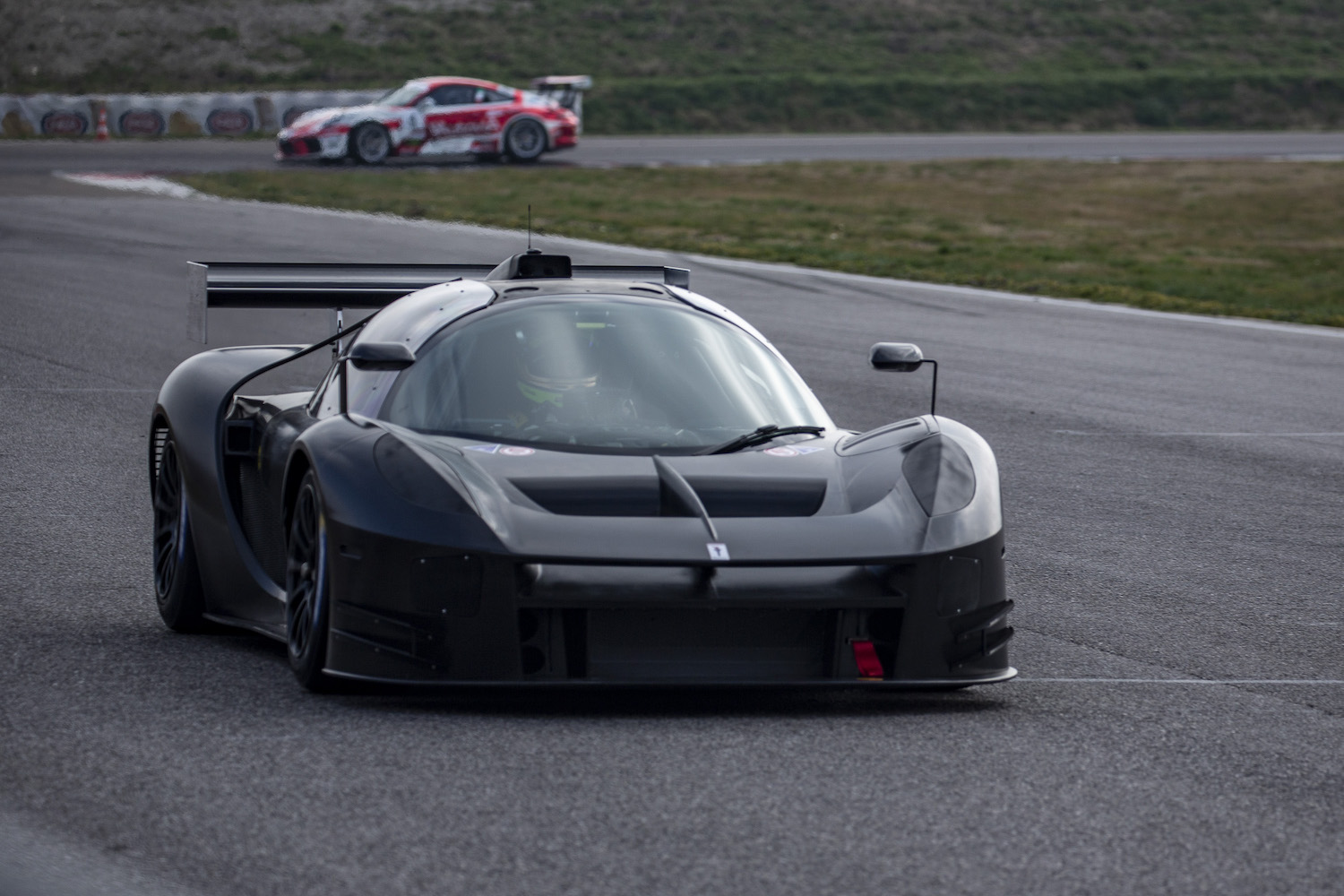 Fully aware of this obstacle, SCG remains almost shockingly transparent, putting out odd-looking fluid-dynamics renders long before designs are finalized and communicating almost all trial and errors of its development programs. Contact SCG through any of its social media channels, and Jim Glickenhaus himself is likely to answer.
Being very hands on, Glickenhaus also says that the 004's performance, real three-seater layout and comfort, visibility, reliability, looks, along with SCG's value proposition and customer support, makes for a solid business case. The Le Mans prototype is also coming along nicely, and the Boot is expected to do well both in two- and four-door variants. SCG says it is also working on retrofit upgrade packages for 003C, 003SC and 003S customers.
At the end of the day, we're dealing with a very impressive car, an ambitious American-Italian team, and the unfortunate reality of a small outfit fighting an uphill battle against titanic, established players. Promoters are acting like they don't need small fish like SCG, despite the fact that the big fish are retreating from the field. Then, when the company goes public with its car built to the new regulations, an invitation often finds it way into those small-fish mailboxes. At the Nürburgring, a sacred place with a more open attitude, SCG is welcome to race anytime in the SXP class, surrounded by all the major German players competing in the GT3 class.
Glickenhaus firmly believes that after SCG proved it was the real deal in competition during the 2019 season and prior, there's a degree of mutual respect in the community, and a kind of gentleman's agreement that if SCG looks good for first overall, the established OEMs would allow it. Luckily for Porsche, Audi, Mercedes-AMG, BMW and Lamborghini, SCG can't match their number of entries, and the Nürburgring 24 is a rough race through the night where anything can happen.
For now, what's for certain is that Jim Glickenhaus is far from out of the fight, and the SCG 004 will be one to watch at the upcoming Nürburgring 24 Hours.