The quick and the fast at NHRA Hot Rod Reunion
NHRA Hot Rod Reunions are a celebration of American drag racing history fueled by original and next generation racers who launch nitromethane-powered heavy hitters into the future one 5-second 200-plus MPH quarter mile at a time. The National Hot Rod Reunion at Beech Bend Raceway in Bowling Green, Kentucky, was the place to be for three sweltering days of frenetic vintage drag racing action, a giant car show, swap meet, and historic display of restored dragsters and funny cars known as the Cacklefest.
Supercharged nitro-burning front-engine AA/Fuel dragsters and flip-top Funny Cars were the quickest and fastest hot rods of the '60s and '70s. Today's Nostalgia Top Fuel and Funny Car racers uphold nitromethane-powered drag racing tradition in NHRA Hot Rod Heritage racing. Nitromethane is as famously unpredictable as it is rewarding. The exotic fuel is a monopropellant that carries its own oxygen for combustion and the line between big power and engine destruction is thin.
Unruly AA/Fuel Altereds and front-engine, fuel-injected A/Fuel dragsters were just a sample of the collection of vintage, nitro-huffing race cars that joined alcohol- and gasoline-fueled wheelstanding AA/Supercharged and Geezer Gassers, Nostalgia Pro Stockers, vintage doorslammers and an array of center-steered drag racers at Bowling Green. In contrast to contemporary NHRA racing, the vintage racing ranks have no nitromethane percentage restrictions and can run 100% of the good stuff down the the full quarter mile.
Mendy Fry took the Top Fuel win in the High-Speed Motorsports AA/Fuel dragster with a 5.72-second ET at 252 MPH over runner-up Jim Young, who ran a 5.84-second ET at 256 MPH for event top speed. As a youngster, Mendy followed in her late father Ron's footsteps out to the garage into a roadster they built together and campaigned in the nascent vintage drag racing scene in the mid-Eighties when she was 16-years old. Mendy drove Junior Fuel, Top Fuel, and Funny Car before strapping back into the High-Speed Motorsports fueler in 2017, winning the Bakersfield March Meet their first race out. "Dad would be so down for this. I think that this is what we would be doing if he were still alive", said Fry.
Nostalgia Funny Car event winner Dan Horan Jr. upheld the nitro-burning drag racing tradition from his father. Both "Digger" Dan Horan Jr. and his late father drove a front-engine Top Fuel dragster in the vintage drag racing ranks from its resurgence in the Eighties. Funny Car victory at Bowling Green the day before Father's Day was a winning follow up to the previous race at the Bakersfield March Meet where Dan Horan Jr. drove his Funny Car as well as his Dad's front-engine Top Fuel dragster in a heartfelt and herculean drag racing effort in memory of his father who died in late 2016.
Three generations of drag racing heritage hurtle down the track every time 27-year old Tyler Hilton straps into the Great Expectations III front-engine Top Fuel dragster and hits the loud pedal on the supercharged big-block Chevrolet. Tyler is backed up by his Dad and crew chief Robert Hilton and nitro-tuning Grandmother Alison Lee, who along with her husband Jim campaigned a series of Top Fuel dragsters from the Sixties into the Eighties including the Ed Pink hemi-powered Great Expectations II. Robert was driving one of those dragsters when he met and married Jim and Allison's daughter Dianne. Robert and Tyler caught the drag racing bug after attending a Hot Rod Reunion at Bowling Green a few years back and built the Great Expectations III with the same attention to detail and tradition that the father and son team build into their award-winning Hilton Hod Rods custom creations. The restored Great Expectations II was at Bowling Green for the Cacklefest.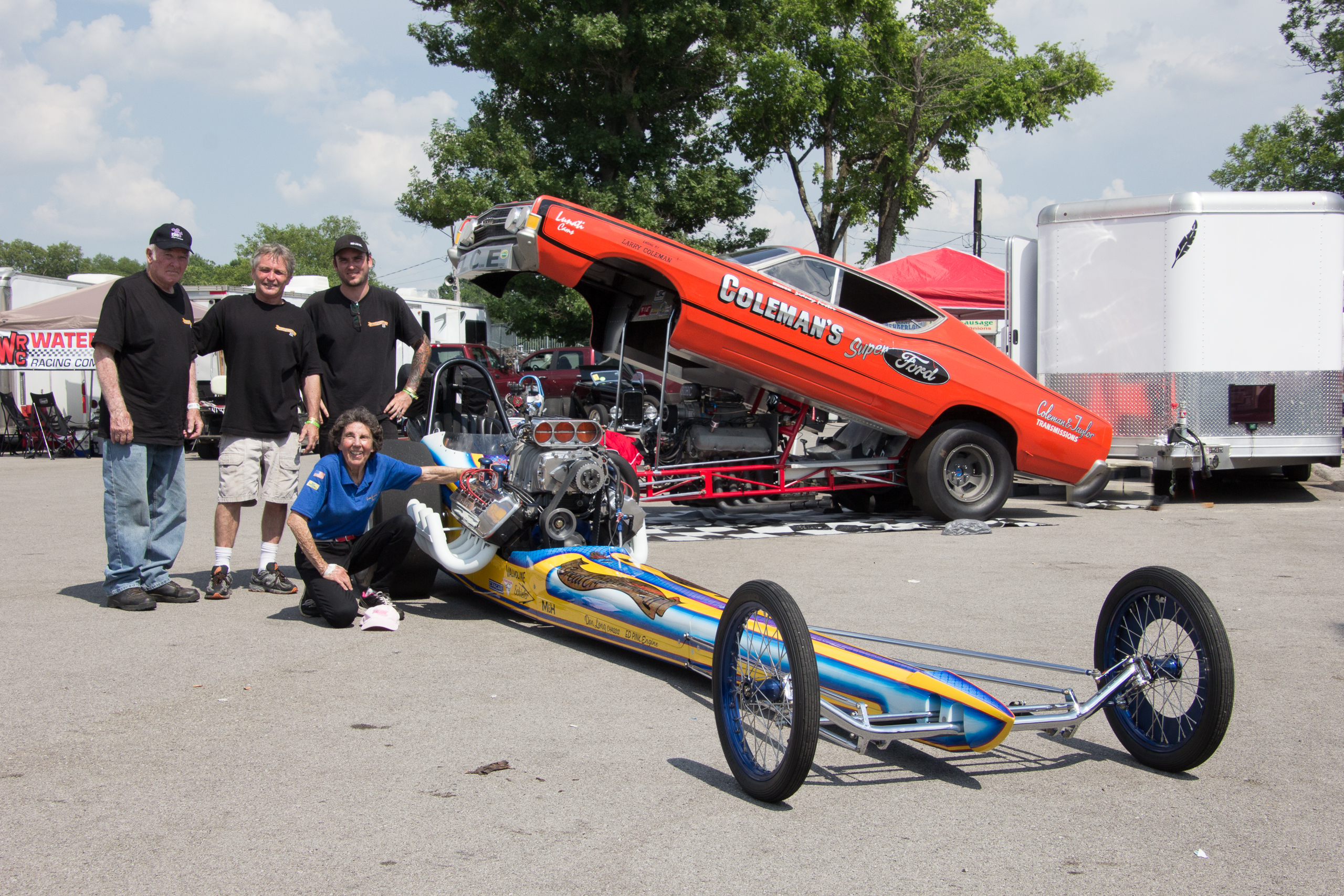 Adam Sorokin drives the small-block-Chevrolet-powered Champion Speed Shop dragster in Nostalgia Top Fuel. His father Mike Sorokin drove a series of AA/Fuel dragsters in the Sixties, winning the Bakersfield Fuel and Gas Championship with the Southern California-based Surfers team before he was tragically killed in an accident after a clutch explosion in 1967. Champion Speed Shop owner Bob McLennan carries his own family heritage of drag racing enthusiasm to the next generation through the race program and Jim McLennan Foundation created in honor of his father and Champion Speed Shop founder.
Bob recently worked with Bakersfield College Automotive Technology Professor Vic Posey to create a Jim McLennan Foundation-backed Top Fuel Internship program that placed over a dozen students on Top Fuel dragster crews for the weekend at the 2018 Bakersfield March Meet. It was the first drag race for many of the students and their enthusiasm proved it will not be the last. Alanna Kuhn was one of the interns and after just a few short months she is officially working with the High-Speed Motorsports crew. Drag racing heritage and enthusiasm is not lost as one generation moves into the next.
The National Hot Rod Reunion concluded with dozens of faithfully restored Top Fuel dragsters and Funny Cars firing up on nitromethane for a 21,000-plus horsepower salute to drag racing history known as the Cacklefest. Traditional push starts bumped the engines to life and flames rose up out the headers as the cars lined up one by one for the crowd. Big Daddy Don Garlits himself cackled up the track in his restored Swamp Rat AA/Fuel dragster for a nitro-burning full circle of drag racing heritage until next time around.