Alfa Romeo launches track-focused, 540-hp Giulia GTA and GTAm
Alfa Romeo is celebrating its 110th anniversary this year, starting off with the launch of two new Giulia variants—the GTA and GTAm. Limited to 500 units combined, these street-legal four-doors are the spiritual successors of the aluminum-bodied Gran Turismo Alleggerita Giulias of 1965, which were prepared by works team Autodelta to provide the ultimate in four-cylinder fury. The new cars, however, are based on the already lively 505-hp Giulia Quadrifoglio, now with 540-horsepower V-6s connected to a central Akrapovič exhaust system made of titanium.
Should you choose the GTAm variant, your rear seats will be gone, in exchange for a complete track package including a half-cage. With every option ticked, overall weight is reduced by a respectable 220 pounds, resulting in a 3351-pound sports sedan.
Hardcore variant and base turbocharged 2.0-liter four-cylinder alike, the Alfa Romeo Giulia remains arguably the best-handling sedan out there—and probably the prettiest. So why don't you see more of them? Bad publicity resulting from too many of the range-topping Quadrifoglios malfunctioning during press loans did not help.
Alfa also remains a niche brand in the U.S., without the years of customer trust and dealer infrastructure that Lexus, Audi, BMW, and Mercedes-Benz enjoy. To combat these factors, GTA and GTAm customers will get special treatment. Throughout a dedicated sales process, Alfa Romeo's sales pitch for its flagship new product includes a Bell helmet in special GTA livery, a full racing set by Alpinestars (race suit, gloves, and shoes), and a personalized Goodwool car cover. In addition, Alfa Romeo throws in a driving course devised by the Alfa Romeo Driving Academy. After all, between those Autodelta badges, the GTA models pack 540 hp from their Ferrari-based V-6s, all routed to the rear wheels, which means preparation is advisable.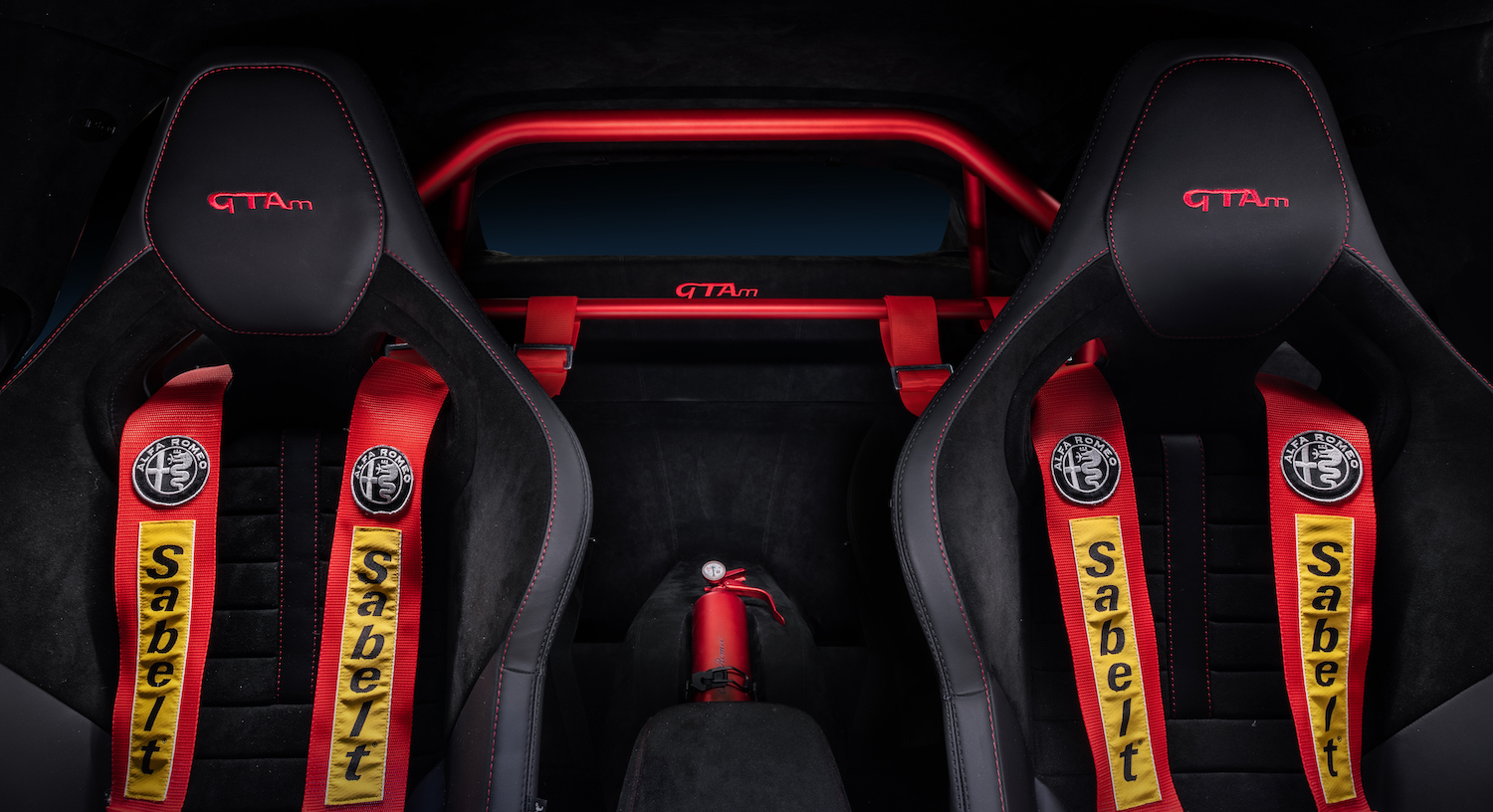 To match the improvements in the power and exhaust sound departments, Alfa Romeo revised the Giulia's aero and suspension package, ending up with more carbon fiber and additional downforce. Alfa claims the know-how came from its Formula 1 partners at Sauber. The GTA body kit features bigger side skirts, a unique rear spoiler and active front splitter, and a carbon-fiber rear diffuser with the titanium Akrapovič central exhaust integrated into it. Under those carbon wheel arch extensions at the rear, you'll find 20-inch center-lock wheels. The track has also been widened by almost 2 inches at both ends to work harmoniously with the new springs, dampers, and bushings.
Alfa agrees that on the track-ready GTAm variant, "the aerodynamic front piece has been optimized to an extreme level." That translates to an even larger front splitter and a real carbon rear wing, something the standard GTA buyer won't have to worry about in an urban environment.
Those looking forward to spending more time at the track will be happy to know that along with the GTA's carbon-fiber drive shaft, hood, roof, front bumper, front wheel arches, and rear wheel arch inserts, the GTAms also come with a full Alcantara-trimmed interior, carbon bucket seats with six-point Sabelt harnesses, Lexan side and rear window frames, and a mid-mounted fire extinguisher.
Whether you go with the Giulia GTA or GTAm, Alfa's launch control and ZF torque converter will send these rear-drive cars from zero to sixty in 3.6 seconds. Yet that's hardly the main reason why you'd want one. For better reasons, please scroll through the gallery, and try to appreciate the real engineering underneath all the awkward renders obviously adapted from previous Giulia QV press shots: